Fascinating Women: The Talented Ladies Of Arte Tattoo & Piercing
Getting inked or pierced? Have it done by one of the skilled artists at this studio
There is something amazing about tattoos. It entails commitment, an eye for beauty, and skill. And in yet another field that is often dominated by men, women continue to make their mark, as with Arte Tattoo, who employs the specialities and skills of four women who specialize in tattoos and piercing.
For some of us, perhaps making that decision to get inked or pierced by a fellow lady seems a little more comfortable, and a little closer to our hearts. At Arte, apart from ensuring excellent skills, they know the value of getting such physical art done to mark a milestone, or a memory from past hurt, which women need to process a certain way. Making something beautiful out of something painful is indeed something one can share with a fellow woman, and at Arte, you get to do just that.
This Women's Month, we celebrate the talented women of Arte Tattoo, who make it less painful for us fellow women, by not letting us go through our life's important memories, moments, and milestones alone.
Tell us about Arte Tattoo.
Arte Tattoo was founded and built by Charles Arteta and Kel Laquin when it originated in Charles' home studio in 2012. From 2017, Patty Tiu-Thompson became one of Arte Tattoo's loyal clientele, and a year after became a partner of the two. A branch in Poblacion Makati by 2019, and branches in Malingap QC and San Fernando Pampanga year 2020—Arte Tattoo has become the go to place for first timers, personalities, and tattoo lovers alike.
Who are your well-known clients?
Sam Concepcion, Kylie Versoza, Kean Cipriano, Jelly Eugenio, Rachel Peters, Jinri Park, Bawal Clan, to name a few.
Tell us about the women in Arte Tattoo's team.
They are composed of Nat Ancheta (@nat.artetattoo) who does illustrative tattoos, Alethia Elwood (@venusveritas) who does Hand Poke Manifestation tattoos, Auds Tamayo (@auds.artetattoo), piercing specialist, and Patty Tiu-Thompson (@patty.artetattoo) who also is a piercing specialist.
What does being a tattoo artist/piercing specialist entail? How intensive is the training they have to undergo?
Our Arte Tattoo artists come from different backgrounds, skill sets and techniques. Sometimes they also act as therapists, because clients could either turn one of their happiest memories or their saddest/painful moments as art on their skin. Tattoos can represent so many things. It can be spiritual, it can be milestones in your life you want to remember, it's a window to your soul! Our Arte Tattoo artists are well trained when it comes to sanitation, sterilization, blood borne pathogens, and how to avoid damaging the skin while the artists are tattooing. These are also learned from seminars that our head artist and COO Charles Arteta hold in TAP (Tattoo Academy Philippines).
How can you encourage people to invest in tattoos and piercings these days?
For us, tattoos help shape a person into new version of themselves. We are always changing, but sometimes society feeds us a certain way of idealism that makes it hard for us to break out of a box that we have been placed in. Getting tattoos and piercings are a remedy of reanimating or reinventing ourselves. Tattoos offer us an opportunity to see ourselves in pain, which might sound funny but after undergoing the process of pain we feel that we are different people because we are able to truly step into our personal power. We know our strength for what it is. Tattoos are stories of moments that are unforgettable or moments that speak to the soul of the client. This is also part of processing emotional pain and a way for us to remember the lessons we have learned along the way.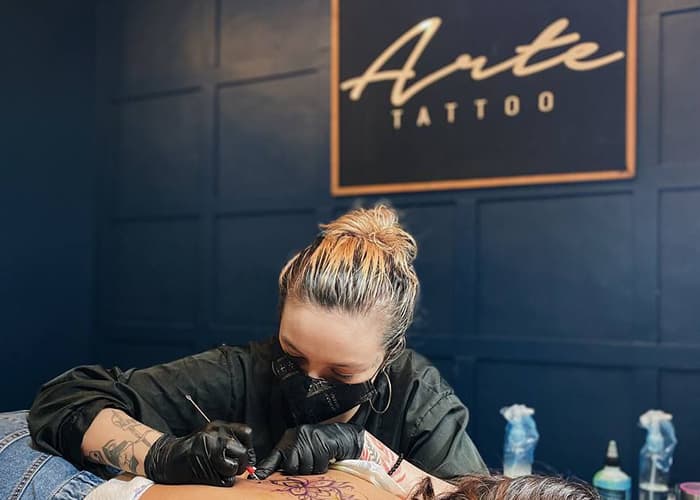 Fascinating Women: Arte Tattoo
Fascinating Women: Arte Tattoo
Interested in getting your own tattoo or piercings done by one of these ladies? Keep reading!
Arte Tattoo is a safe space. We follow Covid-19 mandated regulations in all branches of Arte Tattoo. All shops are regularly sanitized, and we encourage all clients to adhere to our strict health protocols.
Only scheduled clients are allowed in the studio (no companions). Schedules and slots are only limited for a number of people.
Masks and face shields are to be worn at all times.
Contact Tracing and Health Declaration form via QR Code
Signs are all visible in the shop to remind everyone to wash their hands/sanitize.
Strict social distancing in all Arte Tattoo and piercing stations.
All Arte Tattoo artists wear Personal Protective Equipment (jumpsuit, gloves, face mask, face shield etc.)
Check out the ongoing Women's Month Promo happening til the 30th of March (check out poster in the gallery). For reservations, contact Arte Tattoo at (0939) 0266782. Follow them on Instagram at @artetattoo.ph