It's Forever Summer With The CHANEL Summer Nails Collection
Treat yourself to a little luxury by painting your hands and feet with the stunning hues of the sky, sun, and sea
Living in the Philippines allows us to enjoy tropical weather all-year-round, and even if we're technically in the rainy season already, beach getaways are far from over. Island vacations, roadtrips to the beach, and pool parties are just some of the adventures we'll continue to have throughout 2022, which means the fun is just beginning.
What better way to celebrate this perma-sunny season than with a little beauty treat? These days, we're giving ourselves a little more TLC by refreshing our beauty kits, booking a salon day, and indulging in a little luxury. And by luxury we mean the CHANEL Summer Nails collection, a line of adorable nail lacquer, and nail care products fit for a queen!
It's aptly called the "The Sky, The Sun and The Sea" collection, and was designed by the CHANEL Makeup Creation Studio, which defines summer 2022 with its six exclusive, sunny, luminous shades of nail polish.

"The classics are reinventing themselves for a summer, making way for vibrant, addictive summer shades. Creative ideas for nails that shine in summer colors. Shades of pastel, those which reflect off the sea with each wave, and melt into a brilliant palette of mauve, green, and lilac. Along with the opalescent white of sea foam on the shore, the rosy shimmer of seashells, the soft orange hues of corals..."
To complete the nail ritual, two new nail products have been added to the collection. Meet the L'HUILE CAMÉLIA, a cuticle moisturizer that leaves nails visibly nourished. Its gel formula can be applied daily, even on the go; massage it into the nails and surrounding skin and push back the cuticles using the built-in applicator. Nails are left with a more nourished appearance (+34%)* and their quality is improved (+27%)*. Cuticles stay moisturized for up to 8 hours (+25%)** and look smoother both immediately after application and after 28 days*.
Next up is the LA BASE CAMÉLIA, which fortifies and smooths nails, like a protective veil. It can be used on its own to maintain natural nails or applied before nail polish. Nails are left stronger (+34%)**, smoother (+28%)***, and shinier (+98%)****.
Create your own self-care ritual revolving around this stunning new collection and get the prettiest hands and feet in no time. Swipe through the gallery to see the complete collection: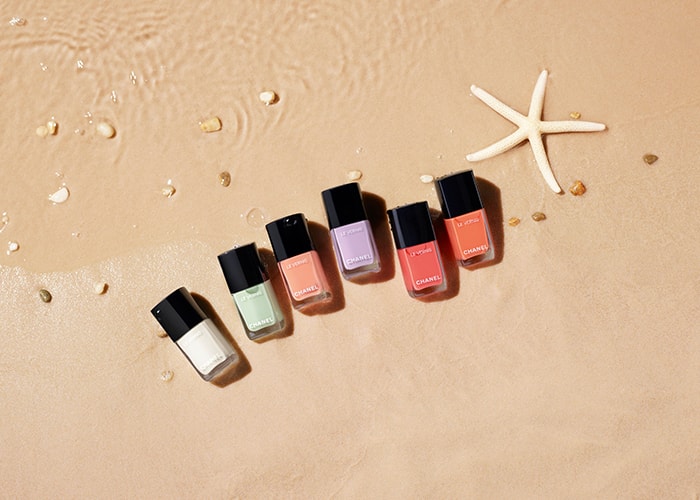 CHANEL Summer Nails
CHANEL Summer Nails
The CHANEL Summer Nail collection will be available at all CHANEL counters at Rustan's starting July 2022
*Clinical evaluation after 28 days of daily application, 22 women.
**Instrumental evaluation (corneometer) 8 hours after application, 15 women.
***Clinical evaluation immediately after a single application.
****Clinical evaluation immediately after application, 21 women.