Trend Watch: Extreme Acrylic Nail Art For The Risk-Takers
This new nail trend isn't for the faint of heart—shake things up with acrylic nails that will do more than scratch the surface
Lately, a trip to the local nail salon has come to get more and more overwhelming with so many options to choose from. Long gone are the days of the basic 'French Tips' manicure, which is still, of course, an option for days when you want to play it safe and classic.
These days, nail trends are getting more and more playful and exciting with the arrival of dip powder, acrylic, gel polish, and many more nail bed treatments.
As someone who can't grow out their nails without breaking at least two of them along the way, I get jealous whenever I notice someone's long, perfect, almond or square-shaped nails. While some people are blessed with naturally strong nails, the ones I long for are often credited to the magic of acrylics—faux nails that are professionally attached to create a base for nail art and the like.
This method is ideal for those of us who want long nails, but can't maintain their ideal nail length or shape on their own. However, they're not exactly effortless: Getting acrylic nails comes with a price tag, and the upkeep does, too. Additionally, acrylics can damage your nails if they're done wrong.
If you're a fan of acrylic nails, you've probably heard of or are following @noodles_yess on Instagram. If you check out her page, Noodles proves that extra long nails are the new trend to watch out for these days. But not only that, she also shows that having long nails actually does not bother your daily tasks too much.
In the video below, you'll see how she can type, pick up coins, and press and pull the lock button without being bothered.
So, whether you're tired of having nails that are too short for fancy nail art or you just want your nails to look dramatic as Kylie Jenner's claws do on Instagram, see Noodles' extreme acrylic nail arts so far to inspire you. If it's not your cup of tea, then admiring the art is also an option. Enjoy!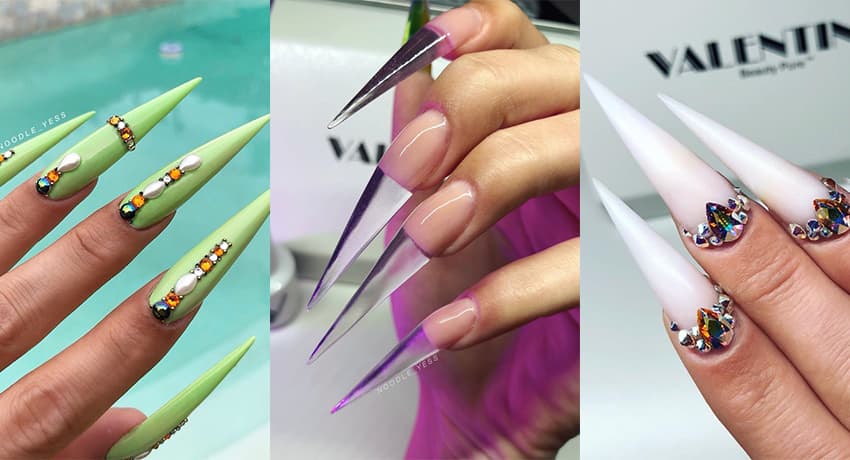 Extreme Acrylic Nail Art Ideas
Extreme Acrylic Nail Art Ideas