Treat Your Hands To Luxury With The Les Mains Hermès Collection
Meet the beautiful designer hand care line with color at its core
Our hands undergo a lot of wear and tear daily—especially during this pandemic, where it has become overworked, over-washed, and oftentimes not taken cared of the way it should. When was the last time you actually thought about treating the hands you create with to a truly luxurious experience? While we're still not able to head out to our favorite salons to get our go-to treatments, the next best thing is to invest in tools and products that allow us to enjoy just that.
Hermès Beauty knows the value of this, and following its stunning lipstick and blush collections come Les Mains Hermès, a selection of luxurious hand care products consisting of nail enamel, hand care cream, nail and cuticle oil, protective base coat, top coat, and iconic orange nail files. Care and color are at the core of this collection, celebrating the beauty of the hand.
In true Hermès fashion, the glass bottles are designed by Pierre Hardy, with the Hermès ex-libris on top of the cap. Truly a work of art for the hands, every step in the Les Mains Hermès collection creates for a luxurious and truly captivating experience.
The collection consists of 24 shades, all made in France, in intense hues with high concentrations of ultra-fine pigments. The formula is composed of at least 71% ingredients of natural origin. Every application is facilitated by a long and supple rounded brush for a precise, uniform and long-lasting result. Choose your shade, decorate those hands to your desires.
In the collection is a Hand Care Cream certified by Cosmos Natural, which means it is outstanding in its composition of 98% natural ingredients. The exclusive formula is developed by the Hermès research and development laboratories, and is made in France. It's truly what our exhausted hands need—a nourishing ritual to help infuse the skin with revitalizing actives, perfect for everyday use. The scent, composed of sandalwood, arnica absolute, fresh rosewater, and patchouli, was created by Christine Nagel, director of olfactory creation for Hermès.
Along with the hand cream is the Nail and Cuticle Nourishing Oil, also certified by Cosmos Natural. It's composed of 100% natural ingredients, which nourishes and protects the nails from external aggressors with five oils and their renowned properties. It's infused with precious mastic resin tears, white mulberry extract, and vitamin E. The products promote nourished and fortified nails and its surrounding skin, protecting it from dryness, getting hands ready for the color ritual.
The kit will not be complete without the Nail Files, made of poplar wood from sustainably managed forests. The double-sided file has a beige side for rapid shaping, while the orange side is used to smooth and perfect the manicure. The nail files are neatly packed in the iconic orange box.
Swipe through the gallery below to view the entire collection: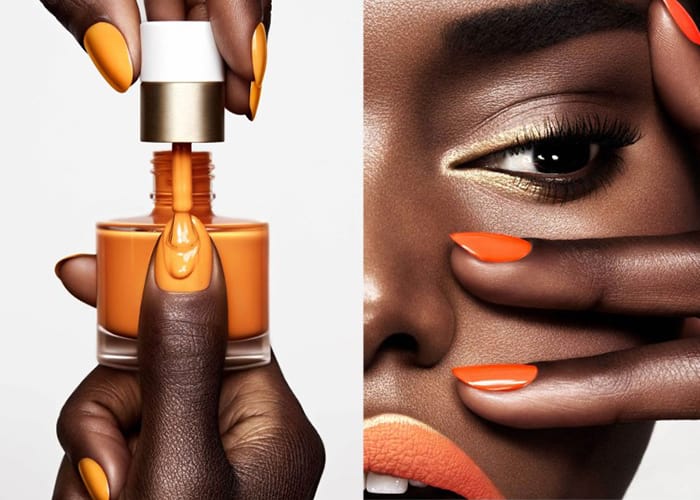 Les Mains Hermès
Les Mains Hermès
Shop Les Mains Hermès at Rustan's Makati and Rustan's Shangri-La.