Get Lost in Wonder and Wanderlust with Jo Malone's Latest Collection
Inspire the mind and the senses with two new fragrances that take you to a faraway mythical hanging garden.
The urge to travel and get lost in wanderlust has truly reached an all-time high for a lot of us. Being cooped up at home got us daydreaming about tropical island getaways, chilly city escapades, and everything in between. With the world put to some sort of a halt, the need to wonder, and feed our wanderlust has become a way to inject excitement and fresh energy into our everyday lives.
One brand that shares in this need to wonder is Jo Malone London, as they launch their latest line of fragrances and complementing product lines. 'Lost in Wonder' is an ode to faraway lands, one of which is the mythical 'Hanging Gardens', a fantastical place where it is said that 'a mighty king planted a lush hillside garden filled with greenery, fruit, trees, and streams, all out of love for his queen who missed her homeland.' Also according to Celine Roux, Global Head of Fragrance for Jo Malone London, "Back in 2016, I visited an incredible exhibition that showcased depictions of ancient fabled gardens throughout history. To truly capture the essence of these beautiful gardens, we read many books and spoke to an archaeology professor from Oxford."
Together with master perfumers Sophie Labbe and Alexis Dadier, Roux created the collection that focuses on the following main ingredients: Fig, Lotus Flower, Cypress, and Grapevine. "The story of the garden is so rich, so we needed to create two fragrances to fully do the inspiration justice. We were drawn to some really interesting ingredients: during our research we discovered that the king liked to go into the gardens to hand-pick ripe figs for his breakfast, and that lotus flowers were often used for their scent during the king's receptions in the gardens. The grapevine calls to mind the wine served at these celebrations, surrounded by statuesque trees such as the cypress tree", Roux shares.
Cypress & Grapevine
The masculine scent takes us to that enchanted, ancient 'Hanging Garden' where the gallant king spends his mornings, and is also a space of fabled beauty made for his wistful queen. The fresh, romantic, sensual scent takes us through the foliage surrounding the said garden, lined with tall, slender Cypress trees and trailing grapevines. Amber is added for warmth, and lavender blended with the cypress gives off aromatic freshness.
Fig & Lotus Flower
A lively, delicate scent, Fig & Lotus Flower encapsulates a real, luscious garden into one olfactory fragrance. Dadier shares, "I used a white musk note to create this long-lasting effect without heaviness. It completes the picture, developing on the skin as if you're walking through a real garden. As you turn into a path you smell the freshness from the fruit, then a bit of green from the leaves, then you turn another corner and feel the warmth from the sun. Then the wind blows and you inhale the sensual yet watery scent of the lotus, then the humid shadows as you keep walking."
Scroll through the gallery to see the complete product lineup: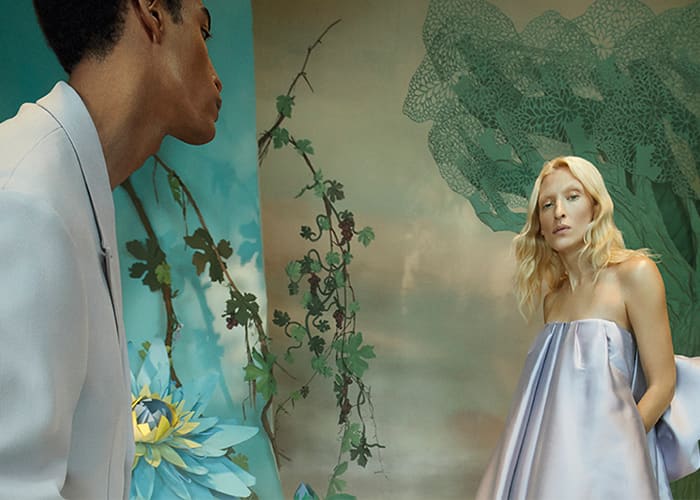 Jo Malone Lost in Wonder
Jo Malone Lost in Wonder