Faces Of Luxury: K-Drama Actors And Actresses Beloved By Prestigious Beauty Brands
These Korean stars are fronting the world's most coveted names in the industry this 2022!
As the Beauty Capital of the World, South Korea is home to some of the most gorgeous celebrities this side of the globe. We've talked about them at length so many times, in so many ways—from their stunning complexions to their sparkling smiles, even their towering heights, and their beguiling dimples. Although the feels keep us hooked on K-Dramas, these head-turning actors and actresses definitely make it even more worthwhile.
The country's strong influence on global trends has given birth to some of the most memorable beauty obsessions we've ever embraced through the eras of Instagram, YouTube, and TikTok. And although South Korea is known for its own local-gone-global brands in beauty, the country's stars have been drawing more and more attention from big names in luxury as we see more of them fronting covers and posing in photoshoots for these prestigious brands.
From Bae Suzy for Lancôme to Hyun Bin for Tom Ford, here are 10+ Korean actors and actresses to look for when you're shopping from luxury beauty brands! Who's your favorite?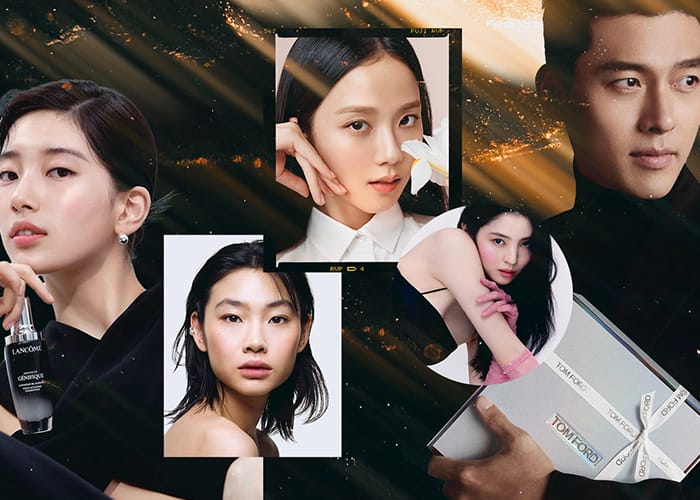 K-Stars in Luxury Beauty
K-Stars in Luxury Beauty
Lead photos via @skuukzky, @diorbeauty, @xeesoxee, @tomfordbeauty, and @wkorea