Get Ready For Summer With Nue Conceal, Glorietta Wellness, and Kamedis!
Getting your skin ready for the summer? Or simply want to get some major R&R sessions in? Read on!
Read up on our round-up of must-know things in the world of beauty today:
Nue Conceal Camouflage Tattoo Concealer
Summer means a lot more skin-baring. The thing is, some of us are quite reserved when it comes to showing skin, and it could be due to a scar, stretch marks, blemishes, or uneven skin tone. While concealer can be used temporarily for our faces, did you know that you can address these skin concerns with a permanent makeup technique for your body? Bianca Festejo, founder of the pioneer camouflage center in the country aims to provide an advanced and safe solution in hiding skin imperfections with a result client will love.
"We have developed a reading device that identifies a person's skin tone and is being reflected through our app. This initial step determines the color that will match a person's skin tone perfectly and at the same time, ensure a natural-looking result," shares Bianca. This procedure works from light stretch marks, light scars, to surgical scars and skin hypopigmentation, and has treated over 2,000 clients in her clinic since its inception.
Currently present in 10 countries, Bianca has also set up an online training class for those who want to learn the art of camouflage concealer. "Most of our students not only have zero knowledge in tattoos but are also going through anxiety themselves because of their stretch marks and scars. It's my vision not just to introduce the art behind this technique, but also make them understand the science behind it." Thanks to Nue Conceal's French-made organic ink, it's not only safe for the skin, its color also remains nice and consistent even when exposed for long periods under the sun.
Nue Conceal is located at the Promenade Mall Greenhills, San Juan. To know more, follow Nue Conceal Facebook & Nue Conceal Instagram. Visit the Nue Conceal Website or contact +63 917 847 3531 for bookings and inquiries.
Glorietta Wellness Place
Need a serious day of R&R? Head over to Ayala Malls' first wellness specialty zone, the Glorietta Wellness Place, where optimism, relaxation, and some serious self-care happen! It's convergence of well-loved concepts—from salons and barber shops, to massage spots, to nails and waxing, and more. Need a quick pick-me-up? Farmers Coffee Brim is open to serve the coffee lovers out there. In the coming months, expect to see more establishments open up, and join in on the holistic wellness space.
We urge you to visit the space, and to check out their Wellness Place's mirror installation, which contains a QR code you can scan for promos and prizes that are up for grabs! Get to join the digital roulette when you take a mirror selfie, and post it on social media! The establishments also offer individual promos right now, so this is your sign to finally get some services done. For more updates, follow @iloveglorietta on Instagram!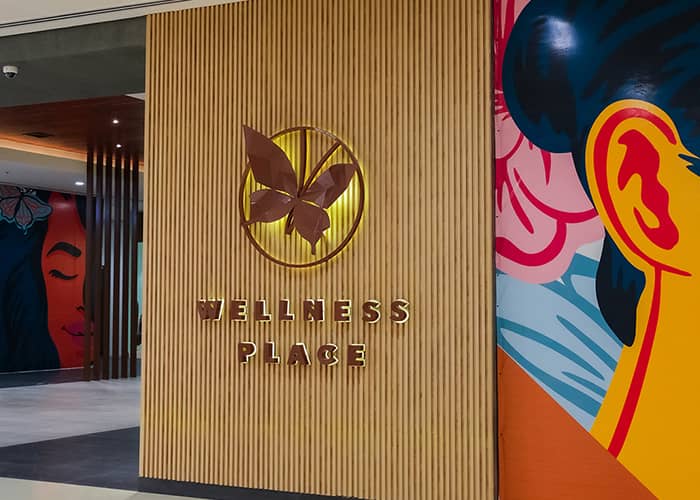 Glorietta Wellness
SWIPE LEFT OR RIGHT
TO NAVIGATE BETWEEN PAGES
Kamedis Skincare
Combining modern science and Traditional Chinese Medicine (TCM) is at the heart of this newly-launched skincare brand in the Philippines. Kamedis specializes in treating chronic skin conditions like atopic dermatitis, seborrhea, psoriasis, and more. Their lineup of dermo-cosmetics are available internationally, and has recently bagged an award from the prestigious Allure Best of Beauty Awards 2019, where their Best Body Moisturizer for Eczema won. The skincare brand is not just award-winning, it's dermatologist-tested, and makes use of botanical ingredients to give you only the best. It's SLS-free, steroid-free, dye-free, and paraben-free, making them a clean, responsible brand. Shop Kamedis here.