Editor Diaries: A Wellness Staycation At Sheraton Manila
Feeling burnt out? Maybe it's time for a wellness-themed staycation!
Living the city life sure is exciting—being surrounded by 24/7 action, being able to roam around countless malls, restaurants, bars, and boutiques, having friends and family within reach, and simply having all the conveniences one can imagine. But sometimes, living in the constant hustle and bustle of a city can wear us out, leaving us burnt out and wanting some time out.
Then again, not everyone has the luxury of being able to take long vacations out of town or the country just like that. The next best thing then is to give yourself the gift of a city staycation! Staycations aren't a new concept, but when you build a theme around it, it becomes a lot more fun, and can definitely help get you out of a rut. I was able to do just that recently, at the Sheraton Manila. A wellness staycation in the city was surely something I could use, after weeks of nonstop work and socializing with friends.
I checked into a deluxe jacuzzi room, which was really spacious and had the right amount of luxury. It was the perfect space for me to just lay down and unwind, and not worry about the next errand I needed to do. Without fully unplugging from the outside world, being in a hotel such as this takes you away for an escape, even for just a short while. I spent the rest of the day exploring the hotel, taking a nap, having a healthy dinner at the hotel's S Kitchen, and finally settling down with a warm, relaxing jacuzzi session in the room. It was the perfect way to end my day!
Sheraton Sweat Session
The following day found me enjoying a hearty buffet breakfast at S Kitchen once again, followed by some down time walking around the vicinity of the hotel (it is connected to other hotels in the area, as well as Newport Mall at Resorts World Manila). I headed back in time for my workout session at the Sheraton gym, where I met up with my designated trainer for the day. He assessed my fitness level, my goals, my pain points, and was immediately able to design a 1-hour session wherein I got to work my entire body. It was the perfect way to de-stress and create some space for the lunch I was about to have at the hotel's Oori Korean restaurant.
The Shine Spa
After lunch, I decided to take a warm shower and enjoy the hotel room's bed by taking a quick afternoon power nap. I also caught up with my e-mails and watched some TV, and got ready for my spa appointment. I headed down to Sheraton's brand new Shine Spa, a little haven of peace amidst the busy city. Situated beside the gym and the in-house salon, Shine Spa is warm and inviting, and is a great place to treat one's self.
I was asked to fill up a form, and indicate areas in my body that needed extra attention during the massage. After a few minutes, I was already being led into my treatment room, where I was able to change and get ready for my treatment. Guests are also allowed to use the steam room and take a shower, should they wish to do so. My first treatment was the Voyagers Massage, a classic Swedish massage that combines long kneading strokes and aromatherapy that melts away muscle strains. They used blended essential oils that result in rejuvenating sleep. And boy did I sleep! After just a few minutes, I already dozed off to dreamland!
The therapist was well-skilled, and had woken me up to tell me my massage was over, and that it was time for my next treat—the Shine Facial! I was up for a 60-minute session that redefines facial contouring and radiance. It is an exclusively formulated treatment that features the latest in freeze-dried technology that delivers instant results and cumulative benefits. It is ideal for any skin type showing signs of aging, and for instant repairing. Performance driven, the Lumafirm Lift and glow-in spa facial has diacetyl boldine that renders the skin ultra-luminous, and kombucha and sorghum for a firmer, tighter, and younger defined appearance.
The facial was heavy on massage, which, combined with the Pevonia Botanica products that they use, is all in all very relaxing, and something I'd recommend for those who are looking for a non-invasive facial treatment that just brings out your natural glow. I'd say the aromas of the products were divine, and was particularly my favorite part of the entire treatment. It surely added to the calming effects of the facial.
Apart from facials and massages, Shine Spa also offers treatments like body exfoliation and wraps, body polish, hand and feet treatments, and packages that combine treatments.
After that rejuvenating afternoon, I was ready for dinner and also very much ready to spend the rest of the evening relaxing and enjoying the hotel room. It was a day well-spent! The following day, after having breakfast and before checking out, I was able to squeeze in a quick dip in the hotel's pool, which was a beautiful one that served like a little island getaway in the city. After getting my swimming fix and the day's dose of Vitamin D, I decided to grab an early lunch by ordering some salad, and enjoyed it in the room. My wellness staycation turned out to be a great success—one that had allowed me to disconnect for a short while, get in touch with my body, and clear my mind. If you're looking for a sign to slow down and get away somewhere close by, this is it!
Swipe through the gallery below to check out more scenes from my wellness staycation: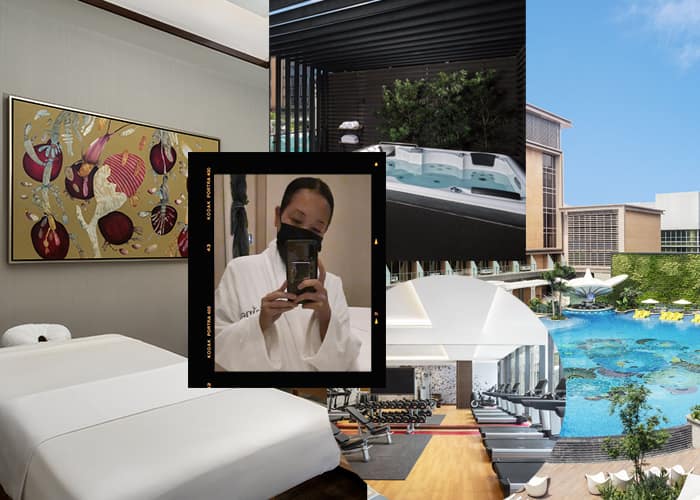 Editor Diaries: Wellness Staycation at Sheraton
Editor Diaries: Wellness Staycation at Sheraton
Book your own staycation at Sheraton by logging on here. Follow them on Instagram @sheratonmanila