We're Overwhelmed With Inspiration From All The Looks In BTS' New Dynamite Video!
BTS once again slayed us with their creative and colorful looks!
Since the beginning of August, K-Pop hitmakers BTS has been hyping fans up with teaser after teaser of their newest song 'Dynamite.' And today, the time has come, as they finally released their latest single, which attracted more than three million concurrent viewers, according to YouTube's live counter. As of publishing time, the video has over 50,203,340 views, eight hours after it went live.
Last August 12, Big Hit unveiled the first group teaser picture for the track on BTS's official social media accounts. The picture features all seven members posing on what appears to be a turquoise basketball court with a graffitied wall. According to Big Hit, this group photo "embodies a bright and energetic mood with vibrant colors and comfortable poses."
Along with the new song comes brand-new looks for the members. Starting with leader RM, who debuted a major hair change with his brilliant teal dye job. His hair has been a hot discussion topic over the past few weeks on ARMY Twitter and his new 'do sent fans into a frenzy, understandably so.
While Jin has already started showing off his light brown hair, Suga sported a fringed dark brown hair, and J-Hope's hair is now black and styled in a neat side-swept undercut.
V, showed perhaps the second most shocking hair transformation after RM as he flaunted a rich golden blonde. Meanwhile, Jimin sported a subtle lavender-tinted hair, and last but not the least, Jungkook , who donned a jet black hair.
We know you can't get enough of your idols, so check out our gallery below to take a closer look at all our favorite looks on Dynamite—from their modern '90s to '70s-inspired getup and looks!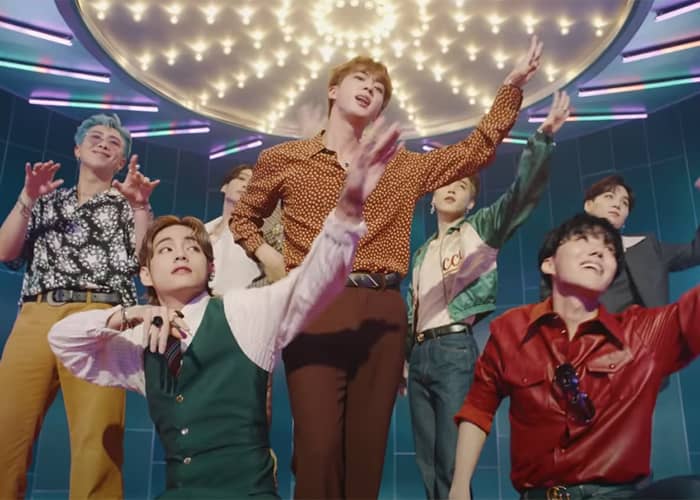 BTS 'Dynamite' Looks
BTS 'Dynamite' Looks