Through The Years: The Evolution Of BTS' Sunshine, J-Hope
Let's take a trip down Bangtan memory lane, and check out all of Hobi's transformations through the years
I'm your hope. You're my hope. I'm J-Hope!
Jung Hoseok, better known as BTS' J-Hope, has come a long way from his humble beginnings as a hopeful young artist from Gwangju, South Korea. He has worked tirelessly to hone his skills and carve out his own unique sound and lyricism. His music is characterized by its high energy and positive vibes, and he has become one of the most popular artists in the industry. Known also as the dance leader of the group, he is recognized for his incredible, gravity-defying dance skills.
As BTS members RM, Jin, Suga, J-Hope, Jimin, V, and Jungkook matured and evolved, they've continuously played around with different concepts for their albums throughout the years. While seamlessly hopping from one genre to another—hip hop to pop, R&B, ballads, to EDM, you name it—they've tried it, and they also changed up their fashion, makeup, and hairstyles as they went along!
For J-Hope, lovingly known as Hobi by fans, his evolution was largely about experimenting with new looks and ideas. J-Hope has always been known for his bright and colorful style (an embodiment of his stage name: the hope and sunshine of the group!). He often opts for playful and youthful looks, wearing brightly-colored clothes and fun accessories, and he isn't afraid to push boundaries and try new things, like his relaxed red curtain hairdo during the Mic Drop era, his bright yellow hair in the Butter music video, and his platinum blonde locks during the Permission To Dance era. At the same time, Hobi isn't afraid to go back to the classic looks like his black or brown undercut hairstyle. No matter the color or hairstyle, Hobi owns each and every look.
Ultimately, when it comes to style, there really is nobody like J-Hope. Hobi has proven himself time and again with show-stopping looks that are capable of making even the most seasoned fashionistas take notice! Now, we can even see all his iconic outfits straight from the source, thanks to his recently opened Instagram account.
As we celebrate Hobi's birthday today, we have all sorts of important business to attend to. Join us as we take a look back at his show-stopping evolution, by swiping through the gallery below. Happiest birthday to your hope, my hope: J-Hope!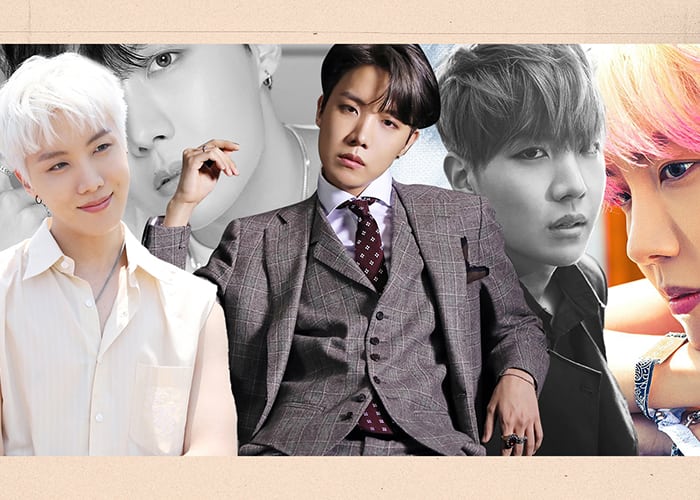 BTS' J-Hope Evolution
BTS' J-Hope Evolution
Photos from @bangtan.official, @BTS_twt, @bts.bighitofficial, @uarmyhope, and BTS Weverse