Through The Years: The Evolution OF BTS' Jimin
When we say that Jimin has tried almost all hair colors, we are not exaggerating!
Once the clock struck 12 last October 1, it finally became Jimtober! It's BTS' Jimin's birth month and we can't help but celebrate our Baby Mochi's birthday! From fundraisers, advertisements to online campaigns, ARMY wants to show nothing but love for him. But how did our birthday boy's incredible journey to become the superstar he is today begin?
Park Jimin, a.k.a. Baby Mochi, attended Busan High School of Arts where he specialized in contemporary dance. With his amazing talent in dance, his teacher suggested that he audition to be an idol, which led him to Big Hit Entertainment and the rest, as they say, is history!
But did you know that Jimin almost didn't debut with the group? He was actually only confirmed as a BTS member six months before their debut!
In their recent guesting in the show 'You Quiz On The Block', Jimin shared his experience before the group debuted. He said "Not knowing what to do was very hard. When V and Jungkook were getting vocal lessons, I asked if I can come in and watch. So, I watched them in the room, practiced what I heard from that time alone."
You really can't help but admire how hardworking Jimin is! He even shared he only slept about two hours a day during his trainee years. "I practiced until 4 in the morning and got up around 6:30 to go to school. I would sleep in the practice room. I did lay out a mattress and slept there," Jimin shared.
But look where pure undeniable talent, hard work, and determination can bring you! Today, BTS' Jimin, along with his fellow members RM, Jin, Suga, J-Hope, V, and Jungkook, have been creating masterpiece after masterpiece, dominating the charts, trending on social media, and selling out huge concert arenas.
Jimin is not only known for his incredible talent in song and dance but also for his charming personality and amazing visuals. Whether it's his fashion on and off-screen, makeup, or hairstyle, Jimin has never played it safe when it comes to his looks and he totally slays them!
With Jimin's eight years in the industry, a lot has changed from his shaggy mop-top brown debut hair to suit the dark and edgy theme of 'No More Dream' (let's not forget about Jimin's iconic shirt lift!) to his smooth red hairdo in the 'Butter' concept photos.
Also, when we say that Jimin has tried almost all the hair colors, we are not exaggerating. From silver, fuchsia, blue, orange, red, green, and purple, to even sporting rainbow streaks in the 'Butter' music video, Jimin can really serve some amazing visuals!
In celebration of Jimin's birthday, let's check out the photos of his evolution, starting from debut up until today. Happy Jimin day!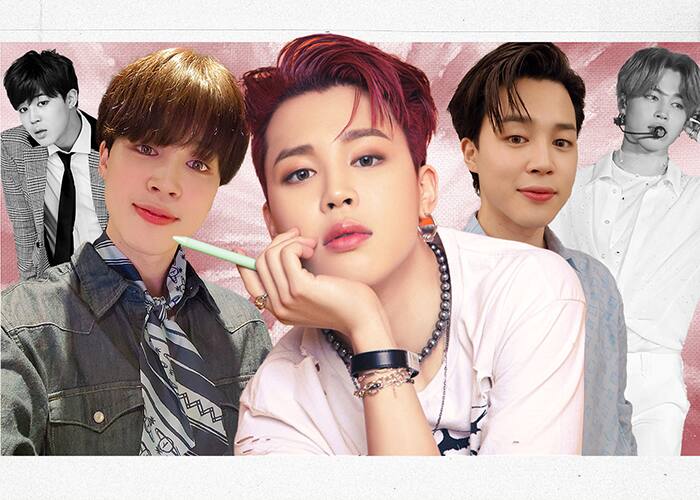 BTS Jimin Evolution
SWIPE LEFT OR RIGHT
TO NAVIGATE BETWEEN PAGES
Lead photos via @bangtan.official and @BTS_twt