Through The Years: The Evolution of BTS' Suga
The rapper and song producer has gone through countless transformations through the years, but one thing remains—his passion for music!
BTS' Suga, also known as Min Yoongi, Agust D, and Min PD, has truly made a name for himself in the music industry. He has gone from being an underground hip-hop artist to becoming a force to be reckoned with as a member of BTS, a solo rapper, and a large-scale songwriter, collaborator, and music producer.
Way before becoming a member of BTS, Suga first entered Big Hit Entertainment with the purpose of becoming a producer and music composer. However, agency CEO Bang Si-hyuk had a different plan for him. Suga was persuaded to become an idol instead, and therefore trained under Big Hit for three years alongside members J-Hope and RM, and later on with Jin, Jungkook, V, and Jimin, before debuting as BTS in 2013.
Suga has come an unbelievably long way. But, one thing has always remained certain: his passion for music knows no bounds. With over 100 registered songs credited to him by the Korea Music Copyright Association, there's no stopping him.
During the almost nine years of the group, Suga has tried a ton of different makeup, hairstyles, and fashion, most often complementing the different concepts for their albums and eras. He is not afraid to experiment and change things up.
From debuting with dark hair complemented by thick black eyeliner and edgy punk/hip-hop outfits, to trying out different hairstyles and colors like red straight and short hair for the "Danger" music video, mint Yoongi for "HYYH 2: Run" and ocean blue hair for "DNA", Suga has evolved a lot over the years. Let's not forget the iconic Daechwita music video where Suga portrays 2 characters: the mad king (wearing a sunflower blonde wig) and the rebel (with black parted curtain hair)!
With BTS Permission to Dance - Seoul and Las Vegas concerts just around the corner, we can't wait to see what transformation Suga will have yet again. The way Suga rocked orange hairstyle during the PTD Los Angeles concerts last December was a whole vibe and we would definitely like to see this again!
In celebration of Suga's birthday, let's take a look back at his evolution throughout the years, from his debut, up until the present. Scroll through the gallery below! Happy birthday, Suga!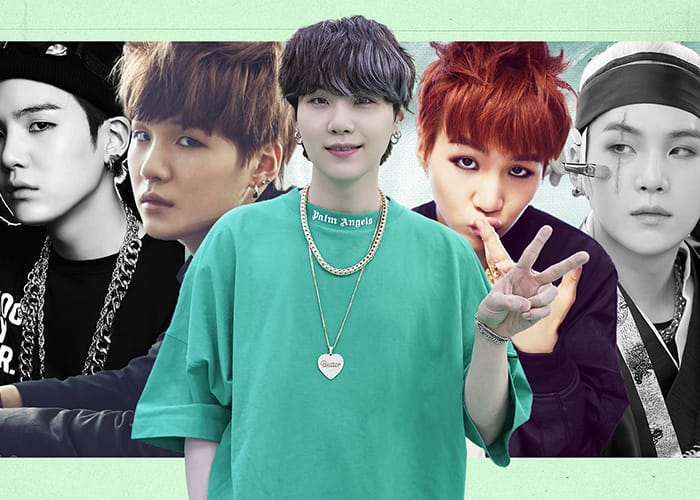 BTS Suga Evolution
BTS Suga Evolution
Photos from @bangtan.official, @BTS_twt, @bts.bighitofficial, @agustd, and BTS Weverse