'Itaewon Class' Yi Seo's Transformation Makes Us Want To Grow Our Hair Out
With the lack of haircuts happening at the moment, we're embracing longer locks like this K-drama star!
Being in day 25 of the community quarantine has already allowed us to get through usual beauty dilemmas we were worried about before, such as trips to the nail salon, growing roots, hair trims, and more. We've become resourceful, learned to embrace DIY, and most of all, learned to live with beauty concerns that aren't really of alarming concern at the moment.
We've got to admit though: one thing we haven't really skipped on is binge-watching our favorite K-drama shows while waiting for days to pass. These shows are a great distraction, and provide much-needed entertainment during stressful times. And one that we still can't get enough of is 'Itaewon Class' which stars Park Seo Joon and lead actress Kim Da-mi.
This webtoon-based Netflix Original series has captured Filipinos' hearts, and for good reason! It tackles more than just a love story—it highlights the values of hard work, determination, relationships, family, and much much more!
If you've already been initiated into the Itaewon Class fandom, you'd probably know what we're talking about when we say Kim Da-mi's character Jo Yi Seo isn't your usual leading actress. She's got spunk, she's got style, and you can basically say she's one fearless lady.
And when we talk about her style, we can't miss her signature dip-dyed bob, one that captured our hearts from the start of the show. It's risky, and it's not for the safe ladies out there. Case in point:
Warning: spoilers ahead!
Leading up to the finale though, when Itaewon Class finally became the corporation it was always dreamt to be, Yi Seo didn't just get upgraded to a higher position, she also brought the upgrades to her overall look! From street style-ready ensembles to boardroom chic, Yi Seo proves that looking professional doesn't equate to looking boring!
Along with her polished outfits, Yi Seo went for a longer 'do and decided let go of the dip-dyed bob of her youth. We say yes please! She appears looking every inch the girlboss, in jet black wavy hair and her signature blunt bangs. A lot more mature, but definitely still chic!
Hair transformations seem to be a staple in Korean actors and actresses, keeping us excited about their unpredictable new looks every single time. Now that we're all locked up at home worrying about when we can get a trim, why not wait it out, grow your hair long, and have it styled this way when you finally can? It's a versatile hairstyle that can easily be shortened when you're done with it. Another plus? Jet black hair gives you a free pass on the exposed roots dilemma! Win-win right?
Check out the gallery below to see more of our favorite Itaewon Class scenes: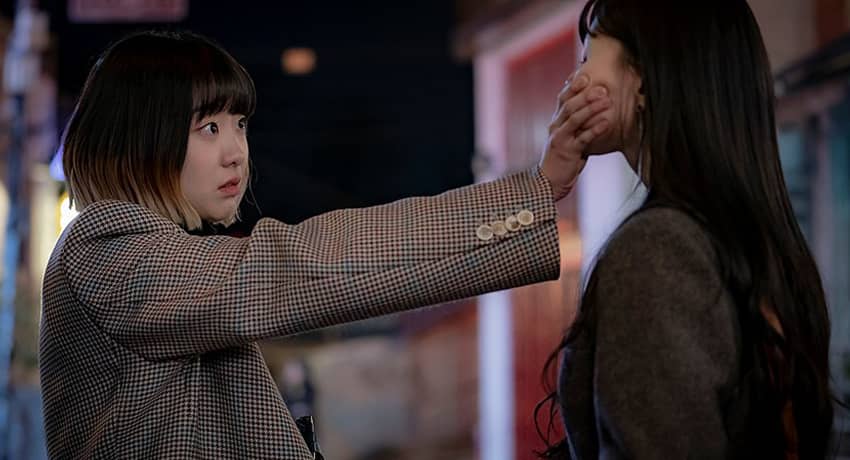 Itaewon Class Scenes
SWIPE LEFT OR RIGHT
TO NAVIGATE BETWEEN PAGES