This Is How You Can Achive Celebrity-Worthy Hair, According to Nadine Lustre's Hairstylist
Paul Nebres lets us in on his top tips and insider secrets!
Behind every celebrity is a team of glamazons who are certified experts in the field of beauty!

Such is the case for our favorite personalities, including the one and only Nadine Lustre, a style icon in her own right. Not only does Nadine take fashion risks, but she does so with much fun, and together with her go-to glam team that consists of makeup artist Jelly Eugenio and hairstylist Paul Nebres, serving bookmark-worthy looks is effortless.
Through the years, Nadine has experimented with a lot of fashion and beauty trends, and with the help of these pros, getting into best dressed and best in beauty lists has been easy. One facet of Nadine's look that we can't get enough of is definitely her hair! The award-winning actress never fails to wow in either bombshell waves, severely straight locks, or sky-high updos. One thing's for sure: we want to know how these looks are done!

Lucky for us, we got to chat with Nadine's go-to hairstylist, Paul Nebres. This young creative has been in the industry for quite some time now, lending his God-given talent for his muses such as Nadine herself, Sarah Lahbati, and Belle Daza. Check out our quick Q&A with Paul, and learn a thing or two about achieving A-lister worthy hair!

Tell us about yourself, your background, and how you got into professional hairstyling. Has this always been the path you wanted to take?
I'm a 23-year old graduate of Polytechnic University Of the Philippines, with the degree of Bachelor of Science in Tourism Management. I started working as assistant for makeup artist Jelly Eugenio while I was on my 2nd year of college, and every time we had shoots, I would always observe the hairstylists' techniques. I would then go on to try them out on my classmates! I just kept practicing until one day, Jelly finally told me to style our clients' hair. And the rest, as they say, is history!
How long have you been hairstyling for celebrities? Who are your clients/muses?

I've been in the business for four years already. Nadine was my first muse and now I have Bela Padilla, Georgina Wilson, Isabelle Daza and Sarah Lahbati as my regular clients. I love how eager and open my muses are in trying and playing with new hair styles. That gives me so much excitement to work with them on the regular.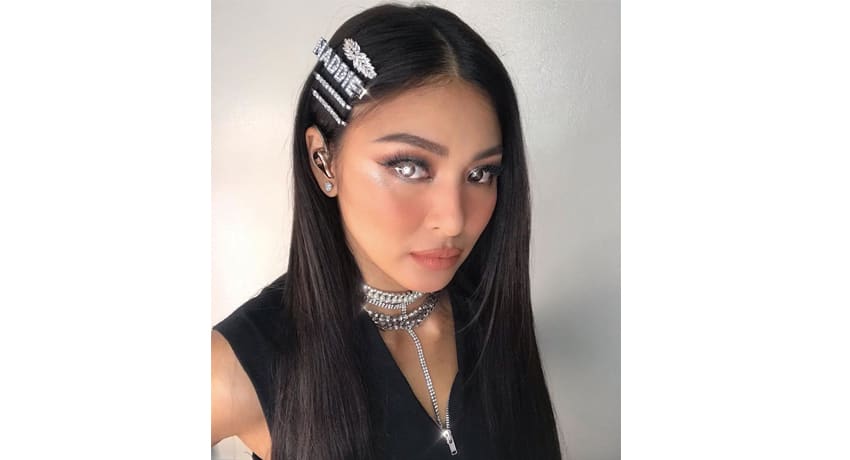 Nadine Lustre Hairstyle Gallery
Nadine Lustre Hairstyle Gallery
What is your signature look?

I don't really have a signature look but I have a favorite hairstyle that I really love doing: the high snatched ponytail! I love it when I achieve the Ariana-Grande-thick-and-long ponytail look and the instant face lift it gives to my clients!
Who is your dream muse?
Ariana Grande, hands down. She's my goddess!
How can we achieve the popular beach waves look?

Beach waves have been a trend for some time now, probably because it can be achieved effortlessly. For those who have limited resources, try prepping your damp hair with a sea salt spray (Sea salt spray by H&M Beauty) then twist your hair and create a bun. Wait for it to dry up to get natural waves, then release the bun and finger comb it with to tame the curls down. For those who use hair tools, you will need a curler/wand, a blower and sea salt/wave spray.

Step 1: Prep your hair with sea salt spray and blow dry it.
Step 2: Curl your hair using your curler or your wand in any direction.
Step 3: Spray a little sea salt to give more texture and volume to your hair.
What's next for Paul Nebres?
Since I don't have a formal education in hairstyling, I'm planning to expand my knowledge by enrolling in a short course about hair styling and hair cutting because in this industry, you need to be on your toes with the latest trends.
Follow Paul Nebres on Instagram for updates on latest celebrity hair looks.