The Future Of Salons In The New World
Are you ready to head back into the salon for your hair cut and color? Read this to see what to expect before sitting comfortably back in that salon chair!
The salon is one of the beauty havens we can't truly live without. I know of so many women who consider the salon their weekly 'sanity' appointment with themselves—to de-stress, unplug, and just spend a few hours prettifying themselves. There's something truly religious about the salon experience, especially if you're going there to make over yourself. A new cut, color, or glam session before a big event truly does wonders for the soul!
That's why going without it for three months and counting can truly test the dedicated clientele who consider the salon their second home. Due to circumstances we can't control during this pandemic, salons have shut their doors and have gone M.I.A. from our lives, pushing us to learn how to touch up our own roots or even cut our own hair. But today, and more so in the coming weeks, salons will gradually star to re-open in Metro Manila, with stricter safety measures, to ensure you get to prettify AND stay safe while you're at it. Read on!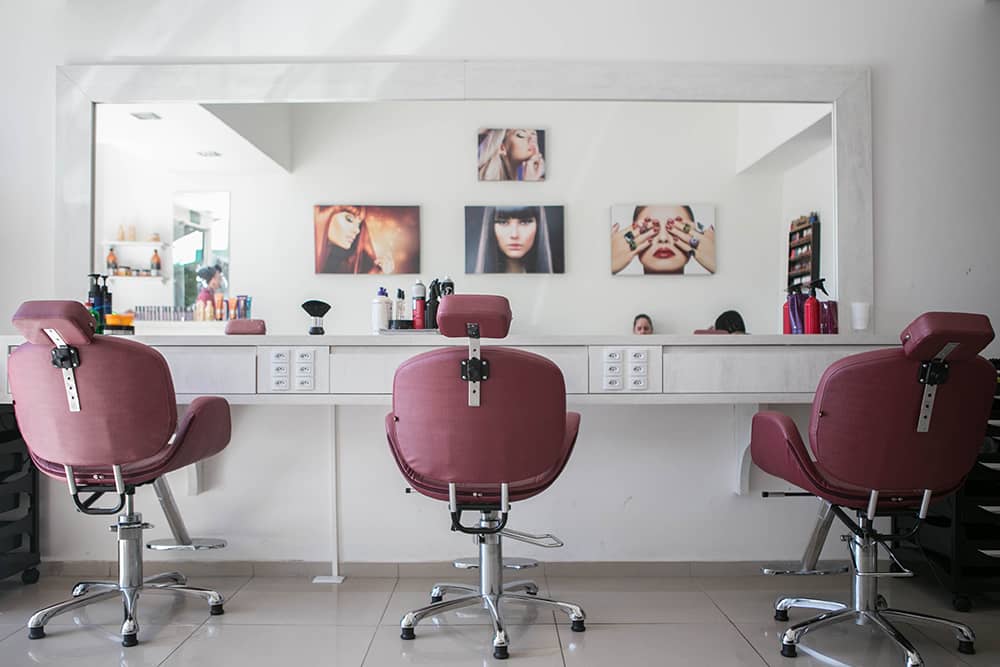 Photo by Guilherme Petri on Unsplash
To help enlighten us on the future state of salons, we spoke to two industry insiders to help us get ready for what's ahead. First up is Lourd Ramos, founder and head stylist of the Creations by Lourd Ramos chain of salons, joined by Chase Tinio, founder of the Chase Group, which owns Design Studio in Makati, and Express Hair Studio.
Prioritizing safety
Just like other establishments, prioritizing the safety of staff and clients is first priority in these times. Lourd shares with us this strong but touching line, "Creations will not operate till there is a vaccine, so I would rather lose money than lose life!" As serious as this may sound, we truly know where he is coming from, being an entrepreneur that handles many employees.
For now, Lourd and his team prioritize private salon services in his own home salon, as well as private clients that request for his cuts in their own homes. If and when a client has a separate space in their homes or even an open-air lanai where he and his team can set up, he accepts the job.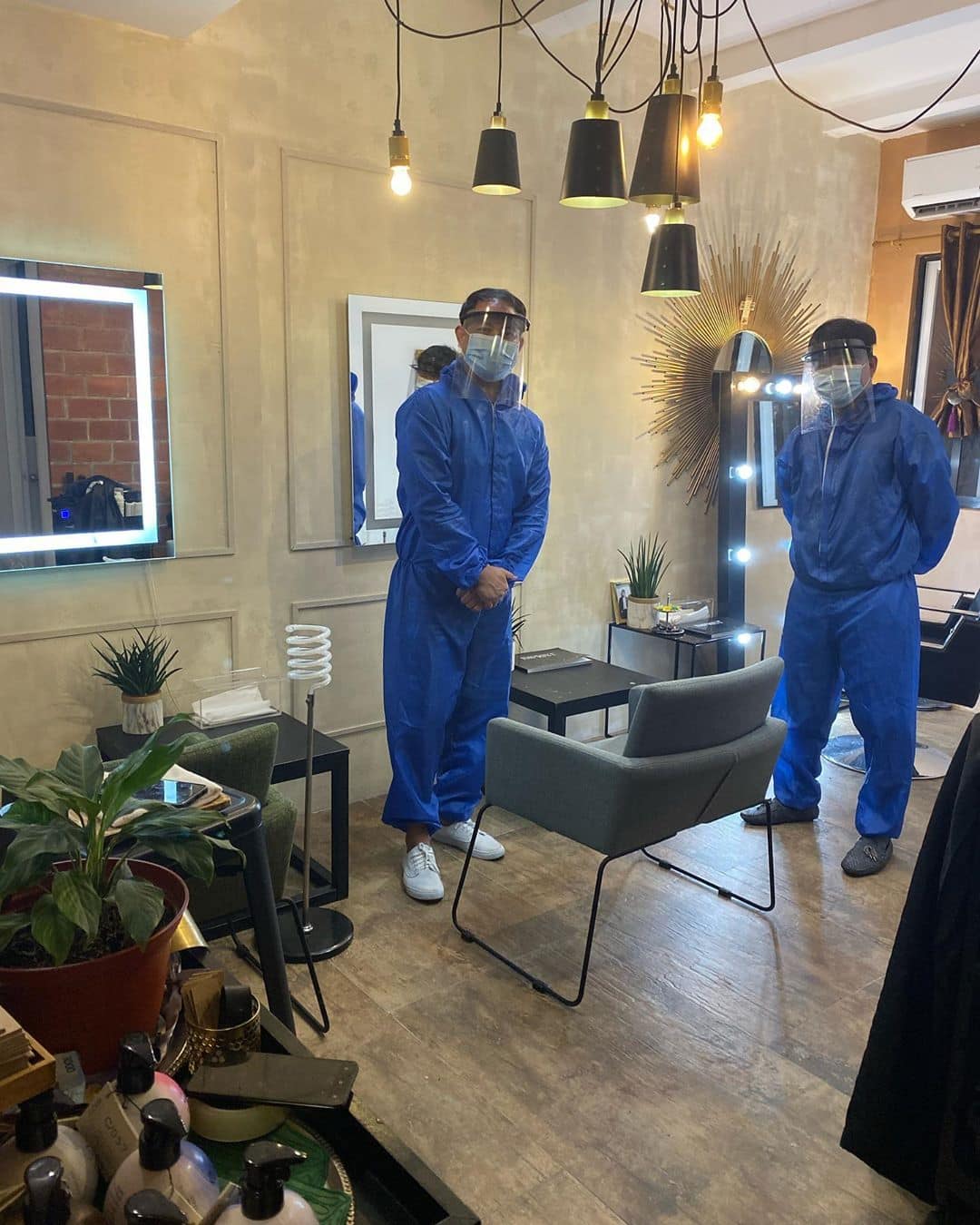 Lourd Ramos' private at-home haircut service | Courtesy of Lourd Ramos
To ensure that safety is present for all involved, Lourd's staff undergo constant temperature checks, got flu shots, take vitamins everyday, are encouraged to exercise in the morning, eat healthy, wear and change PPEs per client, per transaction, complete with face masks, face shields, and alcohol. In their kit, there aren't just the usual hair tools, for this time they've completed their lineup of tools by including UV lights, air purifiers, and UV sterilizers—something they've been using since 2010.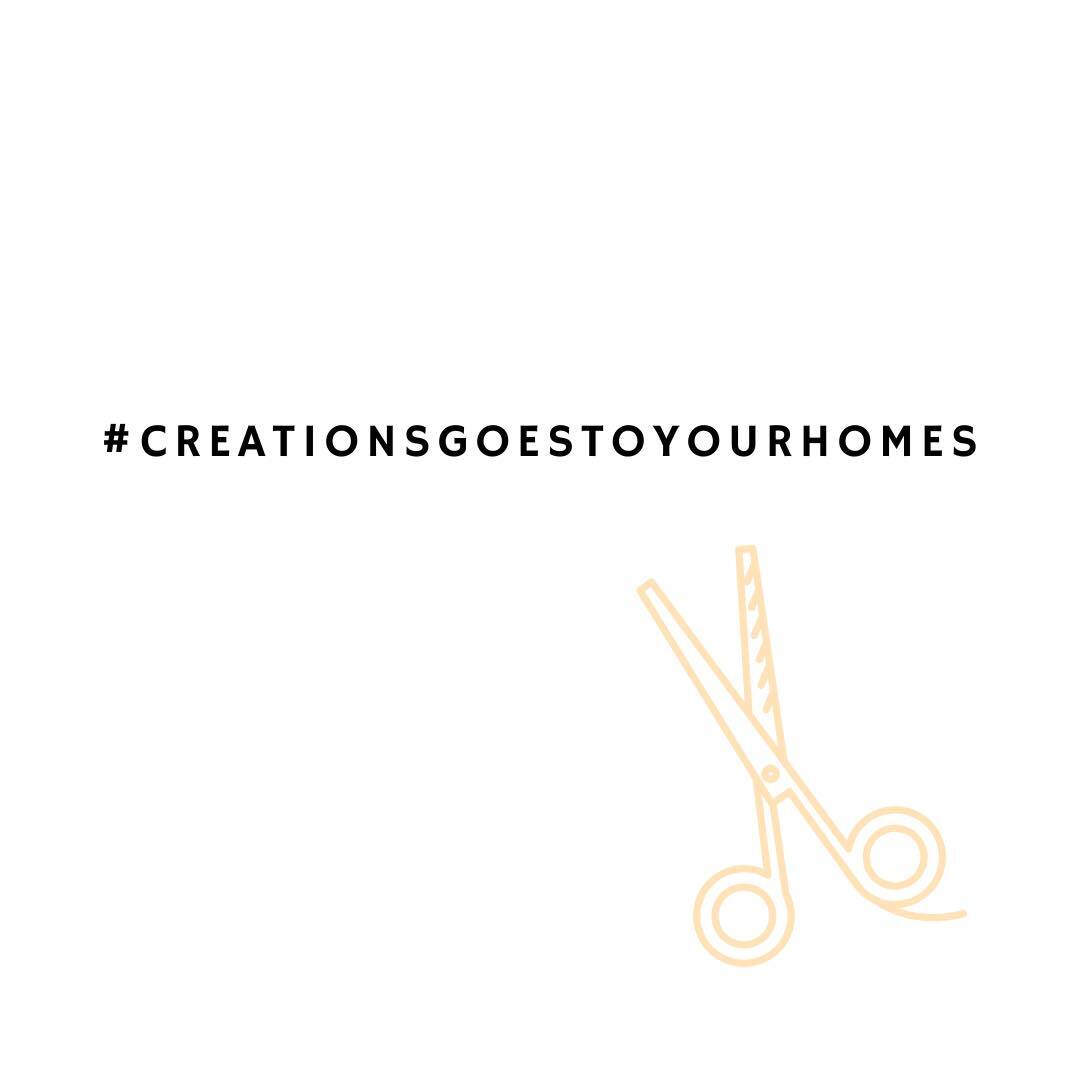 Chase, just like Lourd, agrees that safety is of utmost importance right now. He deems their branches fortified 'safe zones' for clients and for the staff. They've undergone rapid testing, temperature checks, and segmenting of their premises—each of which includes a separate sanitation station. These stations include disinfecting kits for each section in that station, have access to alcohol from wall dispensers, and wash hands in their UV-lit sink to be extra safe.
And because they want to take it a step further, the PPEs they wear are all DOH-certified, as well as CE certified ABS face shields, gloves, and disposable face masks. When a client comes in for a cut, each one is given disinfected goggles, gloves, one-time use capes and face shields for shampooing.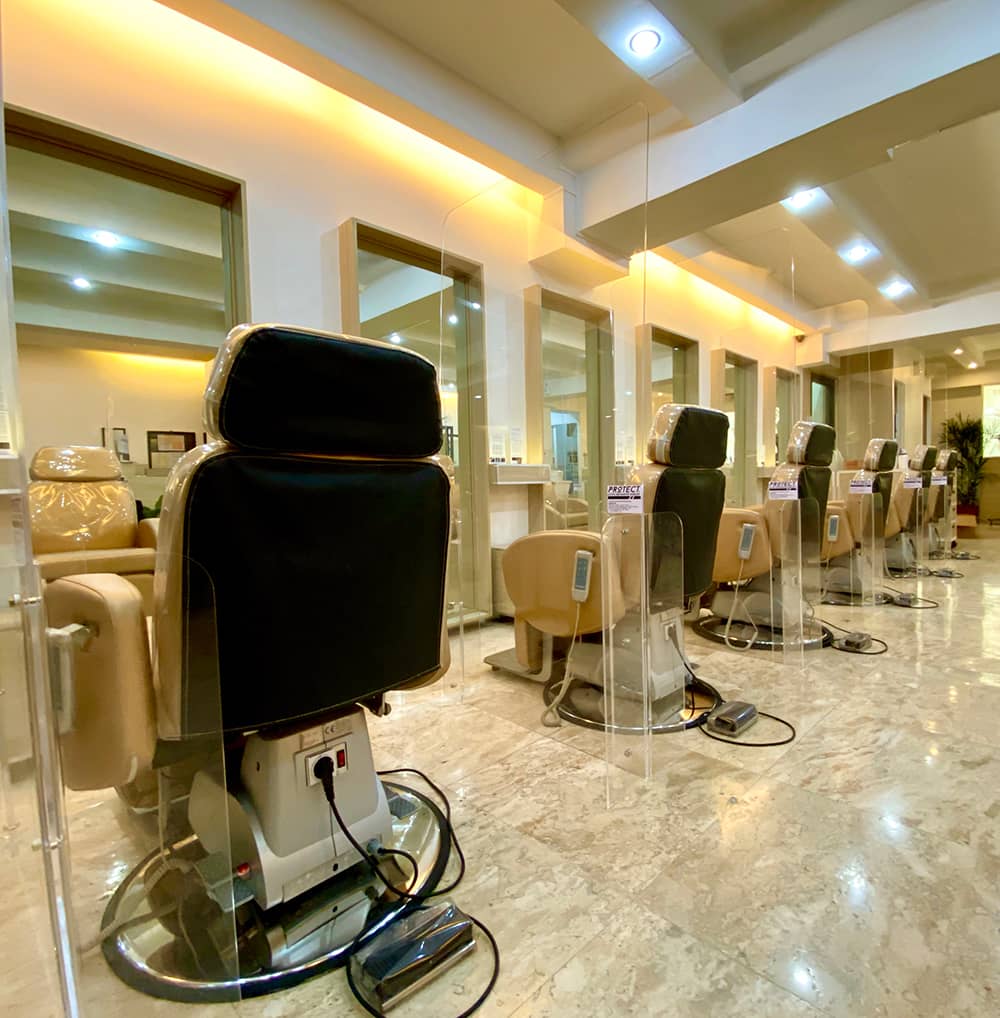 ProTect® Invisishields at Design Studio Makati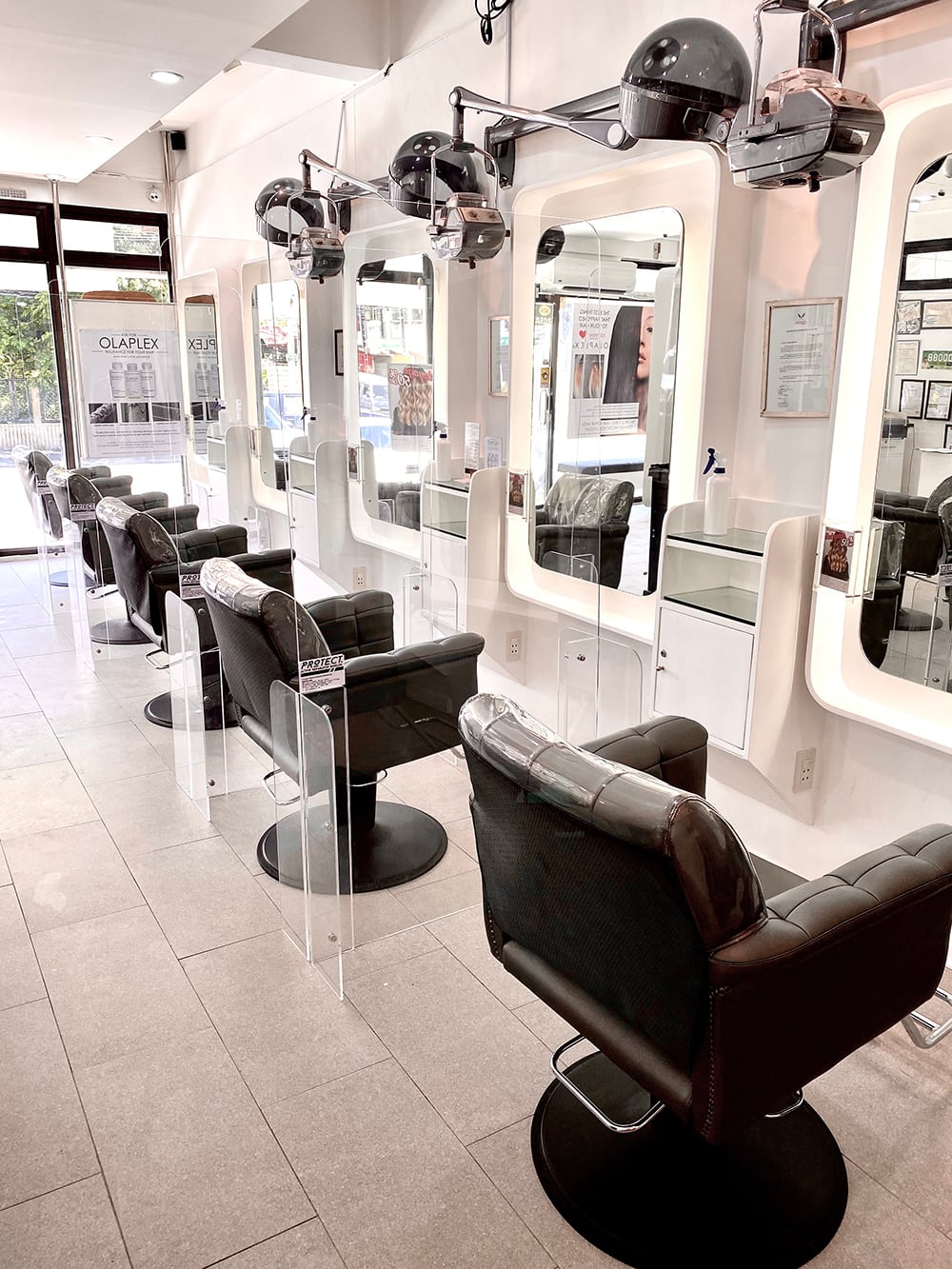 ProTect® Invisishields at Express Hair Studio
To ensure that services also meet this high standard, all their tools go through a high-heat autoclave and then further disinfected with Barbicide®-disinfecting solutions (all our staff are certified by Barbicide for courses on Covid-19 and Safety).
And because tough times call for change and evolution, Chase shares, "Our company had invested heavily into the installation of ProTect® Invisishields for each of the stations to give the clients a sense of segregation from each other on top of social distancing. These Invisishields™ are clear as glass with a seamless floating design so as not to obstruct the overall interior of our place (so it doesn't look cramped). So far, our clients have really appreciated the changes and the care we took to make our salon a Safe Zone for all. There are also Public Health Declaration Forms as required by the government, which we have clients and staff fill up on a daily basis on top of other safety protocol practices we do as routine these days."
The beauty that lies ahead
While only haircuts are allowed by the IATF regulations for now, including styling and shampooing a.k.a. 'in and out' services, clients must not lose hope of reuniting with more technical services such as hair coloring, treatments, and the like. Chase shares that he foresees the industry growing. " If you will open a salon now, or continue to run one, you must do it right and do it well. Investing in good, reliable and aesthetically pleasing equipment for both hair and safety is now the key to success on top of skills and customer care. On top of this, clients MUST feel safe in their own minds."
While competition and the business in general may prove to be a challenge, Chase also believes in the growth that comes with the undying determination to evolve and grow. "I guess what keeps us alive and still moving forward is the ability to embrace change and take on the challenges head on. It is a steep uphill climb from here, but as many would put it, there isn't any mountain too high, if we take it one step at a time", he shares.
In the spirit of undying entrepreneurship, Lourd on the other hand shares his sentiments on evolving and experimenting during this time. He shares that apart from his private services and haircut services in select branches, "We need to get and think out of the box, think of what else you can do aside from your talent—I've been cooking every other day to sell food, and it's getting bigger!"
As we look forward to a brighter day, we join hands with these beauty entrepreneurs on their journey towards the new world. And we couldn't help but close with these wise words from Chase—"In this time of crisis, many will increase their service prices a tad bit or some by a few percent, this is essential for the salons to be able to recuperate from the major losses incurred during the lockdown and to avoid going shut until many services are allowed to be brought back. I'm sure, when felt, your stylists, hair team, and home-salons will love you even more."
To get updates from these insiders, follow Design Studio on Instagram, and Lourd Ramos on Instagram.
Lead photo by Guilherme Petri on Unsplash