This Pinay Makeup Artist Levels Up Her Fangirling With A BTS-Inspired Beauty Editorial
The makeup looks are inspired by Agust D's "Daechwita" and BTS songs "Dionysus" and "Mikrokosmos"
We express our love for our idols in various ways—from supporting their projects to attending their concerts or fan meet events to purchasing their branded merchandise. But for Filipina professional makeup artist Chuchie Ledesma, aside from those, the best way to showcase her fascination with them is through her number one creative outlet; she channeled her obsession with South Korean boy group BTS through a beauty editorial that recreated and re-imagined the bold and edgy looks associated with their music.
It hasn't been long since Chuchie has been a proud member of the ARMY (the term for the fan base of BTS), but the K-Pop fever hit her hard. The story of how she discovered BTS (and its members Jin, Suga, J-Hope, RM, Jimin, V, and Jungkook) stemmed from her K-Drama addiction. After finishing Hotel del Luna, which starred Lee Ji-eun (or IU), she Googled about the series and chanced upon an article about BTS member Jungkook having a crush on IU. She got curious as to who Jungkook is, Googled about him and his band, and the next thing she knew, she was already hooked on BTS.
The enhanced community quarantine due to COVID-19 was implemented in mid-March, and that coincided with the start of her K-Pop fangirling. Throughout the lockdown, BTS was one of the things that really kept her sane during such a trying time.
BTS is a globally-renowned boy group that's famous not only for their record-breaking music feats but also for their trendsetting fashion.
But for Chuchie, what's most admirable about the boys of BTS is their work ethic. She shares, "More than their brotherhood, looks, and talent, I am impressed by the amount of dedication and hard work that they pour into perfecting every single performance and online content. Their stories of struggle and success from when they were trainees and now that they're superstars inspire me. They make us feel that if they can make it from nothing then we all can make it, too!"
For her beauty editorial, Chuchie was inspired by the looks from Agust D's "Daechwita" and BTS songs "Dionysus" and "Mikrokosmos."
Check out the gallery below to see the BTS-inspired makeup looks: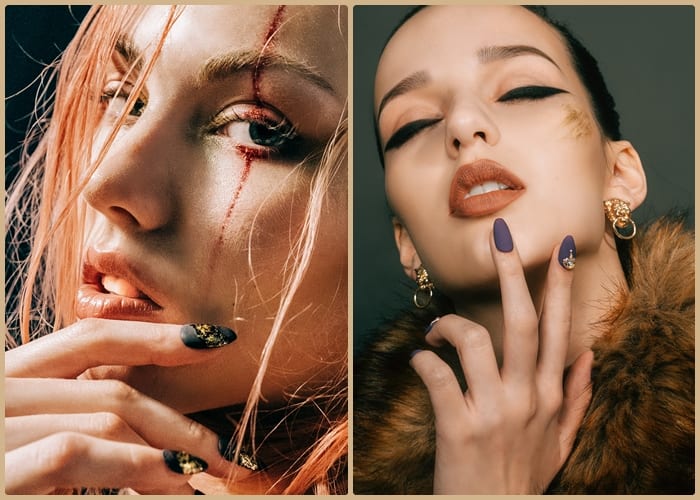 BTS Beauty Editorial
Photography by Stephen CapuchinoMakeup by Chuchie Ledesma
Styling by Ryuji Shiomitsu and Paul Sese
Hairstyling by Alexandria Lee
Nail artist: Mara Loyola
Model: Mary of Elite Model Management Manila