Here Are All The Beauty Tips We're Stealing From Dior's Cruise 2021 Show
No makeup-makeup tips, from the brand's Creative and Image director Peter Philips
The brand's creative and image director made use of Maria Grazia Chiuri's 2021 Cruise Collection for Dior, prettified with innocent shades that can still superbly pack a punch.
The barely there makeup trend has been hot for quite a while now. Sophisticated ladies love how it can capture their glow without the need for drastic measures. It's all about skin prep and muted makeup—an undemanding blend that's perfect for any occasion, be it a quick Zoom call or a socially distanced gathering with friends.
Time is precious and each moment gives us a chance to look our best. Why not make the most out of it even during this time? Even Dior Makeup is well-aware of this, hence it gave us another good reason to do so.
Luminous and completely natural, the makeup looks created by the brand's creative and image director Peter Philips for Maria Grazia Chiuri's 2021 Cruise Collection make for an endless trail of alluring beauty. Revealed in the stunning baroque city of Lecce, Italy, the new lineup of products is prettified with innocent shades that can still superbly pack a punch. Seems too good to be true? Scroll down to see them for yourself.
If you're convinced to try the newly-launched makeup collection at this point, look no further as Philips himself dished on how exactly he achieved such pure yet spellbinding looks. Below is a step-by-step guide for a highlighted bare radiance all over.
FOR THE SKIN
A flawless makeup calls for an amazing skincare prep. Philips used the Capture Totale C.E.L.L. Energy Super Potent Serum followed by the Capture Totale C.E.L.L. Energy Face Cream. To visibly diminish the appearance of dark spots and even out the skin tone, the Dior Backstage Face and Body Foundation was used, varying for every complexion. To create an incredible canvas for makeup application, it was topped off with the Dior Forever Skin Correct, available in various shades that "allow light touch-ups that are completely imperceptible."
FOR THE EYES
For a subtly sharpened look, Philips worked his wand on the new Diorshow Iconic Overcurl 090 Black after curling the lashes. "This meant I could 'open' the eye up without any overdone effect or any overloading," he explains. The brows were amped up with the Diorshow Brow Styler and Diorshow Pump n' Brow to match the eyes for a precisely balanced look. "They need to look natural while adding strength to the eyes."
FOR THE LIPS
Starting with the Dior Lip Sugar Scrub 001 that acts as a perfect lip exfoliator, Philips later put the Dior Lip Maximizer 001 Pink on the spotlight and blotted the shine with a tissue, imparting an ultimate matte finish in a rosy color that even lipstickphobes would love to embrace.
Get the look with these picks from Dior Beauty: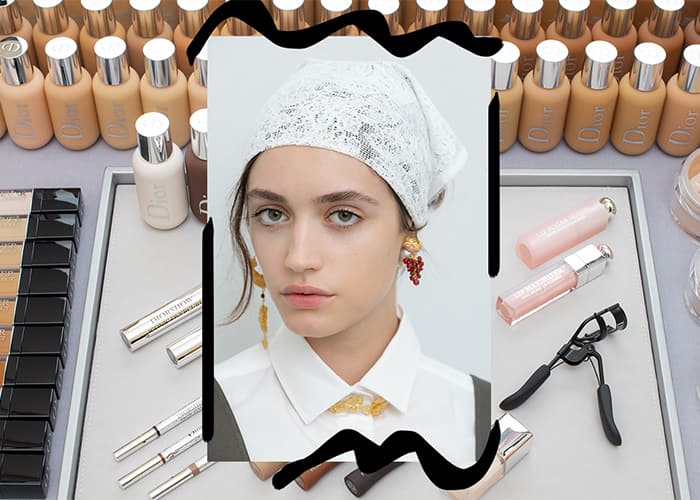 Dior Cruise 2021
Dior Cruise 2021
FOR THE HAIR
From the eyes to the hair, the lesson is uncomplicated: simplicity is key. "Hair was left natural, or covered with a small lace headscarf for some, or decorated with a delicate floral tiara for others," he shared.
FOR THE NAILS
Your hands can reflect who you are, so keep them soft and polished. The classic, barefaced look extends to the nails. And so, Philips amped it up with the Dior Vernis Muguet.
Watch the full video here:
Cruise 2021, Dior Show Backstage
Dior make-up created and styled by Peter Philips
Photography by Vanni BASSETTI for Parfums Christian Dior
Dior Beauty is located at SM Makati