Editor's Picks of the Day: Generation Happy Skin Bloom Collection
It's Kathryn Bernardo's third collaboration with the homegrown brand, and we're still obsessed!
Who says uncertain times should stop you from blooming?
Kathryn Bernardo begs to disagree. In her latest collaboration with homegrown brand Happy Skin, Generation Happy Skin 'Bloom' comes to us during a time when everything feels like it's all out of our control. Her ultimate goal for the collection? To make people feel happy. "I want this new collection to make people happy, I hope this line becomes something they can still use even in the current situation."
For her, the main reason she still blooms during these times is her love for family and her passion for working out. A self-confessed family person, Kathryn enjoys spending her free time playing with her niece Lhexine, as well as focusing on her loved ones to keep her grounded and in-check.
We're also not strangers to Kathryn being a passionate fitness gal these days, as she even recently let us in on her workouts of choice in a recent vlog. Because of all these things that fill her up, Kathryn is able to still create, and share her passion to the world by way of her love for makeup. Happy Skin CEO and co-founder Jacque Yuengtian-Gutierrez shares that collaborating with Kathryn has always been a fruitful process. "Every time we work with Kathryn, we always make sure that she tests the products herself. Generation Happy Skin Bloom is no different," she shares. "Kathryn was very hands-on—with every color and every formulation, she gave her honest feedback. The entire collection truly reflects her preferences and choices."
And because Happy Skin always boasts of being a skin-loving brand, this makeup line is no different, catering to what a woman needs to bloom in any phase of life. Easy-to-use products, easy to carry around, and perfectly flattering, the Generation Happy Skin Bloom line aims to bring out one's innate glow. From a long-wear cream blush to a glossy tint, the Bloom collection is what your kit needs for an instant reboot!
Scroll through the gallery to see Kathryn in several blooming looks using the collection's picks: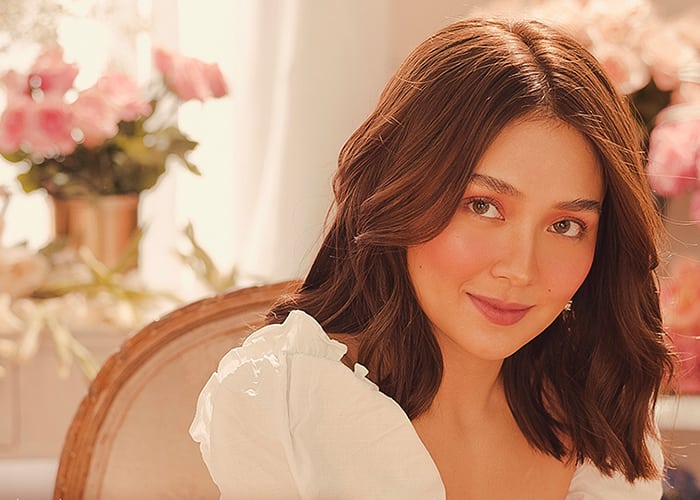 Generation Happy Skin Bloom Collection
Generation Happy Skin Bloom Collection
To purchase these irresistible Generation Happy Skin Bloom sets, click the on the links below. (Editor's Note: We're obsessed with the limited-edition UV Bag Set which comes in so handy these days!)
To view the complete collection, click here.