Switch Things Up With These Unexpected Makeup Looks
We asked celebrity makeup artist Gery Penaso for his best tips on how to cop the standout makeup looks from BYS Fashion Week!
Just recently, one of the leading cosmetics brands in the country, BYS Cosmetics, celebrated a decade in the local makeup scene via a stunning Fashion Week event. Among its many celebrated, talented featured fashion designers were Russell Villafuerte, Randolf, Cheetah Rivera, Jaz Cerezo, Kaye Morales, Just Bonita, Issa the Brand, Cruz MNL, and Thian Rodriguez.
The audience was treated to a three-day spectacle, which took place in different venues in the metro, where Filipino talent took centerstage. After being locked up in our homes for over two years, it was such a treat to experience art via these creations, in a celebration of beauty and style.
Apart from the jaw-dropping fashion creations by these celebrated designers, we were in awe of the makeup looks the team has come up with—all visually amazing, all equally worthy of a second look. Every single model that came down the runway was clad in mesmerizing design and complementing hair and makeup statements, giving us the inspiration we need to switch things up in our own routines. To help us understand the vision of the show more, we spoke to Gery Penaso, celebrity makeup artist and the creative lead for the show's makeup direction.
"The looks actually came from the designers, so my main job was to come up with a team of makeup and hairstylists that can deliver the creative requirements of the looks and help execute their vision for their collections", Gery shares. He adds, "the overall objective is to show everyone that makeup and BYS Cosmetics is fun and it has no rules!"
While it's common knowledge that BYS Cosmetics has one of the widest ranges of products when it comes to makeup, it's still amazing to see how these products come to life, especially in such a grand show such as this. "Backstage I had the chance to meet the owner of iFace and BYS Cosmetics Philippines, Ms. Angie Goyena. We had a little conversation about the event, and no wonder BYS is doing so great in the Philippines, its because they always go all-out, whether in marketing or choosing their endorsers. All the more with the celebration of 10 years of BYS in the Philippines", Gery quips.
He goes on to say, "as the head of beauty, we got all the support that we needed from the brand. Backstage, BYS has been so generous with the products that we need to bring the looks to life. Weeks prior the event, our team was also part of the shoot for the press kit, and they were really collaborative as a brand and very open to suggestions and ideas. It is an international brand and the quality is very good, as they also have such a wide range—from skincare to glam, colors and different textures like face paint and glitters. It is everything that I would want and need in doing a big fashion show, and everything that we need in our team to make the visions of the people behind the shows come alive!"
We, the audience are simply enamored by the looks that we just want to try some of it for ourselves! We asked Gery for his top advice for making these looks our own, and this is what he had to say: "I think you just have to play with it and have fun with it—that's what BYS is all about!"
It's true that some of us may be skeptic about trying out these trendy makeup looks, but Gery begs to differ. He doesn't consider these looks reserved solely for the runway, as these looks can typically be widely seen on Instagram and TikTok nowadays. Inspired by Gen Z, these looks are playful and adventurous, and encourage self-expression. "I think that's what's important when you copy the looks that you see on the runway—to be able to self express", Gery says. Inspired to inject fresh energy into your makeup routine? Check out our gallery below to get the look!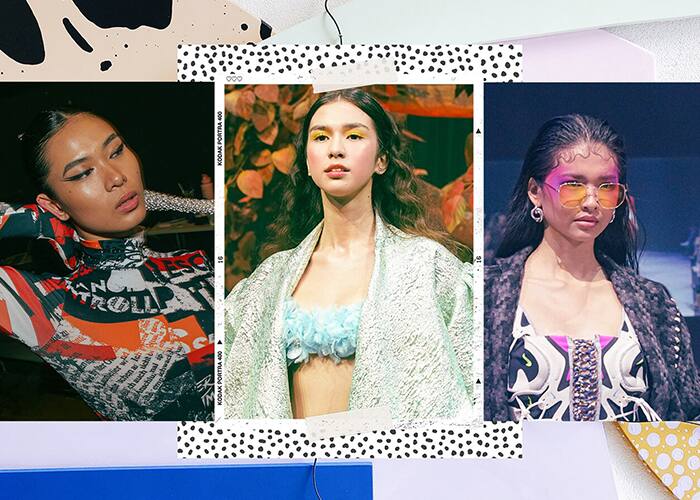 Get the Look
Get the Look