Lisa of BLACKPINK is MAC Cosmetics' Newest Global Brand Ambassador!
She's the first ever female K-pop idol to have such an opportunity with the global cosmetics giant!
BLACKPINK, the world's biggest K-pop girl group right now, sure is making their presence felt this year, with the drop of their much-awaited full-length album, a Netflix documentary 'Light Up the Sky', countless shows and appearances, and endorsements left and right! And as for the latest? Lisa, the K-pop girl group's resident dancer and rapper, has just been announced as M·A·C Cosmetics' newest Global Brand Ambassador!
As the first ever female K-pop idol to be given the honor, Lisa shares in the excitement surrounding the new partnership, saying "I have always been a big fan of M·A·C! I like how the brand turns makeup into a form of self-expression which always gives me great confidence on stage," Lisa said. "Together with M·A·C, I am excited to invite and empower more audiences as we both have individuality and diversity at our core."
Known for her powerful stage presence and ability to set trends in style and beauty, Lisa Manoban, 23, the K-pop idol of Thai descent, continues to dominate in today's pop culture, making her a perfect fit for the role. She now belongs in the ranks of other A-list celebrities who have been M·A·C Cosmetics Amabassadors, like Chinese artist Lay Zhang of K-pop boy group EXO, international pop star Rosalia, Ariana Grande, Miley Cyrus, and RuPaul.
"Lisa's unparalleled talent and bold, fashion-forward style make her the perfect match for M·A·C," says Drew Elliott, Senior Vice President and Global Creative Director for M·A·C Cosmetics. "Always confident and never one to shy away from risks, she embodies our commitment to individuality and self-expression above all else. We can't wait for her fans to see what she has in store for them through our collaboration."
Get Lisa's look in the gallery below: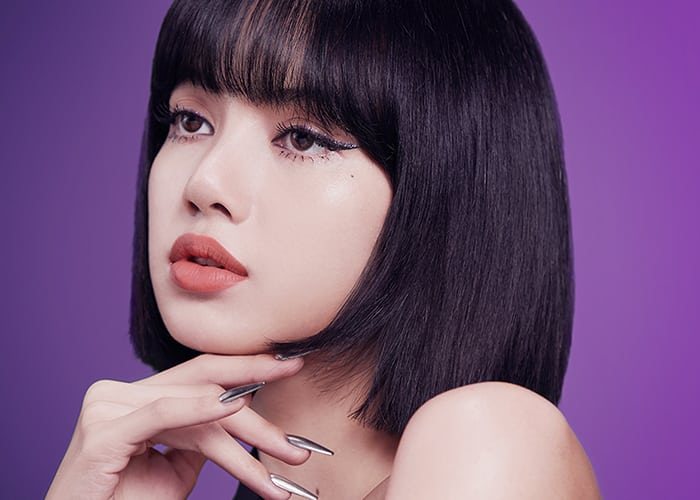 Get Lisa's Look!
Get Lisa's Look!
Check out this Q&A with Lisa below:
1. How do you feel to be the newest brand ambassador for M·A·C Cosmetics?
I'm a huge fan of M·A·C and have been a loyal user for a long time, so it's really a dream come true to have the opportunity to serve as an ambassador for the brand. M·A·C is truly at the forefront of trendsetting, which reminds me every time I see a M·A·C campaign or the incredible looks their artists create backstage of fashion weeks around the world. It's an honor to partner with a brand with such an incredible heritage and unrivaled expertise in makeup artistry. I am thrilled and looking forward to this journey!
2. What was your first ever M·A·C product?
The first M·A·C product I used was a lip product. I'm still a huge fan of M·A·C's lip products and love playing around with the countless number of colors and textures to choose from to help perfect my look.
3. When did you realize your love for makeup? What about it do you love?
Since I was a little girl, I have always been interested in makeup and fashion. But if I had to say the time I officially fell in love with makeup, I would say that was after my debut. When we release a new album or when I'm on set for a magazine, I enjoy suggesting a makeup look that I've always wanted to try.
4. Any beauty routine/regimen you want to share?
I usually enjoy natural make-up. I like to start with a simple base and finish with a slightly bolder lip color to add some vibrance. Especially for lip makeup, I like to make an ombre lip that naturally gradates by tapping from the center of my lips!
5. Where do you get your color make up inspiration?
I constantly review various makeup looks for inspiration. When I'm at a shoot, I like suggesting makeup styles that I have been eager to try. I enjoy working together with the makeup artist to finalize my look through different attempts to eventually suit the mood I am trying to express in the shoot.

Join the #MACLovesLisa with Cassy Legaspi conversation by logging on to M·A·C Cosmetics' Facebook Page at 12noon today (October 19, 2020).