This Makeup Artist's Passion for Illusion Artwork Brought Her to The Met Gala
Special effects makeup artist Mimi Choi will inspire you to carve your own path
Looking back at the 2019 Met Gala, and one thing's for sure—it was a feast for the eyes, with our favorite celebrities and personalities taking its "Camp" theme to heart. Ezra Miller had arguably one of the most striking red carpet looks, with a face painted with five extra eyeballs—an optical illusion that was the work of makeup artist Mimi Choi.
A quick scroll on her Instagram feed will show you that Choi does all sorts of special effects and illusion work with makeup—from turning a part of her face into a puzzle to fooling you into thinking that her arm is a sushi roll. The girl can do practically anything.
It was interesting to learn that the former Montessori preschool teacher had initially started painting on her face because she wanted to recreate the vivid imagery that she saw during her bouts of sleep paralysis. With her mother's encouragement, she eventually pursued an education in makeup. "I tried different types of work but I didn't really have a clear path until I discovered illusion makeup. It made me happy but at the time, there was no market for it. That genre didn't really exist five years ago. It was something I was playing with but I followed my heart and my happiness, and the universe created a path just for me," she tells Garage in a 2019 interview.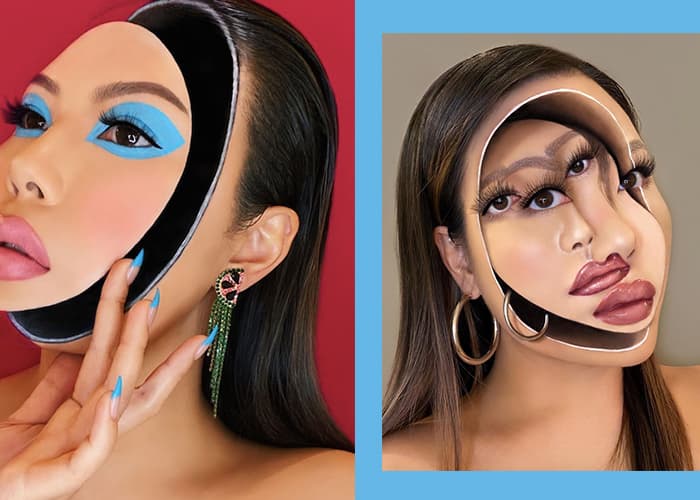 Mimi Choi
Mimi Choi
Five years and a million Instagram followers later, she has found what she considers her calling. This knack for creating one-of-a-kind makeup looks comes almost naturally to her, as she considers herself an observer. In an interview with the Blanche Macdonald Center, she expounds more on this saying how she finds inspiration in the everyday: "I'm an observer. Ever since I was young, I've liked details and people watching. Little things fascinate me… the color of your hair. The carpet. I love geometric shapes; things like sharp edges and lines, architecture. Lines on a cupboard that I want to draw on my eyes," she shares. This attention to detail is clearly seen in her work.
Choi is proof that following a path that truly calls you, no matter how silly it may seem at first, will only reward you in the end. "If you want to succeed, don't just dream about it, do it. Don't say 'maybe,' You only have one life. That's why, when I teach classes, I tell students that if you see something that really inspires you, don't be afraid to create something out of it. And one of the hardest but most important things I've learned is to not compare yourself to others. The universe will provide you a path that is unique and good for you," she says in the same Blanche Macdonald Center interview. While the path certainly won't be easy, it is that passion in you that will fuel you when encountering each obstacle.
Lead and gallery photos via @mimles