FACE FORWARD: How To Join The Rustan's Beauty Addict Online Party
Beauty talks, tutorials, freebies, shopping, and everything in between—we can't wait!
Despite being cooped up at home, we beauty addicts could not be stopped from enjoying a straight-up feel good beauty session! Without having to step out of the house, get your much-needed beauty fix on September 3, Thursday, as Rustan's celebrates FACE FORWARD—the 8th year of Rustan's Beauty Addict! In its first ever online beauty party, you can only expect the best there is for all your beauty needs!
Mark those calendars, set those alarms, because a ton of fun stuff, discounts, and freebies are in store! Scroll ahead to find out how to join!
The party kicks off with a Facebook Live session at 4 PM, followed by the opening of the Beauty Addict Portal at 5 PM, which you can register for right now through this link. The live beauty session will be joined by some of the industry's top tastemakers, including Tim Yap, Tessa Prieto-Valdez, Rachel Peters, Marie Lozano, Mikaela Martinez, and Janeena Chan.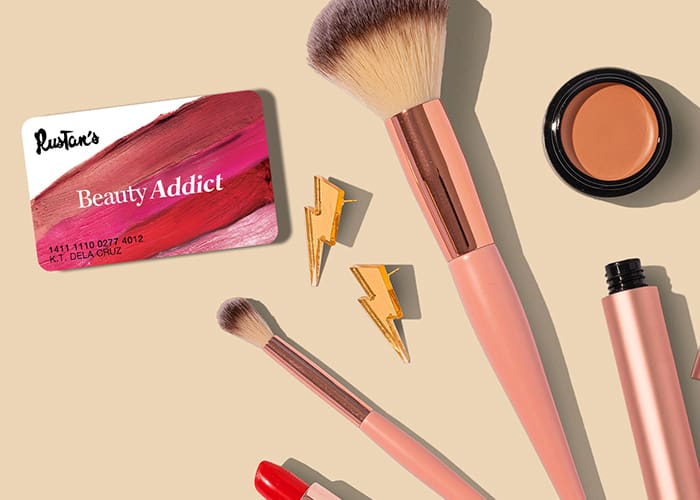 Meet the Special Guests
Meet the Special Guests
Rustan's takes you through an interactive virtual experience for the party, with the Beauty Addict Portal's many features including a Live Pod where you can join in on the beauty talk that took place in Facebook, a Trends Capsule where three major beauty trends will be discussed by featured makeup artists, a Game Room where tons of beauty prizes are up for grabs, a Photo Room where attendees can take photos and create GIFs. Lastly, get to shop your picks and get great deals in the process!
If you're only there for the shopping, you're still in for a treat, as favorite brands like L'Occitane, Murad, Acca Kappa, and Anastasia Beverly Hills will be on an exclusive sale all day! Should you decide to step out on September 3rd and head out to Rustan's the Beauty Source, or if you decide to shop via Rustan's Personal Shopper On Call, Beauty Addict members can expect special treats too!
The first 200 members to purchase P10,000 worth of beauty products will receive a P1,000 digital voucher. Reach P20,000 and get an additional SORA multipurpose towel on top of the voucher!
Beauty Addict members can also get the chance to win a luxurious shopping spree! For every P2,500 purchase from September 1 to October 31, 2020, a member is entitled to 1 e-raffle entry for a chance to win one of the following prizes:
Grand Prize: Shopping Spree worth P100,000 at Rustan's The Beauty Source
Second Prize: P50,000 worth of beauty products
Third Prize: P25,000 worth of beauty products
Give yourself some love because self-care always matters. Shop your favorite beauty products stress-free with Rustan's Personal Shopper On Call at bit.ly/RTBSShopOnCall or shop online at www.rustans.com. Your safety is our top most priority; rest assured that Rustan's Malls have implemented safety guidelines in stores.
RUSTAN'S THE BEAUTY SOURCE PERSONAL SHOPPER CONTACT NUMBERS (via Viber)
Rustan's Makati - 0917 843 8017 or 0917 843 8171
Rustan's Shangri-La - 0917 843 8137 or 0917 802 2494
Rustan's Alabang - 0917 122 7649 or 0917 815 2317
Rustan's Gateway- 0917 818 8640
Rustan's Cebu - 0917 509 0460 or 0917 587 6911
STORE HOURS:
Rustan's Makati 10:00 a.m. to 7:00 p.m.
Rustan's Shangri-La 11:00 a.m. to 7:00 p.m.
Rustan's Alabang 11:00 a.m. to 7:00 p.m.
Rustan's Gateway 10:00 a.m. to 7:00 p.m.
Rustan's Cebu 11:00 a.m. to 7:00 p.m