Celebrate Virtual Pride March With Teviant's Free To Be Me Campaign
In solidarity with the LGBTQ community, this homegrown cosmetics brand celebrated Pride March by showing love to a less fortunate LGBT organization, and encourages you to express your makeup skills in an online competition!
Even without a physical Pride March in place, the celebration for Pride Month continues, as we turn the spotlight on the colorful individuals that make up the LGBTQ community! We stand with them in their continuous fight for equality on all levels, and recognize the amazing contribution they have in society. One such brand that continues to support the causes of the talented community is none other than homegrown cosmetics brand Teviant, as they recently launched their "Free To Be Me" campaign.
According to founder Albert Kurniawan, the campaign aims to encourage people to express themselves just in time for Pride March, and with the on-going Teviant Cosmetics sale, everyone can avail of amazing products at discounted prices, to help them create their best Pride looks! Check out all the mechanics of the promo below:
From June 25 to July 5, one can avail of up to 30% discount on select Teviant products, and if one decides to try his or her luck in the competition (that lasts until July 3), a special Teviant Pride Kit awaits the winners! Hear it from the founder himself, in the special video below:
And to further celebrate the beautiful souls that make up the LGBTQ community, earlier today, Teviant went to Home for the Golden Gays, Inc., to spread love and cheer among the elder members of the community. In the spirit of inclusivity and love, the Teviant team brought care packages to the members of this less fortunate community that includes homeless golden LGBTQ individuals.
Albert goes on the share in an Instagram post, "Preparing something today for all the MAMAs in the HOME FOR THE GOLDEN GAYS! It is a non-profit organization that gives shelter to homeless Golden LGBT members! Pride is a feeling, a culture, a recognition of dignity and equality. Let us celebrate inclusivity and diversity with @teviant's #FreeToBeMe campaign! You may use my discount code TEVIABT in our teviantbeauty.com. A portion of our sales will be donated to help our MAMAS in the HOME FOR THE GOLDEN GAYS! Happy pride everyone!"
Check out the highlights from this fabulous event in the video below:
To start shopping, log on to Teviant's Official Website or on Lazada. Follow them at @teviant on Instagram for all the updates on the #FreeToBeMe campaign!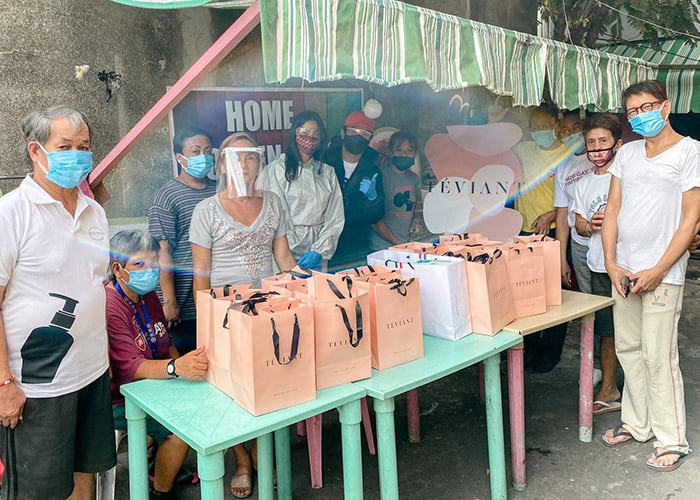 Teviant Free To Be Me
SWIPE LEFT OR RIGHT
TO NAVIGATE BETWEEN PAGES