9 Ageless Korean Actresses And Their Top Beauty Secrets
With how youthful they look and how beautiful their skin is, it's hard to believe they are in their late 30s and in their 40s!
These Korean actresses have undoubtedly discovered the fountain of youth. Even when they're already in their late 30s and in their 40s, they still look as stunning as ever. If anything, they look even better today, now that they know what tips and tricks work and what don't for their skin, body, facial features, and hair.
With South Korea known as a beauty-obsessed country and a global trendsetter in this industry, these Hallyu stars have access to the best products and services that help them maintain their youthful look. But credit goes to their discipline as well in strictly following skincare regimens and observing a healthy lifestyle, which contributes a lot to having flawless, poreless, blemish-free, dewy, and radiant skin that's camera-ready even without any trace of makeup.
Check out and read through our list of ageless and timeless Korean actresses, and pick up a beauty tip or two from their tried-and-tested hacks: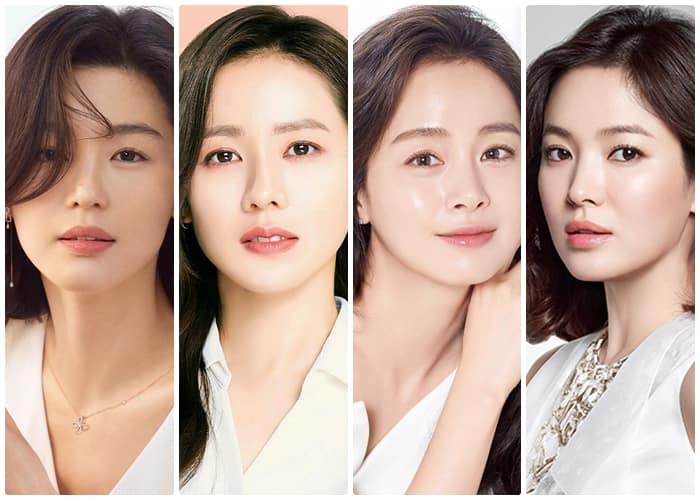 Ageless Korean Actresses
SWIPE LEFT OR RIGHT
TO NAVIGATE BETWEEN PAGES
Son Ye-Jin, 38
Photo Credit: Photo from MSTeam Entertainment
Son Ye-Jin, 38
Photo Credit: Photo from MSTeam Entertainment
Son Ye-Jin, 38
Photo Credit: Photo from @manyofactory_official
Son Ye-Jin, 38
Photo Credit: Photo from @yejin_ph
Jun Ji-Hyun, 38
Photo Credit: Photo from @stonehenge_official
Jun Ji-Hyun, 38
Photo Credit: Photo from SBS
Jun Ji-Hyun, 38
Photo Credit: Photo from @junjihyun_81
Jun Ji-Hyun, 38
Photo Credit: Photo from @junjihyun_81
Song Hye-Kyo, 38
Photo Credit: Photo from @kyo1122
Song Hye-Kyo, 38
Photo Credit: Photo from @kyo1122
Song Hye-Kyo, 38
Photo Credit: Photo from @kyo1122
Song Hye-Kyo, 38
Photo Credit: Photo from @kyo1122
Jung Ryeo-Won, 39
Photo Credit: Photo from @yoanaloves
Jung Ryeo-Won, 39
Photo Credit: Photo from @yoanaloves
Jung Ryeo-Won, 39
Photo Credit: Photo from @yoanaloves
Jung Ryeo-Won, 39
Photo Credit: Photo from @keyeastofficial
Jang Na-Ra, 39
Photo Credit: Photo from @nara0318
Jang Na-Ra, 39
Photo Credit: Photo from Rawon Culture
Jang Na-Ra, 39
Photo Credit: Photo from Rawon Culture
Jang Na-Ra, 39
Photo Credit: Photo from Allure Korea
Kim Tae-Hee, 40
Photo Credit: Photo from Cell Cure
Kim Tae-Hee, 40
Photo Credit: Photo from Cell Cure
Kim Tae-Hee, 40
Photo Credit: Photo from @taeheekim80
Kim Tae-Hee, 40
Photo Credit: Photo from @olivialauren_official
Ha Ji-Won, 41
Photo Credit: Photo from SBS
Ha Ji-Won, 41
Photo Credit: Photo from Stylus
Ha Ji-Won, 41
Photo Credit: Photo from @hajiwon1023PH
Ha Ji-Won, 41
Photo Credit: Photo from BA Entertainment / Life Risking Romance movie
Gong Hyo-Jin, 40
Photo Credit: Photo from Management Soop
Gong Hyo-Jin, 40
Photo Credit: Photo from Management Soop
Gong Hyo-Jin, 40
Photo Credit: Photo from Management Soop
Gong Hyo-Jin, 40
Photo Credit: Photo from Vogue
Choi Ji-Woo, 44
Photo Credit: Photo from tvN
Choi Ji-Woo, 44
Photo Credit: Photo from @choijiwoo_ph
Choi Ji-Woo, 44
Photo Credit: Photo from @choijiwoo_ph
Choi Ji-Woo, 44
Photo Credit: Photo from @choijiwoo_ph