Aivee Clinic Launches This Portable Skin Tightening Device For Your Quarantine Skincare Needs
No clinic? No problem! Address your skincare needs this quarantine with Aivee Clinic's newest portable home-use device that promises to lift and tighten your skin
Worried you haven't been fulfilling your beauty appointments because of the quarantine? Well, what if you can level up your home skincare routine to address your stubborn skin problems?
Aivee Clinic recently announced a new skin-lifting and skin-tightening device that's portable and can be used at home. Dr. Aivee Teo launched the product on her Instagram story on March 30 as a response to those who want to raise their skincare game at home as we stay in lockdown.
"A lot of people are asking me what they can do while on home quarantine to maintain their skin toning and skin tightening. This is our answer," she says.
If you're a fan of the Aivee Clinic's wide range of beauty products, you'll find the Aivee Skin Lift Home Device as a great device to improve the effectiveness of their topical skincare creams. The Aivee Skin Lift Home Device is a small, portable device that promises to help you maintain or improve your skin tightening and skin toning routines, anywhere you are.
How it works
The Aivee Skin Lift Home Device uses two kinds of technology: one, it sends micro current waves to your skin, tissue, and muscle, which then causes collagen stimulation to tighten and lift your skin; and two, it uses high frequency sonic, which allows increased blood circulation in your skin for better absorption of your skincare products.
Dr. Aivee recommends the use of this home device with three of her favorite creams for the best results: the Age Defiance Cream, Lumi Bright Complex, and Infinity Cream. The Age Defiance Cream aims to restore stimulate natural collagen production to target fine lines and wrinkles. The Lumi Bright Complex is a moisturizing aid that diminishes dark spots and brightens dull and uneven skin. The Infinity Cream aims to prevent collagen breakdown and promotes skin hydration for those with dry and sensitive skin.
Hydration is one of the most important parts of any skincare routine for any age group and skin type, so it's best to work on keeping your skin hydrated especially during summertime.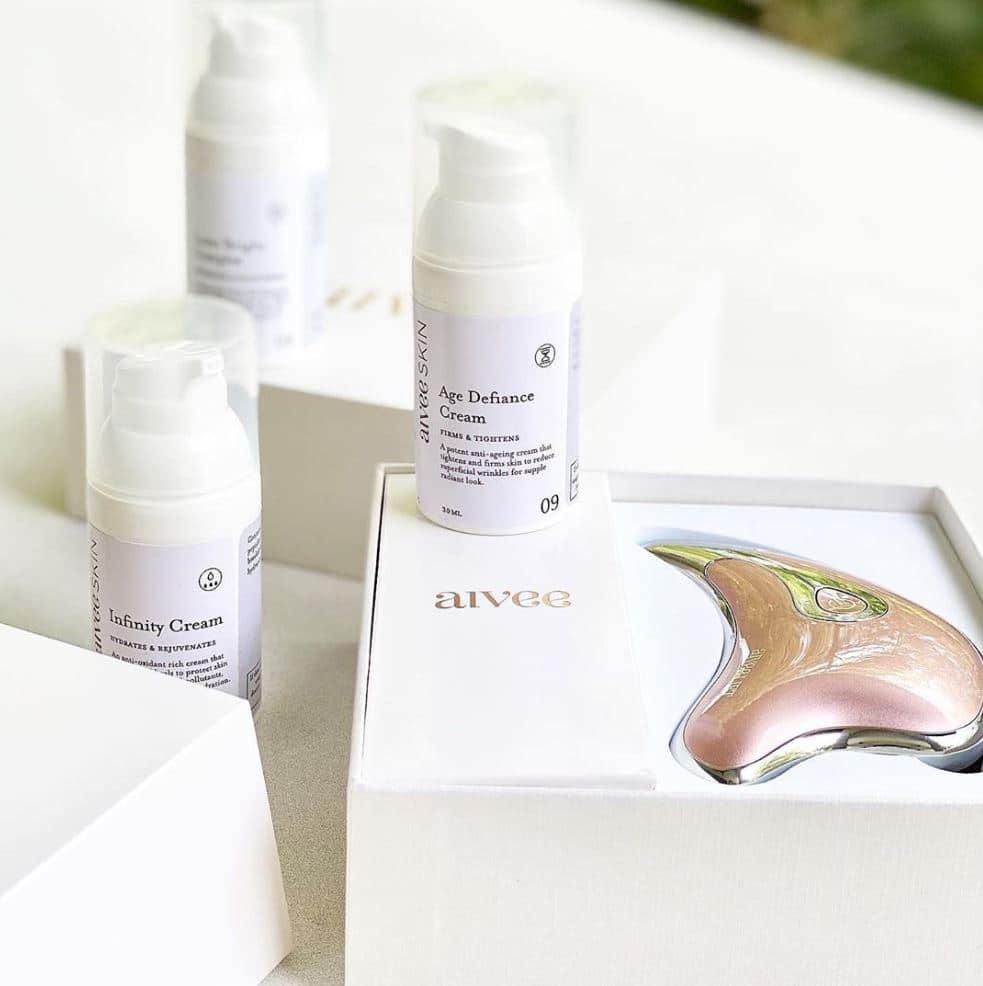 Aivee Skin Lift Home Device
Aivee Skin Lift Home Device
How to use
Since it's a portable device, you can actually use it anywhere and anytime. Dr. Aivee recommends using it after applying your skincare products so the device can glide smoothly on the skin, using the specialized curves to target and reach all crevices of the face and neck.
All you have to do is press the button on top of the device, which then activates the red light at the bottom for skin lifting. Press it again to activate the blue light for skin toning.
Using the device would take around 6 minutes and it can be used once or twice a day with your morning and nighttime skincare routine. Charge the device before use (it comes with a cable) and wipe it down and disinfect after (it also comes with a cleaning cloth).
You can also watch Dr. Aivee's hands-on tutorial with the device in her Instagram story below:
How to order
The Aivee Skin Lift device and the three creams that's recommended to be used with it can be delivered nationwide and even internationally. You may call the Aivee Clinic customer service hotline at 09177283838 or your particular branch if you're a patient.
If you watched Dr. Aivee's story, you may have noticed the nice lighted Aivee Vanity Mirror she used. You can also add this to your order if you buy any of their skincare products.