14 Ageless Korean Actresses In K-Dramaland
It's hard to believe that these ladies are already in their late 30s, 40s, and 50s!
We've said it before and we'll keep say it again—we love K-drama! And because this wave is here to stay, we've done a little more digging into the beautiful actresses we often see on the small screen. Through the years, we've seen these ladies grace roles both big and small, making us fall in love effortlessly! Apart from their undeniable talent and charm on-screen, we've also got to admit—a lot of these women are certified beauty goals!
Youthful, supple skin, an always-glowing complexion, expressive monolid eyes for some, luscious locks of hair—these ladies seem to have found the Fountain of Youth throughout their remarkable careers! While we've also got our eyes peeled for the next generation of Korean actresses to watch out for, we've got to pay homage to the Hallyu actresses who may already be in their late 30s, 40s, and 50s, but are still giving the younger ones a run for their money!
Maybe they're really just born with it, but these ageless Korean actresses truly define what 'ageless beauty' looks like. A lot of them have advanced in years, along with the many beautiful K-dramas they've blessed us with, but they've surely taken care of themselves throughout too, maintaining the porcelain skin, bright eyes, and peg-worthy hair of their youth! Most of these ladies credit their timeless looks to a simple yet proper skincare routine, religiously taking off makeup at the end of a long working day, and keeping a healthy diet and lifestyle.
In the gallery that follows, we round-up 14 ageless beautiful K-drama actresses who are legit beauty icons in our book. A lot of these ladies also lend their faces to some of the top beauty campaigns in South Korea, further cementing their status as beauty inspirations in K-dramaland.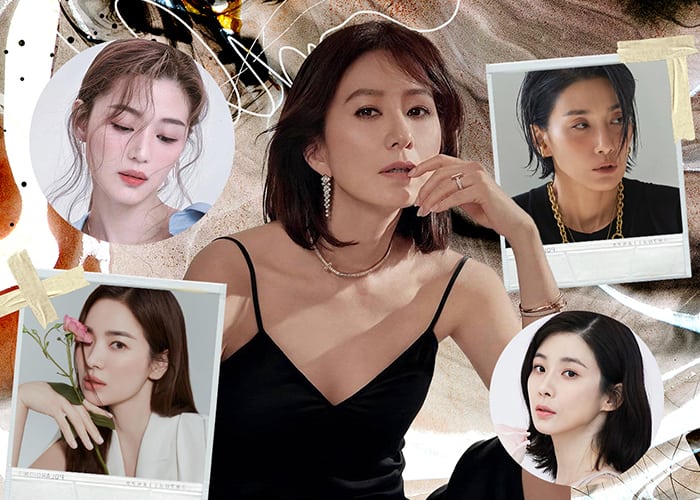 14 Ageless Korean Actresses
14 Ageless Korean Actresses
Lead photos via ELLE Korea, Hancinema, @kim_seohyung, @kyo1122, @leeboyoung0112