We've Got These Skincare And Makeup Organizers On Our Wish List!
Take your decluttering to the next level by investing in these pretty cosmetics organizers!
We all know that famous adage from Marie Kondo's book 'The Life-Changing Magic of Tidying Up', "does this spark joy?"—the question we must ask ourselves when we want to get rid of something while decluttering. These days in quarantine, we're sure you've engaged in some form of decluttering and organizing, but for us beauty girls, decluttering our makeup and skincare collection can sometimes prove to be a difficult feat. Because yes, they all still spark joy in some form or another!
We already gave you some tips on how to declutter every part of your makeup and skincare collection, but this time around, because we know the joy of seeing your collection laid out and stored properly, we give you our wish list of the prettiest makeup and cosmetics organizers out in the market right now! Beauty girls, cue *internal scream*!
After going through the grueling task of sorting through a bajillion products in your vanity and in your bathroom, nothing feels better than seeing them stacked properly together. Not having to rummage through a box, or a pouch, or even have them all laid out on your bathroom sink will not only make your life easier, it will definitely add a little more eye candy to your space as well!

Ahead, we round-up all the cosmetics organizers we're lusting after, depending on our different aesthetics, and organizing needs! Happy shopping!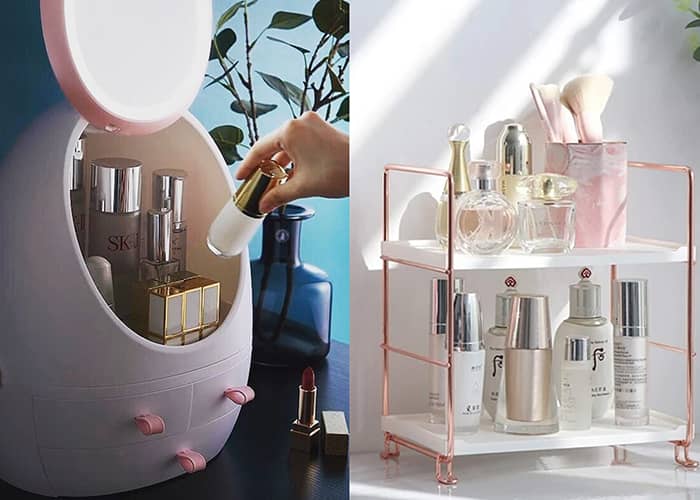 Cosmetics Organizer Wishlist
Cosmetics Organizer Wishlist