These Makeup-Free Korean Actresses Are Skin Goals!
They inspire us to go au naturel!
It's no secret that we're huge fans of the K-beauty world as it has blessed us with some of the most iconic beauty trends in the past decade. We're talking sheet masks, the 10-step routine, essences, and much more. We've added more than one of the following to our kits too—lip tints, cushion compacts, subtle eyeshadow, you name it!
It is natural for us to be huge fans of Korean stars too, and their unique way of applying makeup—never overdone, always subtle, always glowing. Whenever we watch our favorite K-drama, we can't help but pause and stare a little too long, trying to take in the perfection that are subtly lined eyes, porcelain skin, subtle pops of blush, and their signature gradient lip tint look.
There's no denying that these ladies are genetically blessed to have amazing skin and beauty! And while looking picture-perfect for the screen is their full-time job, their country, South Korea, is known to be a country that's obsessed with beauty—making it the 9th largest cosmetics market in the world, according to the International Trade Administration. Practically everyone has a skincare routine!
And speaking of skincare, the category has grown exponentially in the past year, with face moisturizing products such as essences, serums, and oils being purchased 126% more than a year ago, according to Statista. Mask-wearing was surely a big factor in the growth of the skincare industry, and moisturizing the top concern among South Korean customers. The website also states that the consumption of color cosmetics went down significantly in the past year, as the market opted to spend on skin health over wearing makeup. Such is the case for us locally too—skincare has been on the forefront of our beauty priorities over the past year. While it may still be a challenge to manage maskne and whatnot, the constant effort to learn how to deal with our skin eventually pays off.
Now when it comes to #SkinGoals, we know that we can always go back to our favorite Hallyu superstars to give us a fresh dose of inspiration. Without a doubt, they look amazing with or without makeup, proving that their skin is the definition of porcelain perfection. Swipe through the gallery below to check out 17 Korean actresses who look great makeup-free!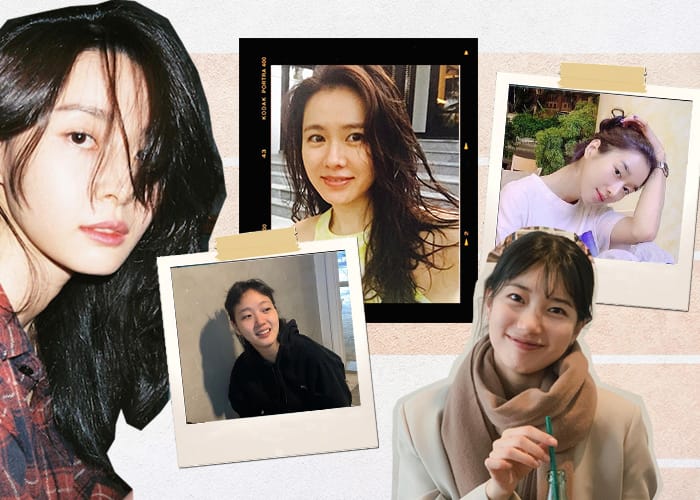 Makeup-Free Korean Actresses
Makeup-Free Korean Actresses
Lead photos via @hv_nara, @yejinhand, @seoyeajiluv, @ggonekim, and @skuukzky