Metro Most Beautiful Korean Actresses: Song Hye-Kyo And Her Beauty Secrets
To maintain her youthful glow, she doesn't just rely on skincare products—she makes sure she thinks positively, too!
Every so often, there emerges a Korean actress whose popularity and charm reaches and affects even those who generally aren't into K-entertainment. The stunning Song Hye-Kyo, known for her roles in Descendants in the Sun and Full House, is one of those actresses.
This 38-year old is a mainstay in the entertainment industry, from her first television appearance in First Love in 1996, as one of the students being tutored by Lee Hyo-kyung. Since then, she's appeared in even more popular K-dramas, like Autumn in My Heart, That Winter the Wind Blows, and Encounter. She's also ranked 7th and 6th Forbes' Korea Power Celebrity list, in 2017 and 2018, respectively.
Despite her huge success, however, she's maintained a relatively low profile throughout her career, but that doesn't mean she hasn't shared her secrets to maintaining her radiant and healthy skin! She perfectly embodies the trends in K-beauty, as evidenced by her perfect, dewy complexion!
Scroll through the gallery below to find out what she values most when it comes to skincare and beauty: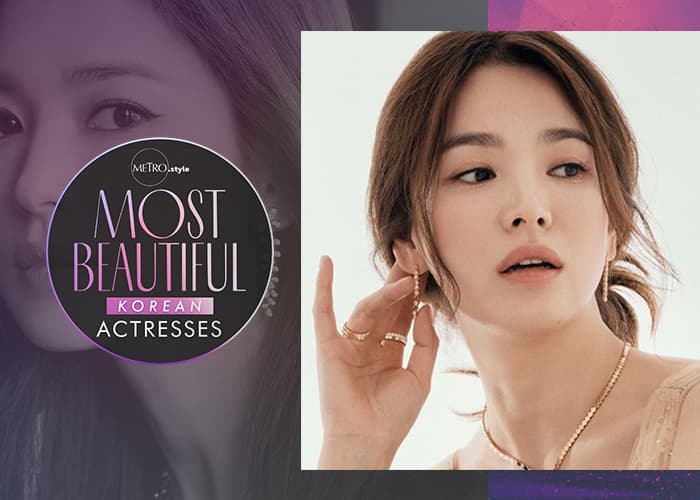 Metro Most Beautiful Korean Actresses: Song Hye-Kyo
Metro Most Beautiful Korean Actresses: Song Hye-Kyo
Check out all 10 nominees for Metro's Most Beautiful Korean Actresses and their notable roles below:
Lead photo via @chaumetofficial