My Beauty Story: L'Oreal Group's Bianca Sing
This career woman takes us through her adventure in the exciting world of beauty, and at 25, practically tells us that anything is possible if you're willing to jump in!
When we say that a person has a 'digital' job, we often think that this person has something to do with vlogging, blogging, or social media. But little do we know that being in digital these days means so much more, and can mean so many things.
Such is the case for this edition's 'My Beauty Story' subject, Online Brand Manager Bianca Sing. Once a part of Chalk Magazine's esteemed group of brilliant young talents 'Bright Young Manila', Bianca has since then been journeying through a career in beauty—carving a colorful path in her then position in Manila, and now thriving in Singapore, leading the online initiatives for skincare brand Garnier under the L'Oreal Group.
In this feature, she takes us through her adventure in this exciting career, and at 25, practically tells us that anything is possible if you're willing to jump in. Scroll ahead, and get inspired!
Metro.Style: Tell us about yourself and what you do.
Bianca Sing: I'm Bianca Sing, a 25-year old BS Business Administration graduate from the University of the Philippines-Diliman. Born and raised in the Philippines, I'm now based in Singapore championing online acceleration for some of the most loved beauty brands and products in the region. I'm currently the Regional Online Brand Manager for Garnier under the L'Oreal Group, handling everything online related to the business (i.e, digital, e-commerce) for the South Asia Region (ASEAN and India.) As a happy project on the side, I write and share stories about travel and lifestyle on my blog (www.biancasing.com), Instagram (@singbianca), and contribute to online publications and magazines from time to time.
MS: How did you get into this line of work?
BS: I've always loved creative stuff since I was a kid—may it be something related to arts, design, fashion, or interiors. Even if I didn't take up a course directly relating to this back in university, I made sure I found ways to do something that challenges my creativity, by crafting a career out of fashion styling on the side, while maintaining a good academic standing in school.
In between classes and on weekends, I would be running around the city doing clothing pullouts and styling for celebrities for magazine shoots, endorsement deals, and TV shows. With this, I got exposed to this vibrant industry at an early age. Working with talented creatives such as photographers, creative directors, hair and makeup artists, models, and even brand people on the other end, brainstorming on concepts we want to capture in a campaign, inspired me a lot. There was never a dull moment with them. I loved it!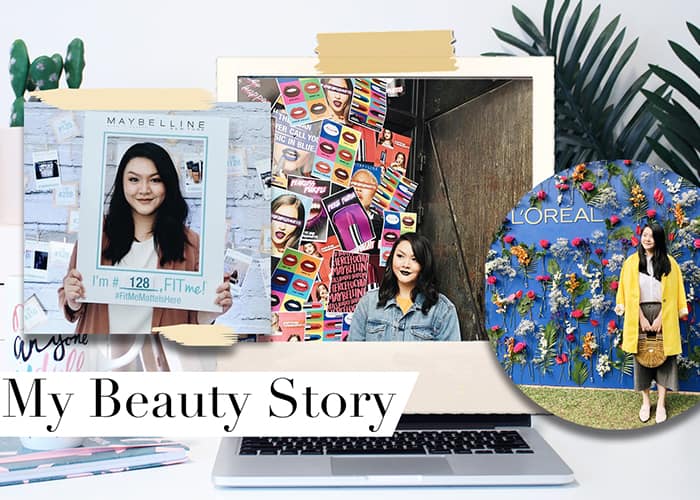 My Beauty Story: Bianca Sing
My Beauty Story: Bianca Sing
During my sophomore year, I decided to make use of my summer break to do an actual internship. Even if it's not graded, I thought it would be fun, and would help me set a clearer path on what I wanted to do after graduating. After all, school can only teach us so much. I'm a firm believer that until you get exposed in the real world and do the actual work, that's the only time you'll learn, and know if it's something you see yourself doing in the long run.
I guess, coming from my styling background, I unconsciously got attracted to industries that are very close to what I was exposed to during my styling experience. I was looking for a company that could be a combination of my two passions—business and creativity. Coincidentally, L'Oreal was one of the companies who offered me a slot in their summer program (despite me being a batch lower than the typical junior students they hire.)
That internship kind of set my future, actually. I had so much fun because of the people I met and got to work with, the concrete projects, and the impact I was able to contribute. After my internship, they offered to have me join their Management Trainee program. And the rest, as they say, is history!
MS: What are your most memorable moments in this career you have? What would you consider as your top three career 'milestones' so far?
BS: For best moments, hands down it would be meeting some of my best friends (both in the Philippines and from the different parts of the world) throughout the duration of my corporate career.
Career Milestones:
1. One of my proudest projects in my L'Oreal career is launching Maybelline e-commerce in the Philippines almost four years ago. I'm proud to be part of the team that set the groundwork for this online revolution. Until today, Maybelline remains to be the undisputed No.1 makeup brand in major e-tailers in the country.
2. I would say my last role in the country, leading the Digital and Media for the whole L'Oreal Philippines across three divisions—Consumer (Maybelline, L'Oreal Paris, Garnier), Luxury (Kiehl's), and Professional (Kerastase, L'Oreal Professionel, Matrix) divisions was a key highlight of my career. To be entrusted to lead the digital acceleration of a company at the age of 23 is definitely not an opportunity that is given to you every day. Plus! I got to work on some exciting projects with some of our partners (Facebook and Google) along the way.
3. And of course, to get expatriated and be the pioneer person to do this new regional role is a big move for me as well!
MS: What are the challenges you encountered and what lessons did you learn along the way?
BS: A LOT! It would take me maybe half a year to even name them all. But what's important about all these roadblocks is you come out a better person, right? One of the most important lessons I've learned is to be honest, transparent, and to have the courage to admit and own up to your mistake. But of course, it doesn't end there. After doing so, propose a solution, act on it, and move forward!
MS: If you were to give advice to someone starting in the industry you're in, what would it be?
BS: 1. Be KIND to everyone. Regardless of position, tenure, etc. Just treat everyone properly.
2. "There's enough success for everybody to win." I like this quote. I really believe that no man is an island and you don't need to step on other people for you to succeed. Collaboration is the key to success!
3. Surround yourself with GOOD PEOPLE. Get a solid support system and find mentors. These people will help guide you along your corporate (and even life) journey.
4. Say YES to challenges! Remember, diamonds are created under pressure. Based on my experience, it works! Anecdote: Four years ago, our boss randomly asked our team who wants to handle this small project called "e-commerce." That industry was very small back then (almost non-existent even.) Regardless if I got glory from that or not, I thought of volunteering and taking on the extra job because I wanted to learn. Looking back, I don't think I'll be where I am, and doing what I am doing right now if I didn't take say YES to that random challenge.
5. Dream big and hold on to them. This was what I've been doing for years to make sure I don't give up mid-way (not until I reach the goals I've set for myself.) Also, when things get tough, I always remind myself "Remember the days you prayed for the things you have now."
MS: What else would you want to achieve in this career?
BS: I look forward to getting the chance to work with more regions and eventually, be part of the global team in the Paris Headquarters someday.
MS: How are you dealing with the global pandemic? How has this affected your career?
BS: Work has been super crazy the last few months. Since I'm handling the online business, a lot of the pressure definitely shifted to this channel. We need to be way more agile and be more creative in the way we bring value to the consumers. At the same time, I'm trying my best to manage my mental and personal well-being as well. Being away from family during this crisis has been extremely really difficult.
MS:What can we look forward to you in the coming months?
BS: Speaking in the Philippine context, semester 2 is going to be very exciting. We've recently launched one of our biggest campaigns - Green Beauty. Green Beauty is Garnier's long term commitment to sustainability. From ingredient sourcing to product end-of-life, our journey towards more sustainability has one goal in mind: to make Green Beauty accessible to all. Learn more about our commitments here. Also, make sure you follow our Garnier Official Online Shops in Shopee and Lazada as we have a lot of exciting new skincare products powered by nature and science, coming in the next few months. Exciting times ahead!