K-Pop Group Stray Kids Let Us In On Their Top Skincare Secret
One of today's leading K-pop boy bands has partnered up with Nacific, one of Korea's top beauty brands!
If you haven't gotten in on the K-pop wave, we say it's never too late to do so! The colorful, exciting world of K-entertainment has become one of our top interests here at Metro.Style, for good reason! K-drama is an entirely different world on its own, so if you're keen on trying it out for the first time, we've got tons of articles to help get you started! As for K-pop, there are a ton of artists to admire these days—from amazing girl groups, to single artists, to the boatload of boy groups worth swooning over!
One such artist we love is Stray Kids, an 8-member boy group under JYP Entertainment, formed back in 2017 through a reality show. Bang Chan, Hyunjin, Changbin, Lee Know, Han, Felix, Seungmin, and I.N form Stray Kids, and together they serve us some legit musical talent. Their latest hit, 'Thunderous', is a hardcore upbeat track that showcases their dancing skills and vocal chops. Check it out here:
Ready to join their fandom 'STAY'? You're not alone! These guys are talented inasmuch as they are good looking! And just like all our other K-crushes, these guys are totally swoon-worthy, with their stylish hair, fashionable getups, and flawless skin. Getting skin envy has become a regular thing for us, so naturally, we had to find out what these guys do to achieve goal-worthy skin! As it turns out, they have recently partnered with Nacific, a Korean beauty brand, as its newest global ambassadors. No surprise there!
"Stray Kids' healthy and bright energy fits well with the brand concept of NACIFIC, which pursues natural beauty. It is expected to have a positive synergy effect in establishing our position as a K-beauty brand along with Stray Kids, who is leading the industry," shares Kim Hyung Min, CEO of NACIFIC.
Nacific is well-known to be a cosmetics brand that harvests the goodness of nature and infuses their products with the best it has to offer. Among their most popular innovation lines are the Fresh Herb Origin Line, Phyto Niacin Whitening Line, and Real Flora Line. Safe to say the Stray Kids guys swear by these skincare concoctions, no wonder their complexions are literally flawless!
The brand's mantra "The Beginning of Natural Beauty" is expected in every product of Nacific—as they've committed to only using natural ingredients to bring out the beauty of their customers' skin. The Fresh Herb Origin Serum in particular, has sold more than one million bottles worldwide, a testament to the wonder elixir's reliable performance. It's a bi-phase serum that contains Sepicalm and Pore-Complex3 which helps minimize one's pores and improve skin texture.
Excited to see more of Stray Kids for Nacific? Follow the brand on Instagram at @nacific.ph, and keep your eyes open for more of this exciting collaboration! For now, swipe through the gallery below to admire the handsome, flawless faces of Stray Kids. You're welcome!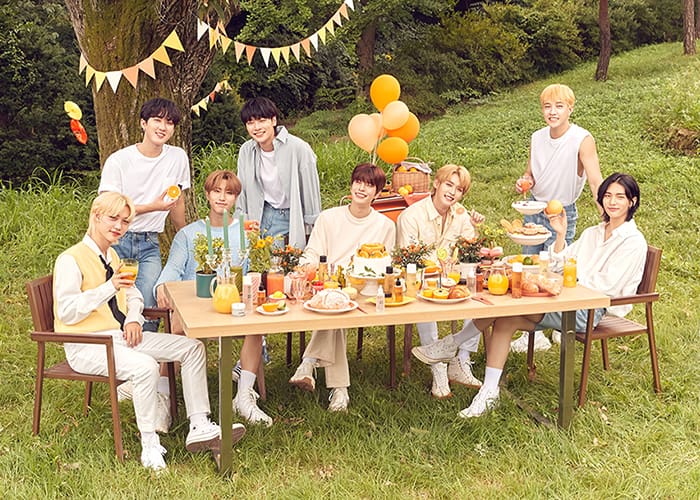 Stray Kids
Stray Kids