Son Ye-Jin Uses This Vegan Sunscreen Line To Keep Her Skin Flawless And Youthful
Because sun damage is the biggest culprit in skin aging!
I often find myself reminding my friends and family to never skip on wearing SPF even if they're just at home these days. Yes, we may be indoors, but protecting our skin from UV damage should still be top priority! If we work beside a window, face a laptop or smart phone all day, these are obvious reasons to not skip SPF!
But I hear the same reasons from everyone: wearing SPF can be sticky, and no one wants that especially during these days of heat and humidity! If you feel the same way, then this definitely shouldn't stop you from wearing it—as there are a ton of lightweight, non-sticky sunscreens out in the market today!
Take it from Korean star Son Ye-jin, who knows that SPF is one of the key ingredients to youthful, glowing skin! Koreans are known for their obsession with white, flawless, dewy skin, and this can only be achieved through a stringent skincare routine that includes SPF! In a brand new campaign with Korean cosmetics brand Ma:nyo Factory, Ye-jin stars as the face behind their latest vegan sunscreen line, showing off her complexion that doesn't look like she's aged past 25!
The Our Vegan line, which is 100% vegan (meaning no animal products or by-products were used), features three variants: the Cica Daily Sun Cream SPF 50, the Glow Daily Sun Fluid, and the Basic Daily Sun Cream. Each of these are great for sensitive skin, and boast of environmentally conscious ingredients. Superfoods such as kale, cabbage, lavender flower, rosemary leaves, oregano, broccoli extract, carrot extract, and more!
The Cica cream is serum-like and comfortable to the skin, has calming effects, and features no sebum. The Glow Daily Sun Fluid on the other hand is a tone up cream that promotes a youthful glow, and is said to be Ye-jin's cream. Last but not least is the Basic Daily Sun Cream, a moisturizing SPF 50 sunscreen that features White Lupin collagen that helps bring back skin's suppleness while protecting it from the sun's harmful rays! All products are cruelty-free as well, so that's a plus!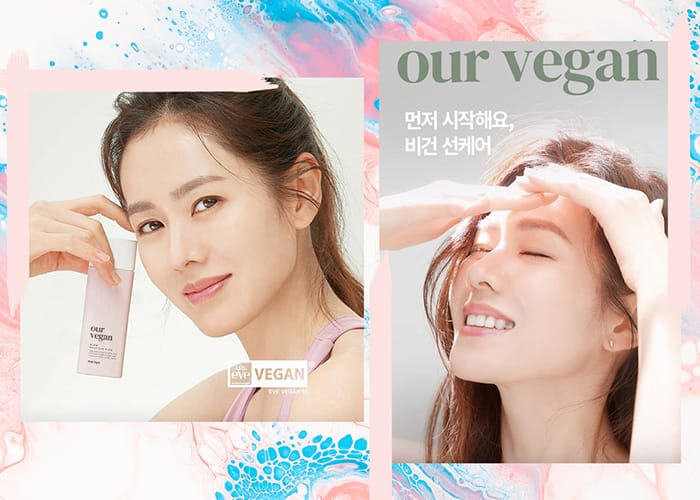 Son Ye-jin for Ma:nyo Factory
Son Ye-jin for Ma:nyo Factory
For international orders, click
here
.