Make Waves With Sofwave: The Standout Skin Tightening Solution To Try
Sofwave is the breakthrough skin technology that celebrities trust and swear by. Here's what you need to know!
All aboard, skincare surfers! It's a wave-volution with one of Spectrumed's best brands, Sofwave. It offers the latest skin lifting innovation that improves the appearance of fine lines and facial wrinkles with the use of Synchronous Ultrasound Parallel Beam (SUPERB) technology. The treatment is fast-becoming a beauty favorite as it is quite easy and quick. It even has a real-time skin temperature monitoring mechanism that rids the surface-level layer of the skin of excessive heat. With an exceptional safety profile, the Sofwave solution treats every type of skin. Below, we'll share with you our encounter with the so-extra beauty device. It's the best!
Simple Solutions
Get on board with this groundbreaking skin tightening solution that is already making a massive splash in the beauty industry. Brought to us by Spectrumed, Inc., Sofwave's unique technology enables a treatment that is next-generation and non-invasive. It improves skin problems such as sagging skin, fine lines, and facial wrinkles. It also works on droopy eyebrows and eyelids, and downtime is minimal to zero. Sofwave's modern approach to aesthetic treatment is tantamount to a barometer of beauty. In as little as 30-45 minutes, its long-term results for the full-face region take effect while ensuring that damage is not done to the skin surface.
Surfing With Sofwave
Recently, Metro.Style boarded a posh yacht party and sailed around Manila Bay, care of Spectrumed. Special guests from the medical field and the media graced the cruising function in celebration of Sofwave's profound success in the Philippines. Helmed by Spectrumed Chairman Doron Glazer and President and CEO Cherryl Morano-Glazer, together with Sofwave Vice President for Asia-Pacific Wolfgang Kramer, the exclusive event housed top-tier dermatologists and medical doctors including society personalities Drs. Vicki Belo-Kho and Hayden Kho, and Drs. Aivee Aguilar-Teo and Z Teo. The intimate sunset party was hosted by the one and only Tim Yap.
For more details on the Sofwave machine, California-based and board-certified dermatologist Dr. Arisa Ortiz discussed what the device is all about. Scroll ahead!
Metro.Style: Can you share with us some of your career's milestones? Who are your clients?
Dr. Arisa Ortiz: I started a cosmetic clinic at University of California, San Diego—it's the university hospital. I trained at Harvard with Rox Anderson who basically invented lasers for the skin. Most recently, I was elected president of the American Society for Laser Medicine and Surgery. The patients that come to me would do their research. They really like science-based treatments—science with a lot of research behind it. Sofwave has many published studies showing that it's truly stimulating collagen remodeling. There are lots of biopsies that are performed to show that after treatment, it truly does increase collagen, and it's not like scar tissue—it's normal collagen.
Metro: Amidst all the technologies in the beauty industry and skincare industry right now, what would you say are the top three rules or practices for great skin?
Dr. Ortiz: I think the trend that we've been seeing is "prejuvenation,"—trying to prevent sun-damaged skin before it happens, because it's easier to prevent than it is to correct. I'm seeing a lot of younger patients who are using sun protection [and] sunscreen, and who are starting to get these procedures done. If you can prevent wrinkles from forming, it's easier to correct them and then also, you can do it in a more natural way so you don't look overdone.
MS: There are a ton of products available in the industry right now. As a dermatologist, what would you say are your non-negotiables?
DAO: Number one [is] sunscreen, right? I would say number two would be like wet wipes. Number three [is] Botox.
MS: Sofwave is being dubbed as the best skin lifting and tightening treatment right now. Why do you think this is so?
DAO: I've had experience with many different types [of skin tightening devices]. What makes Sofwave successful? Number one is patient satisfaction. Patients had to come back happy with their results, so that's number one. If patients are unhappy, it doesn't matter how good the technology is, right? My patients have been very happy. Number two is comfortable treatment. There's no downtime, so it's easier to have it done during your lunch time or during your busy schedule because you don't have to plan it so much. I'd say those are the things that make it successful.
Swipe through the gallery below and check out photos from the cruise event: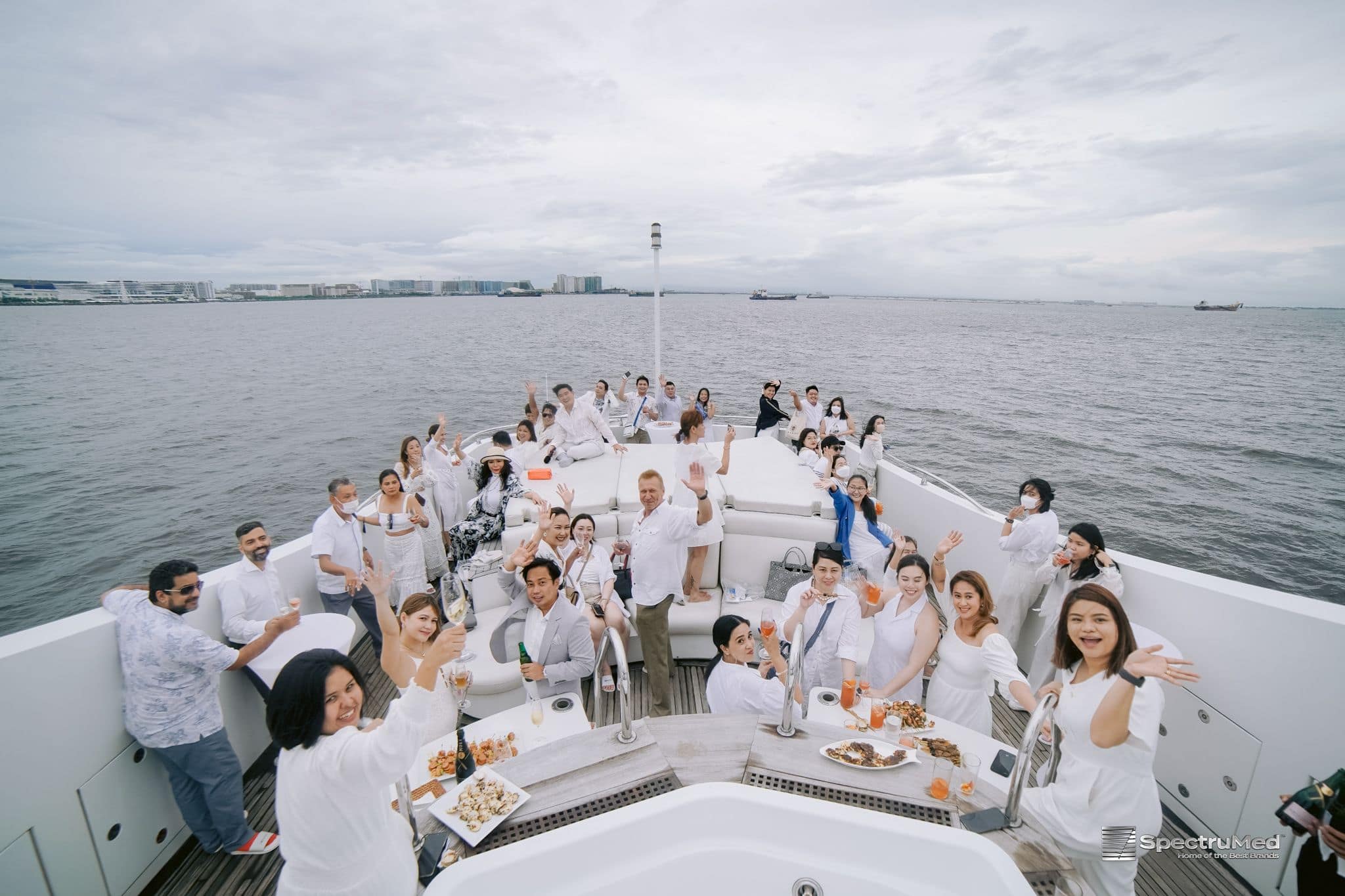 Spectrumed Sofwave Yacht Party
Spectrumed Sofwave Yacht Party