This Global Leader Shares How A Tragic Story Created Her Life's Purpose
The president of a premiere Employee Assistance Program takes us back to the quest that led her into creating meaningful relationships throughout the globe
"You can't connect the dots looking forward; you can only connect them looking backwards. So you have to trust that the dots will somehow connect in your future. –Steve Jobs
Last February 4 at Palma Hall Makati, Metro.Style had the opportunity to witness the inspiring community of Leading With Heart: Global Women's Summit. Speakers from the United States, Australia, and Philippines have gathered to share their inspiring stories to help raise funds for local charities. One of speakers is the president of My-CORD, Miss Majella Villaroman—an internationally recognized leader in the field of Employee Assistance Power who shared us her story on how she built a company that creates meaningful relationships for a better life.
Majella appeared in a royal blue suit, and began by greeting everyone before sharing a story from twenty-three years ago that changed her life
"A black man entered the Long Island railroad train bound from New York. He sat at the back of the train and as he passed New York going to Long Island, he stood up and systematically started shooting the passengers with a semi-automatic riffle with black talon bullets," she begins her story.
Her sister, Marita Tumangan was one of the victims of the L.I.R.R. Train Masaccre, "She was the second to the last one who was shot. She died instantaneously as the bullet went straight to her heart." At that time, Majella was based in Los Angeles, California where she got the news via phone call from her uncle who lives in New Jersey.
Devastated and speechless, she went to the airport and boarded the midnight flight going to New York to see her sister, "The Philippine embassy in New York was very helpful. They started to look for my sister and so I was able to find out which hospital [where] her body [was]." When she landed, the first thing she saw was the New York Times and the picture of her sister with the black man that they called, "The Rage."
She then realized that the suspect was a mentally ill man who was failed by humanity for being black. "He's a scholar in a prestigious university in New York. Something's wrong. He felt discriminated on. He was so angry that he hated all the white people. He hated the 'Uncle Tom blacks,' he hated the Asians because we took their jobs. He was so full of hatred that his whole defense is about black rage."
While the pain she went through remains, she held it close to her heart and turned it into her life's mission as she continues, "Every year since 1993 to date, it doesn't change. But that's okay, because this changed my life—and I turned it into my purpose. And it is my purpose to spread mental health and well-being."
In 2003, she moved back to the Philippines and was hire to liaised with Teletech. "They have a large number of employees—17, 000. So, they hired me to liaised with the company here in order for them to have a program. But after awhile, I transferred and worked with Optum." she shares.
Majella then continued to grow her network by making meaningful connections throughout her journey, "I had a sub business where I started developing the mental health programs for their workforce. So out of 200, by the time I left—that was in 2005—they opened offices in Quezon City and Cebu. Then after typhoon Haiyan, I was hired by the Global Business Unit." At that time, she faced another moment of prejudice that made her realize that it's time for her to pursue something for herself, "Sometimes, it's a challenge working with Asians you know, they start looking down on Filipinos. And since I work globally, I started to resent that the company was that way. And that's how, My-CORD was born."
Being an advocate of Mental Health Awareness for 17 years, connecting with the right people came effortlessly when she started building the company. They are currently housing 500 psychologists and 300 psychiatrists that people may easily reach through their website if they ever need professional and accessible counseling. "If you imagine the words 'my' and 'cord,' it actually stands for the umbilical cord. You have the cord or the resource to the best experts, the best programs, the financing models, so you can take care of your mental well-being. We match you to the right resource and you can be anywhere in the world, and we have all the connections."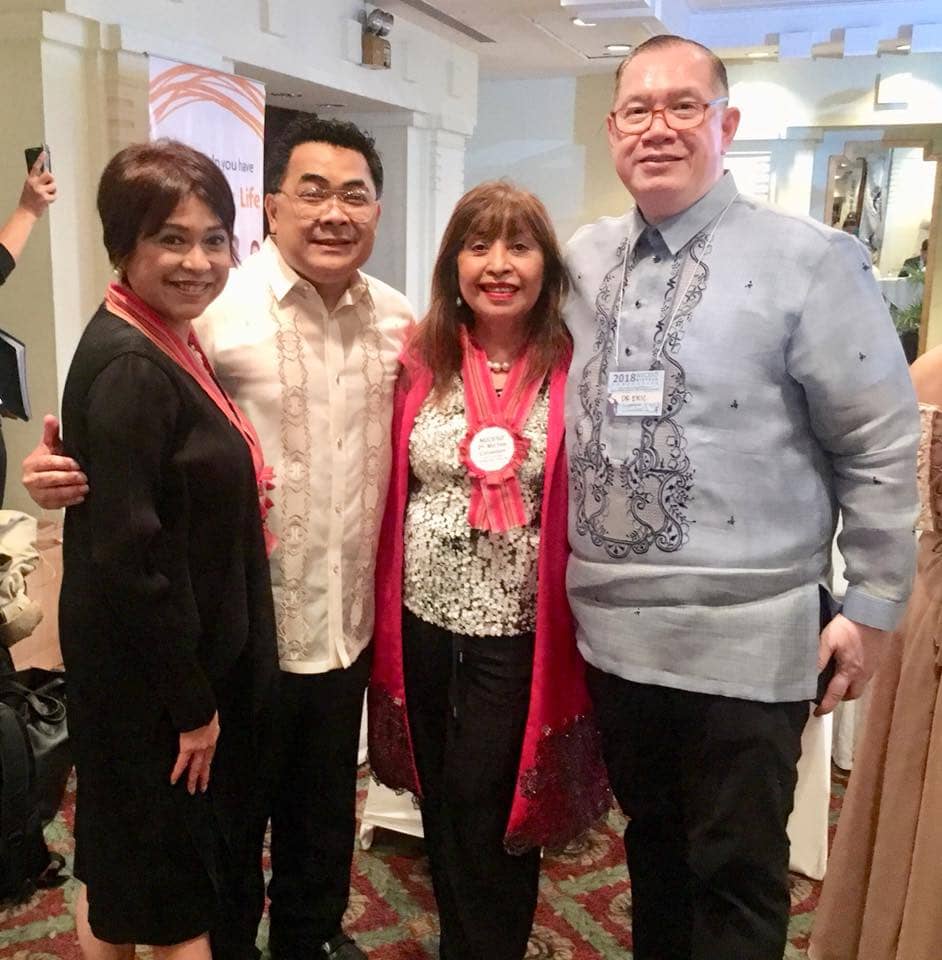 Facebook | My-CORD
They also conduct programs and lunch talks in various companies that focuses on one topic each day, "We have one day for mental health in the workplace. Its effect usually starts from the top and trails all the way to the everyday staff. It could take a long while because some of the companies I work with have 9,000 employees, but we have the people to do the whole module so it can cover a whole management. For smaller companies, it usually takes 2-3 years. "
My-CORD promotes the overall betterment of life and relationship towards your co-workers, family when you work abroad, and one's self. Creating a safer place conducive for growth by managing your work environment through Critical Incident Stress Debriefing, Executive Coaching, Work/Life and Wellness Coaching Solutions, and Leadership Management Consulting.
"We can help our clients identify what needs to improve or what can make their lives better. Because at the end of the day, it's not just the illness, 10% of your environment affects you everyday."
Photos from My-CORD Facebook Page