The #SpeakOut Art Collective Raises Awareness About The Silent Pandemic We Face
Avon Philippines to auction art pieces to benefit survivors of domestic abuse, featuring 14 contemporary works from an all-female lineup of artists
We are a year into the world's longest lockdown and the country still struggles with the COVID-19 pandemic, with daily cases rising (again) and new strains discovered every day. Hospitals are still packed, the death toll continues to rise, and Filipinos are left with no choice but to stay at home under quarantine.
But behind closed doors, another problem, one so vile yet so close to home, runs rampant. Incidence of domestic abuse—already a problem in the country—increases as the lockdown traps victims with their abusers. A National Demographic Health Survey records that 1 in 4 women has experienced abuse by their partner. Also, data from the PNP Women & Children Protection Center says that at least 1 woman or child is abused every 10 minutes in the Philippines.
This silent pandemic is the subject of the #SpeakOut Art Collective, a collaboration between amazingly talented Filipina artists and Avon Philippines. Fourteen contemporary works from the all-female lineup deliver a commentary on domestic violence, bringing to light a problem that evades discourse, unlike COVID-19.
The art collective features the works of visual artists Denise Heredia, Nicole Concepcion, Ciane Xavier, Gabby Prado, Cru Camara, Tyang Karyel, Mara Fabella, Tammy De Roca, Bea Policarpio, and Bree Jonson.
Musicians contributing their voices to the cause are Kiana Valenciano and Peaceful Gemini, through exclusive performances during the online launch happening on March 19 via Avon's Facebook page.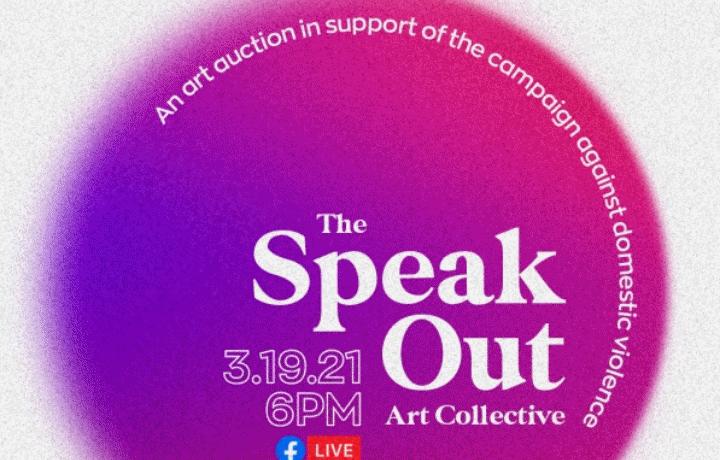 #SpeakOut Art Collective: Art Pieces, Descriptions, and Artists
#SpeakOut Art Collective: Art Pieces, Descriptions, and Artists
Proceeds raised from the auction will be donated to partner organizations that rescue and support victims of domestic violence. To raise more funds for the advocacy, Avon also launched limited-edition #SpeakOut fundraising products: the Avon #SpeakOut Lipstick, the Evita watch, the Avon Love yourself jewelry set, and the women's empowerment umbrella.

"We call on everyone to go online and speak out against domestic violence," says Razvan Diratian, General Manager of Avon Philippines. "Through this effort, we are hoping to spark more conversations and increase more awareness on the realities of domestic abuse caused by the isolation. We want to let survivors know that they are never alone."
The #SpeakOut Art Collective is the latest in Avon's decades-long crusade against domestic violence. Last year, the Avon Foundation for Women donated US$1m to organizations that provide rescue and rehabilitation services to women and children at risk. In the Philippines, almost PHP5M were donated to our partner organizations across the country: Luna Legal Resource Center for Women and Children, Gender Watch Against Violence and Exploitation (GWAVE), Women's Care Center Inc. (WCCI), and ING MAKABABAYING AKSYON (IMA) Foundation.
Anyone can extend their support to the cause through Avon's various fundraising channels at Avon.ph and other ways to donate. Supporters can visit the site to browse the art pieces for sale or purchase any of Avon's limited-edition fundraising products. Don't forget to check out Avon Philippines on Facebook on Friday, March 19 at 6 PM for the official launch of #SpeakOut, as well as other ways you can support Avon's advocacies for women!
---
Lead photos courtesy of Avon, artworks by Ciane Xavier, Tammy De Roca, Bea Policarpio, and Nicole Concepcion