Explore 'The Great Indoors' at Gavel&Block's Online Auction for the Confident Collector
The upcoming auction features a fun spin on the concept of 'the great outdoors' and calls attention to everyone's new favorite pastime: curating their own experiences at home
Given the ubiquity of work/study from home setups with over a year into a global pandemic, more and more people are turning their attention to beautifying their surroundings. This explains people's new fascination with creating interior-inspiration Pinterest boards and following home decor accounts online. It's these savvy collectors and enthusiasts who have the most to look forward to at Gavel&Block's upcoming 'The Great Indoors' online auction on May 22, Saturday, at 10am at salcedoauctions.com, where they can discover over 500 lots across different categories, for every taste and aesthetic.
"We love the idea of people curating their own spaces. Whether you have a background in interior design or simply enjoy looking at well-curated spaces, the fact is that everyone knows how they want to feel when they're at home." says Salcedo Auctions Managing Director, Victor Silvino. "Depending on what experience you want to have while working, studying, or even just relaxing, that will determine what pieces you surround yourself with."
The sale features a wonderfully curated selection of decor, tribal art & furniture, modern & contemporary art, and prints, maps & books—catering to all types of interests. These are presented alongside fixtures in great art and design, with artworks works by National Artist Vicente Manansala and Arturo Luz, as well as modern artists Fernando Zobel, Nena Saguil, Macario Vitalis, Norma Belleza, Gus Albor, Mauro 'Malang' Santos, and contemporary artists Ronald Ventura, Joseph Tecson, and Jonathan Olazo.
From Historical to Spunky and Colorful
Other lots of interest include a refreshing selection of prints and maps including 18th and 19th century engravings depicting the inhabitants of Manila as well as a vintage Maritime Quartz chronometer. In colorful contrast, are hard hitting contemporary works like Joseph Tecon's 6x8 foot acrylic on canvas—a statement piece for any living room or foyer—and Jonathan Olazo's 2014 'Squator Sessions: The Jacksons - Pablo Debates.'
Collectors will find several quirky combinations of modern and contemporary works with tribal & ethnographic art at the showroom at NEX Tower along Ayala Avenue.
Spanning Cultures and Styles
Collectors will also find great furniture and crafts works in the sale, from vintage pieces like a charming mini Batangas altar table, and a two-segment Chinese 'cracked ice' cupboard to contemporary pieces in the finest hardwoods like a set of 6 kamagong and burl wood dining chairs, and a massive three-segment Bohol aparador.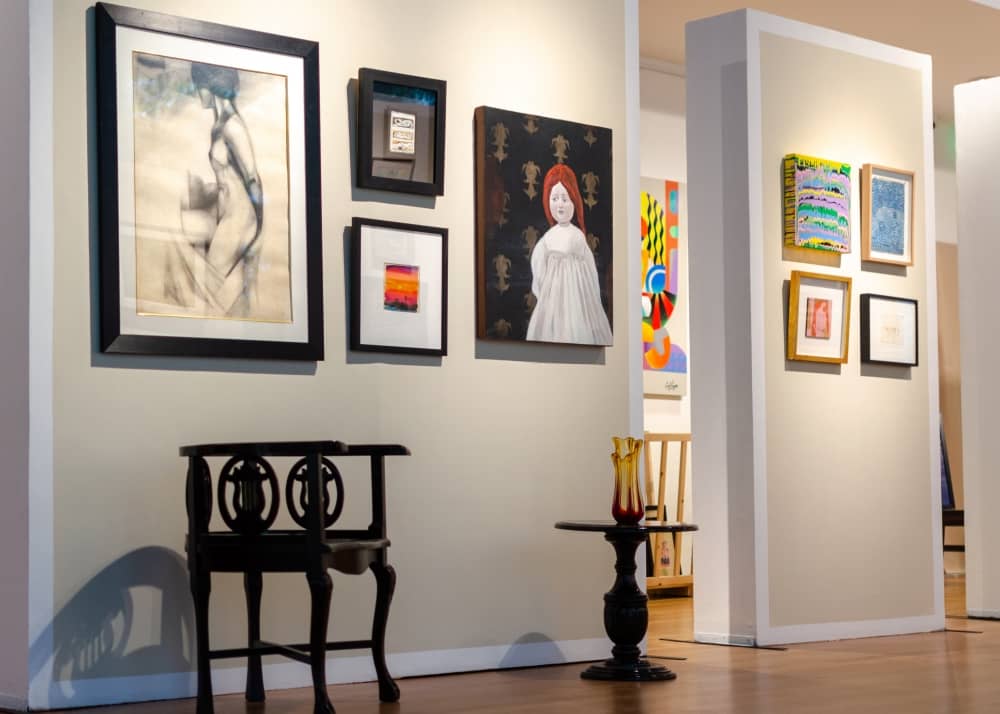 A Preview of Gavel&Block's 'The Great Indoors'
A Preview of Gavel&Block's 'The Great Indoors'
View the entire Gavel&Block 'The Great Indoors' online catalogue at salcedoauctions.com. The online auction will be held on May 22, Saturday, at 10am. The collection is on-view daily at NEX Tower, as long as you schedule and arrange for a private viewing by getting in touch with them at +63 917 591 2191 or through their social media channels.
It's worthy of note that 'The Great Indoors' builds up to the upcoming Salcedo Private View mini-retrospective of modern artist Norberto 'Lito' Carating's works, which will run from May 29 to June 19, as well as the Salcedo Auctions online auction 'Finer Pursuits' on June 26. For updates and more information, follow Gavel&Block on Instagram and Facebook.