Metro Artist Profiles: Anna Bautista
The up-and-coming visual artist looks back on her journey towards the arts and takes us through her special exhibit "Time Capsules" for Art in the Park Online 2021: Special Edition
All of life opens up to the artist, especially a young one. But Anna Bautista is so much more than just a young artist, and her approach to art is so much more than just taking inspirations as they come through seasons in life. Passionate and clever in her work, the Manila-based visual artist produces artworks that tackle the concept of time, culture, and philosophy, and how these elements are inevitably interlinked and constantly responding to each other.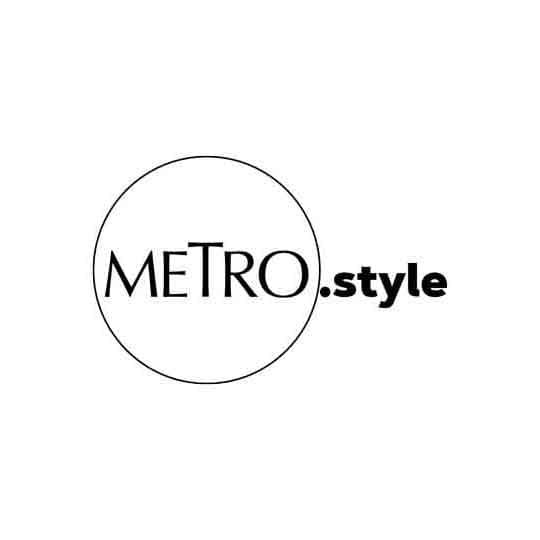 An artist forever drawn to art for its power to uplift mood and spark conversation, Anna Bautista is a Manila-based visual artist to watch out for
From breaststroke to brushstroke
Growing up a competitive swimmer, Bautista only discovered her deep love for painting in her teenage years. "I just realized that painting had some kind of a different and stronger pull on me. I found that it was something I was leaning onto the most, and it was the thing that really made me my most passionate self," she shares.
Even in her childhood, Bautista would be drawn to art, in whatever form it may come in. "I feel very blessed that growing up, I was exposed to a lot of artworks and museums through tagging along on my grandmother's travels. I think this would be the greatest contributor to my love for art," she reveals. "In its simplest sense, I've just always been amused by the fact that every masterpiece was once a blank canvas. And behind it was a special philosophy and hours of hard work and research done by an artist. That fact alone inspires me."
Taking on the globe as Globe Platinum's Featured Artist
Art in the Park was very much a yearly must-see event for Bautista, even when she was just a kid. So it comes as no surprise that the artist was over the moon when she was selected to be Globe Platinum's featured artist for this year's special edition of Art in the Park, to commemorate its 15th year anniversary, no less! "I'm still pinching myself as we're going through this interview!" she laughs. "To say that I am grateful would really be a huge understatement. This idea is something that I've been formulating and saving for quite some time now in my idea bank… and I'm happy that I am not able to finally lift this special project off the ground, through a very special event."
Bautista's show for Art in the Park is entitled "Time Capsules", which aims to serve as its namesake. "To reflect this unique time, in hopes that when we look back at all this—things will be better than this one we are in," she shares. "At the start of quarantine, I guess like everyone else, I was faced with a lot of uncertainty and worry. Over the first few months, I found out that journaling, doodling, or sketching would really take my mind off of these thoughts."
She shares that the inspiration for the whole exhibit actually came from one of her first projects back when the pandemic just started over a year ago. Bautista had created a time capsule for herself for 2020, containing illustrations from her sketchbook that were relevant to the time.
But more than just a time capsule, it was her own visual tribute to the people in the front line fighting the pandemic… and one that resonated with her growing audience and following.
As one of the featured artists at the upcoming special edition of Art in the Park, we had an opportunity to chat with the talented painter and visual artist about her artistic journey, creative process, and her biggest learnings and takeaways from the previous year.
1. Always growing as an artist, where do you find artistic inspiration?
This is such a tough question to answer! There are a lot of factors that have greatly influenced my work. It would span from the fields of art, philosophy, tech, fashion and music.
The blend of the traditional and contemporary elements in a lot of my work is something I find very similar to 'remixes' in the context of music.
I also take a lot of inspiration for fashion because it was my childhood dream to become a fashion designer. I think this could be traced back to consistently watching episodes of project runway after school! I actually took a teen workshop in SoFA to see if it was something worth pursuing, but later found out for myself that designing clothes and sewing were two very different things. I really think I am a frustrated fashion designer. (Laughs.)
And I think it shows through more of my recent work now that I am experimenting with silk and other textiles. A big inspiration now would be the vintage scarves from Hermes and Salvatore Ferragamo.
2. Take us through your creative process.
I think my work is inspired mostly by the things I encounter every day. This spans from the books I read, the films/news I watch, the music I listen to and even from conversations I've shared with people I encounter.
The thing is, I am a very forgetful person that needs to write everything down in my little notebook that I carry around with me always. I tried to jot down my notes on my phone as well for convenience—but for some reason, I wouldn't get as excited by it anymore compared to seeing it on something tactile.
I think it is also the fact that having it on something on paper allows me to freely sketch some studies for future artworks. I consider this my "idea bank."
Every now and then, I revisit my idea bank and browse through some points that I think would be worth fleshing out. I then research and do a deep dive on these possible subjects.
From here, I create multiple studies on paper and scan it afterwards and try to color it in digitally to see which colorways would best fit my drawings. I do this also to save on paper and additional waste. The chosen colorway would then be my guide for my next piece.
3. Talk about your preferred medium, as well as other mediums you enjoy using.
Right now my main medium of choice would be acrylic on canvas. When I was starting out in painting, I would usually reach out for watercolor paint or oil paint. But as time went on, I was able to discover acrylic paint along the way and I am happy I did.
I was able to discover acrylic actually because I asked for advice from my peers on what medium I should switch to that would be safer for pets. My dog really enjoys staying with me whenever I paint and I know that the fumes from oil are harmful to them, so that was the major point that caused the switch. Eventually, I fell in love with the medium even more as it dries a lot faster and is more forgiving when it comes to mistakes.
Recently though, I have been practicing also on ink and working on textile.
4. Take us through "Time Capsules", your special exhibit for Art in the Park.
The inspiration for this whole exhibit actually came from one of my first projects back when the pandemic just started over a year ago. I created a time capsule for myself for the year 2020 that contained illustrations from my sketchbook that were relevant to the time. But more than a time capsule, in my little own way, it was my visual tribute to the people in our front line.
Now officially a year after I made that 2020 scarf, I find myself making a new time capsule but this time more intuitive as the centerpiece holds up a mirror to society: showing us what we can move on from, and how much better we can become.
My first foray into making scarves was actually from a few years ago, but I felt like I still needed time to develop my process. So I made it a point to actively keep practicing over the course of the lockdown.
I actually have always collected scarves too, so it felt natural for me to explore it as a medium as well. The language of textile or a scarf has always appealed to me.The fact that you can hold or even wear a story within your fingertips is just something that makes me even more curious about creating art in this medium. I am so thrilled because this would be the first time I would really be highlighting my scarves for an exhibition.
My solo exhibition for this year's featured exhibit, will be having both scarves and works in acrylic on canvas where in all works aim to serve as the title's namesake. I wanted to inject the same elements from the scarves into my paintings as well to make it all cohesive. I've always had a big fascination for the Philippine terno. It would be present a lot in my works from the past and just felt it was natural for it to be an inspiration to me for this show, as well.
These time capsule abaniko fans hover over the faces of its muses, presented as modern Maria Claras. I want them to represent us as a collective. Both uneasy and uncertain, but also still hopeful in rejoining a post-pandemic world, whenever that would be.
5. What was it like to be an artist in quarantine and how has the pandemic affected your work?
To be honest, it was difficult for me to create or even do anything at the start of the quarantine. We were all faced with anxiety and uncertainty that seemed to intensify day by day as the cases also started to rise.
But then I realized that it was art that I could turn to that could help alleviate whatever it was that I was feeling. In a sense, making art felt like therapy to me. It actually felt cathartic, something I've never felt while making art before. I actually thought this would cause me to burn out but for some reason, nowadays I've been making more art than I ever have. I draw/paint almost every day now.
The pandemic has definitely influenced my art, to a point that elements from this time became subjects in my work. But more importantly, I can say that the pandemic really influenced my discipline more. I began making routines for myself and timelines that would help me manage my time well. I think that just because something is considered my passion, doesn't mean I shouldn't take it as seriously.
6. Would you have a favorite piece or series in your career?
I tend to get attached to my work a lot! But I would have to say that every collection that I would be working on at the moment would become my favorite series. I think it's because I tend to really dive deep in whatever current project I have. Often, the conceptualization and research that goes into the series take more time compared to the actual painting of the pieces.
7. Where do you see yourself as an artist in the coming years and how do you hope to evolve as an artist?
There is still a long way to go for me as an artist and I plan to pursue my craft even more in the years to come. I hope for my works and subjects to have more substantial depth in them and that I hope to develop new techniques along the way when it comes to painting.
As I hope to evolve as an artist, I plan to experiment working with other mediums in the future that would help diversify my creative processes.
Currently, I'm trying my hand at resin and although I find it quite challenging, it's nice to know that there are other forms that i can express myself in creatively. I take comfort and also excitement knowing that there will always be something new to learn.
Art in the Park is organized by Philippine Art Events, Inc., and is possible with support from Globe Platinum and Bank of The Philippine Islands. Art in the Park Online 2021: Special Edition runs from July 25 to August 1, 2021. For more information, please visit www.artinthepark.ph and follow Art in the Park on Facebook and on Instagram.
---
All photos courtesy of Anna Bautista, Philippine Art Events, Inc.