Metro Artist Profiles: Danella Yujuico-Yaptinchay
Welcome to the world of Danella Yaptinchay, who recently opened her 'online' museum for everyone to visit, even in the midst of a pandemic.
The world was put on halt when Covid-19 happened—and the rest, as we know it, is a dilemma we're still put through at present. Gathering a crowd for events is unthinkable, and isolating ourselves from the unseen danger is the solution we have to endure until everything returns to normal.
So, in the hopes of making her art accessible even in the midst of the pandemic, artist Danella Yaptinchay decided to 'build a museum' that everyone can visit, no matter where they are in the world. The 'space' was set up in the digital landscape; a virtual room where you can view her various abstract paintings on acrylic surfaces. She welcomes art enthusiasts to the ArtDanella, the online museum.
"It was a whim," Danella tells Metro.Style when asked how the idea of an online museum started. "I figured, since we cannot visit museums right now and I wanted to put up my own website on my own rules, why not make one up. Literally. Then I can do whatever I want."
Navigating the virtual art space is a joy—a quick inspirational escape for when you're needing a break from reality. Similar to an actual museum, ArtDanella is a sleek and organized space. 'Welcome to my Made Up Museum.' greets visitors upon arrival; a click and a few scrolls brings you to Danella's current and past exhibits, as well as upcoming ones. Her collections are aptly titled; each a series of beautiful works extracted from her creative process.
The joy of art, for her, stems from her enjoyment of the process of creating something that doesn't exist—a make-believe world. This gives Danella a sense of relief and freedom, which translate to her works.
"When I paint, I leave the design to water and wind. I don't do any manipulating with my hands after I pour, but I tilt the surface and or use something to blow," she describes.
"I think it's interesting to note that this pandemic happened in a digital age, which means that people were already creating and appreciating art online. So our quarantine just fast-tracked what was eventually going to happen," Danella says about art adapting to the present times. "It worked out really well for me because it helped me figure out my digital practice and setting up my website."
Check out the gallery below for a sneak peek of ArtDanella: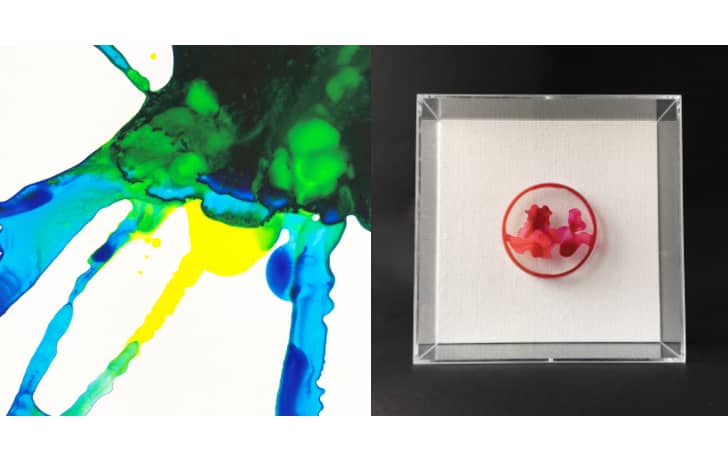 Inside 'ArtDanella'
Inside 'ArtDanella'
In the exclusive interview below, get to know more about the artist behind ArtDanella—her beginnings in art, her favorite works, her design philosophy, and more.
Can you tell us how you began your journey with art? What inspired you to pursue it?
"I've been taking art lessons ever since I can remember, so I'm very comfortable with using most media and experimenting with new ones. I took a few art classes in college but it was really film photography that captured my imagination then. When I began working, I stopped producing art. I picked up a paintbrush again in 2015 after a hiatus of almost 20 years."
Where do you get inspiration for your works?
"I recently watched a TED talk by Ethan Hawke where he said, 'Human creativity is nature manifest in us.' I completely agree. I am most inspired by nature, studying it from a both macro and micro perspective. I look at patterns a lot, and I can spend hours staring at things that morph like clouds, water, shadows. And scientific tools like microscope slides, petri dishes, really excite me. I am enthralled by looking at things very, very closely, so my magnifying glass is my best friend."
How can you describe your style? And how can you describe yourself as an artist?
"When I was taking lessons, I think I copied things relatively well. I used oils and acrylics to paint classical work because I could control the outcome. In my recent, uh, reincarnation, though, I've gone crazy using watercolor and acrylic in ways I can't control or predict. So there's a lot of patience involved as well, because most of the time, I have to wait a few hours to see the final result of my experiments."
Among all your works, what is your most favorite/most proud of? Why?
"Tough one. I think it changes every few weeks. There's one called Pulse from the collection Momentum by Design, acrylic on a petri dish. There's a fluorescent tree (currently unnamed) from the Faux Flora collection, and AiT* (Asterisk in Time) from the Generated Galaxies collection. Let's just say there are pieces that capture my own imagination every so often, sometimes they're tied to a memory."
For you, what's the most important character/trait an artist must possess?
"Curiosity. And humor."
What's the most challenging part of being in art?
"It's challenging to balance being inspired by other artists and being swayed by what 'you're supposed to do' because you're in an industry that, let's face it, has its own politics and rules, even if it's supposed to be a more liberal and creative arena."
What's your design philosophy?
"Art and design are very personal. So, whatever works for you. That just also means we shouldn't judge the work of others."
What's next for you?
"I'm currently learning how to digitize my pieces. Think: animation. I believe there's a meaningful extension in there somewhere. Stay tuned."
Take a tour at Danella Yujuico-Yaptinchay's online museum at www.artdanella.com. You may also purchase her works in her website shop.