Repertory Philippines' 83rd Season Features Five Must-Watch Performances—Including A Totally Unconventional Production!
Three main plays, one children's play, and an alternative production for the out-of-the-box theater-goer are coming this 2020
In its 53 year-long history of bringing Filipino audiences opportunities to be inspired by and experience the art of theatrical performances, Repertory Philippines invites us all again to embark on the next step in its journey: welcoming its 83rd season composed of equal parts of classics and new discoveries!
The renowned Filipino theater company is bringing three main plays (Stage Kiss, Carousel, and Anna in the Tropics), one children's play (Snow White and the Prince), as well as one very unconventional production to audiences in 2020. With the vision of new artistic director Liesl Batucan developing this lineup, this season is going to be nothing but spectacular.
REP alumni and newcomers will also be coming together to bring these productions to life in partnership with five fine directors, each with their own style and expertise.
Altogether, Repertory Philippines' latest season is bound to add yet another layer to the dynamic world of Philippine theater, proving indeed that local theater talents are able to make lasting impressions, wonderfully diverse and passionate, and ready to make everyone fall in love with everything onstage all over again.
Here's what to expect from Repertory Philippines' lineup for 2020!
The play: Stage Kiss
The director: Carlos Siguion-Reyna
The dates: February 7 to March 1, 2020
The cast: Missy Maramara, Tarek El Tayech, Andres Borromeo, Justine Narciso and Mica Pineda
The story: Ex-lovers who have lived their lives separately since their split rekindle their romance, but not without awkward-turned-heartwarming moments along the way. After much time apart, they meet again onstage when they are fatefully cast as romantic leads in a 1930s melodrama—roles that require them to share a kiss or two, a gesture that helps bring them back together.
The play: Anna in the Tropics
The director: Joey Mendoza
The dates: March 13 to April 5, 2020
The cast: Ana Abad Santos, Jake Macapagal, Paolo O' Hara, Brian Sy, Gab Pangilinan, Gie Onida and Madeleine Nicolas
The story: A lector by the name of Juan Julian arrives in 1920s Florida where his passion for literature's greatest pieces brings change, both good and bad, in his place of work and the community it calls home. Employed in a Cuban cigar factory, Juan reads Anna Karenina, a story about a tragic pursuit of love, to its laborers and sooner than later, its fictional plot twists and events are mirrored in their lives.
The play: Carousel
The director: Toff de Venecia
The dates: May 1 to 24, 2020
The cast: Nikki Gil and Gian Magdangal
The story: Blue collar workers Julie Jordan and Billy Bigelow are young in love, and like many couples who have come before them, they believe with all their hearts that they can and will surpass all of life's struggles as long as they stick together. And then reality sets in; Billy is forced into a crime in order to provide for their growing family, and what was once a problem-free happily ever after turns into a story of redemption.
The play: Snow White and the Prince
The director: Joy Virata
The dates: September 12, 2020 to January 31, 2021
The story: The re-telling of the classic children's tale is sure to appeal to audiences of every kind. Filled with song and dance numbers that young theater-goers will be bopping their heads to and humming along to for days to come, this Joy Virata-directed production is every inch a Repertory Philippines box-office hit in the making. Though filled with familiar elements and story lines, expect to be surprised, too, with REP's original take on characters and lessons to be learned.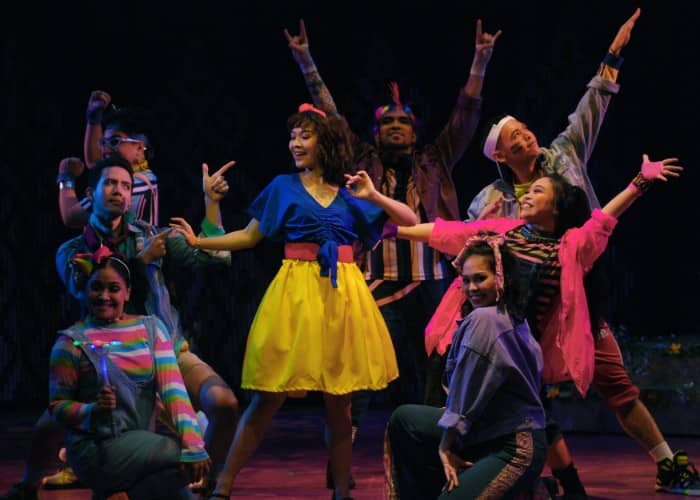 repertory philippines introduces year 2020 productions
SWIPE LEFT OR RIGHT
TO NAVIGATE BETWEEN PAGES
Anna in the Tropics by Nilo Cruz
Carousel by Rodgers and Hammerstein
Snow White and the Prince by Janet Yates Vogt and Mark Friedman
REP Unplugged, to be directed by Ed Lacson Jr.
Directors Toff de Venecia, Joey Mendoza and Carlos Siguion-Reyna
Joy Virata directs Snow White and The Prince
A scene from Anna in the Tropics is performed by its talented cast
REP Artistic Director Liesl Batucan joins the REP family for the first time
Carousel stars and REP newcomers Nikki Gil and Gian Magdangal as its romantic leads
Nikki Gil performs a number from Carousel
REP CEO Mindy Perez-Rubio delivers the opening remarks
Liesl Batucan leads a panel discussion on REP's 2020 slate
A scene featuring Snow White and the play's version of the seven dwarves
Stage Kiss director Carlos Siguion-Reyna with the play's cast
The performance: REP Unplugged
The director: Ed Lacson Jr.
The concept: As it enters its 83rd season, REP introduces a whole new theater experience in the form of REP Unplugged. Targeted towards millennials and younger audiences, REP Unplugged is all about "alternative" productions that will be set in unconventional spaces and characterized by an overall out-of-the-box approach to theater performances.