A First-Of-Its-Kind 'Virtual Vernissage' of Philippine Abstract Art
Experience the magic of art anew at Salcedo Private View's first online gallery exhibition featuring recent works by Allain Hablo, Rodin Fernandez, and Von Ng.
Last Saturday, May 9, saw Salcedo Private View, the gallery and private subsidiary of Salcedo Auctions, launch its first online gallery exhibition 'A/NEW: Recent Works by Allain Hablo, Rodin Fernandez, and Von Ng' through a special, one-of-a-kind 'virtual vernissage.' The online exhibition runs until May 22 at the Salcedo Auctions website, and will see a portion of the proceeds going to the feeding programs of Rise Against Hunger Philippines. This is not the first time Salcedo Auctions has chosen the organization as its chosen beneficiary, having also done this for Gavel&Block's 'benefit' auction set for May 23.
The 'Virtual Vernissage' of 'A/NEW' was a joy to experience, a novel way to appreciate art during quarantine. It was almost like being there, in an actual gallery, as much as we possibly could be from within our homes. The Salcedo Auctions team had invited people from all over the world—enthusiasts, collectors, and the artists themselves—to take part, and had partnered with Private Dining by the Happy Concept Group, led by Happy Ongpauco-Tiu, to provide croquettas and pasta paired with refreshments for the guests which were delivered right to their doorstep.
The concept behind 'A/NEW' is pretty straightforward in that by bringing together recent abstract works by both senior and relatively new artists, the exhibit plays on the term 'abstract' and explores the sensation and overall experience of the 'new.' Why 'A/NEW'? Whether one is encountering these artists' works for the first time, or viewing them through a platform that had been brought about by the 'new normal,' the show in its entirety is a source of introspection for art aficionados as they consider the pieces featured and the unusual, novel way in which they now view them.
And just what lies within Salcedo Private View's 'A/NEW'? Twelve large acrylic on canvas works from the Kintsugi series of acclaimed abstract artist Allain Hablo, eight geometric wood sculptures by architect and visual artist Rodin Fernandez, son and namesake of the late Dean Honrado Fernandez of the Philippine High School for the Arts, and six acrylic on canvas works by expatriate artist Von Ng.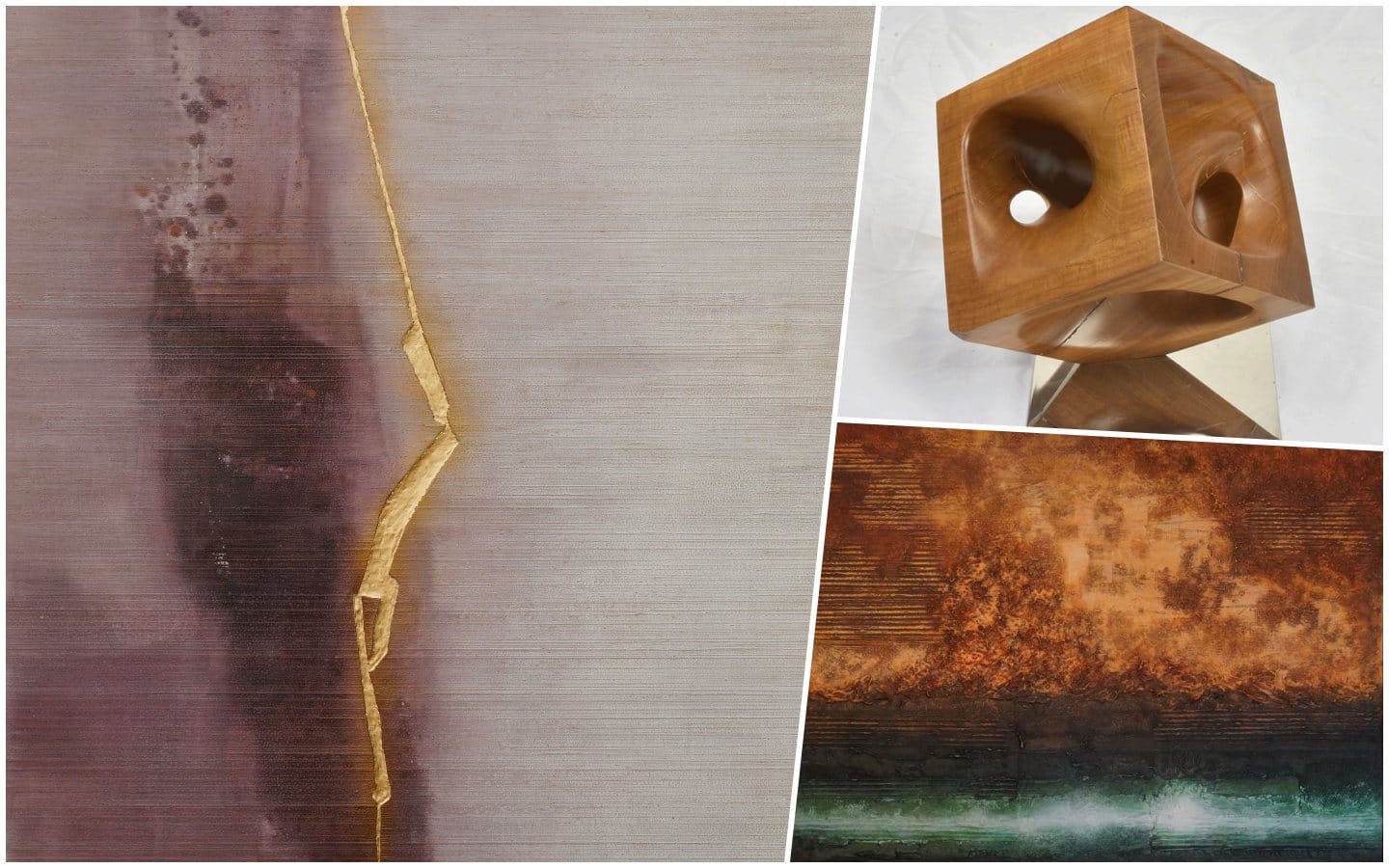 Highlights from 'A/NEW'
Highlights from 'A/NEW'
The exhibit invites one and all to explore with these artists concepts of damage and destruction, together with the rebirth that inevitably follows. In Hablo's Kintsugi series, we see how broken objects come to gain new value and purpose after being repaired, through an ancient technique that embraces damage. In Fernandez's sculptures, we discover the concept of new identity where parts taken from the same tree become individual entities, sculptures with their own unique grain and characteristics. In Ng's selected works for 'A/NEW', we see the artist's own fascination with science fiction and post-apocalyptic imagery, illustrating a distinctive view on how destruction, regardless of how catastrophic, brings with it its own beauty and a promise and implication of new, fresh starts.
Take a tour of Salcedo Private View's first online exhibit, 'A/NEW', by visiting the Salcedo Auctions website. For inquiries, contact +63 917 825 7449 | +63 917 107 5581. Follow Salcedo Private View via @gavelandblock on Facebook and Instagram for more information.