The Well-Appointed Auction
Salcedo Auctions' annual Well-Appointed Life is just around the corner, and Félix Resurrección Hidalgo's 'La Pintura,' leads the procession of highlights
The Well-Appointed Life (WAL) has its vernissage on the 12th of September, 6pm at the Manila Peninsula; and the auction proper will be held over September 21–22 at the Peninsula's Rigodon Ballroom. So if you're in an art mood, you'd do well to head to the vernissage and discover what treasures will be creating an angry beehive of activity and bidding come September 21 and 22.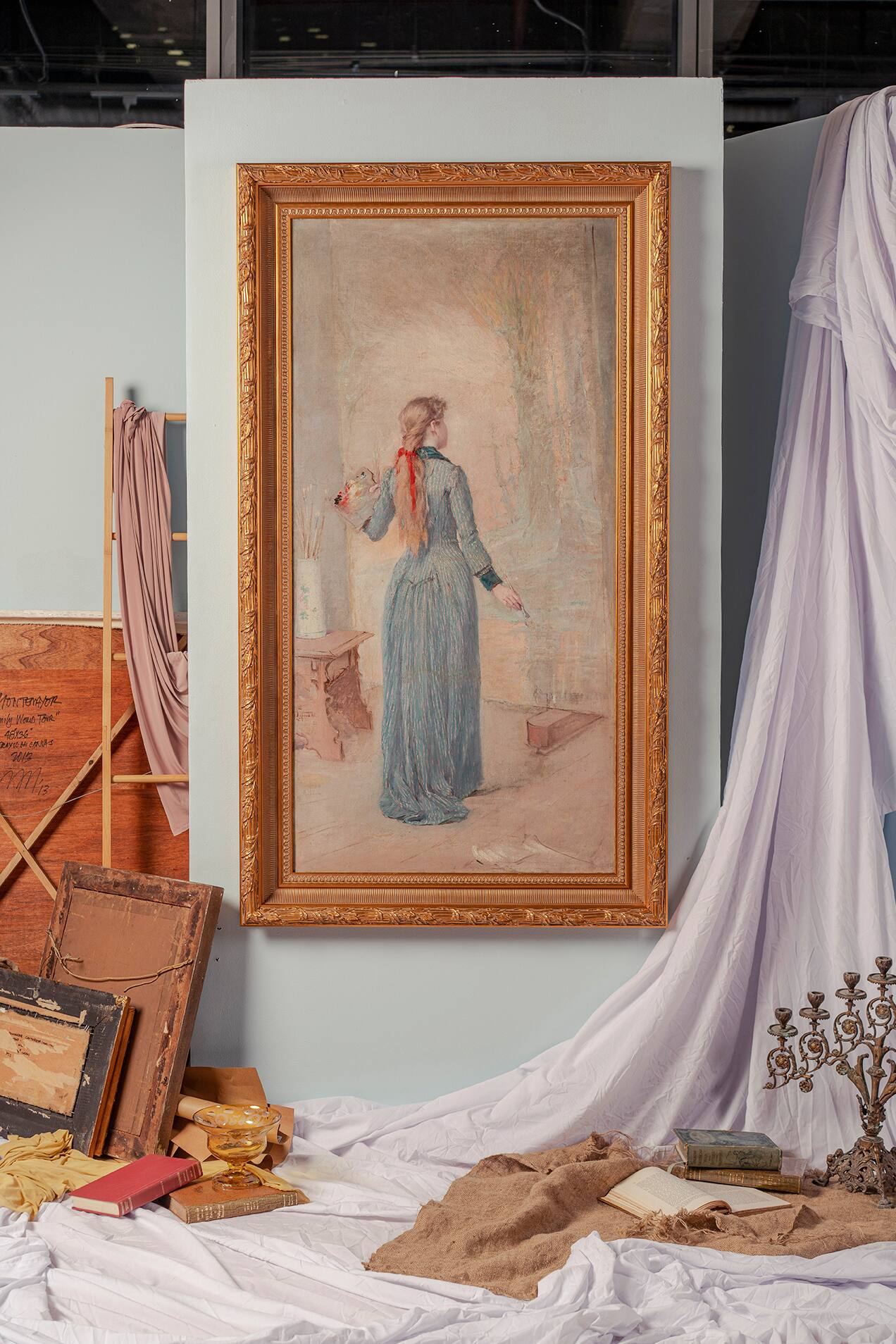 Félix Resurección Hidalgo, "La Pintura" | Salcedo Auctions
Without a doubt, the big prize of this year's WAL will be Félix Resurrección Hidalgo's La Pintura. It depicts a woman standing in front of a canvas, and it's done in the French impressionist style. Other than a grove that we can see on the canvas, it's clear we don't know what her central subject will be. Dated to the 1890s, it's Hidalgo's elusive muse, red ribbon in her hair, mysteriously turned away from the painter, that makes this work so captivating.
There's a Juan Luna y Novicio watercolor also up for auction, and he's a contemporary of Hidalgo. A predecessor of the two, Simon Flores y de la Rosa has a rare work in the line up. Flores is recognized as the first Filipino artist to have been bestowed an international award.
Representing modern times are Filipino masters of the 20th century—there's Jose Joya, Vicente Manansala, Ang Kiukok, Juvenal Sanso, Onib Olmedo, Mauro Malang Santos, BenCab, Ramon Orlina, Ed Castrillo, Solomon Saprid, and Napoleon Abueva. And if your tastes lean towards more contemporary artists, there are works by Lao Lianben, Maria Taniguchi, Elaine Navas, Rodel Tapaya, Marina Cruz, Ricky Ambagan, and Ronson Culibrina.
In short, there's practically something for everyone is this year's edition of WAL. All it takes are deep pockets and a dogged determination to acquire the artwork of your choice. Others, like me, will troop to the Peninsula during the vernissage, gaze at the paintings, and sigh longingly. That's as close as I'll get to these paintings & sculptures in this lifetime—before they're picked up the following weekend, packed and crated, and sent to their new owners.
The Well-Appointed Life auction will take place September 21 & 22 at the Rigodon Ballroom at the Peninsula Manila Hotel, Makati.