Santa's Auctions At Salcedo
With the Under the Tree series, Salcedo Auctions and their Gavel&Block bring the year to a close; and what a year it's been for Richie and Karen Lerma.
If ever you had doubts about the prosperity factor of the Philippine elite, one ready barometer would be the success of Salcedo Auctions and their contemporary subsidiary brand, Gavel&Block. Whether Richie Lerma wants to admit it or not, it's evident that their holding more than 10 auctions in 2019, and conducting two in November alone, are all indicative of the fact that there is a ready and steady market of buyers (and sellers), that see these auctions as a way to acquire (and unload).
Leading up to the Christmas month of December, Richie and Karen will be hosting two very special Under the Tree auction events:
First up, on November 23, at the NEX Tower, the new home of Salcedo Auctions, there'll be Under the Tree: The Wish List. This is the one that's held annually at this time of the year, and promises some choice lots—a Manansala, a BenCab, Abueva, and Luz. Sanso and Malang will be represented, as are Tapaya and Taniguchi. In other words, it's a something for everyone proposition; and you can bet the avid collectors will be out in force for this year's Wish List. Some 150 pieces will be going under the block.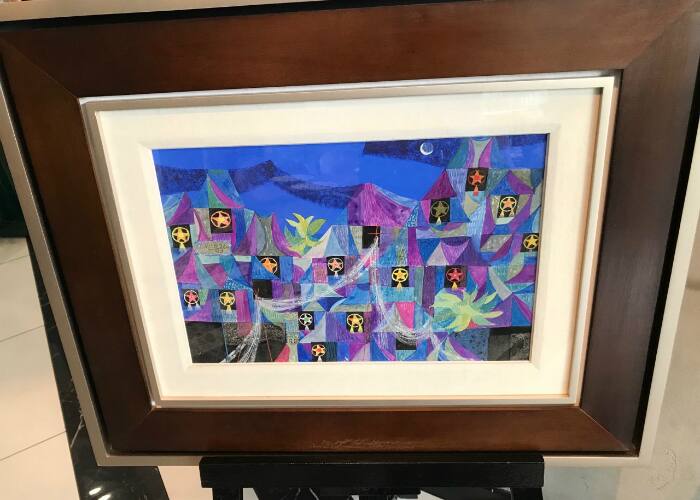 The one that's also happening in November, that's actually more novel, is the Under the Tree: The Holiday Sale This happens at The Podium on November 30th, starting at 2pm; and via covetable but more accessible pieces, this one is for the emerging collector. Collaborating with SM Podium, this is Salcedo Auctions, through Gavel&Block expanding their market, reaching a broader audience. It's been a pipe dream of SM with their strong support for the arts, to have an auction happen at one of their malls, and this is it—dream becomes reality.
Some 300 pieces are making up the lots for The Holiday Sale; and they include a rare Malang oil on canvas, an original BenCab print, a Garibay, Saguil, and Pacquing. A signed Fernando Zobel lithograph, and such one-offs as a high fashion fur jacket, heirloom jewelry and are watches, will all be offered up in auction.
Joaquin Lerma, the 16-year old son of Richie and Karen Skyped with us during the media preview to explain how they were starting an online platform called Bid for the Future; so that through Salcedo Auctions, selected beneficiaries could receive contributions directly, without having to achieve this via participation in auctions. A history buff who has joined his parents visiting heritage sites all over the globe, Joaquin was proud to relay how his research led them to select Escuela Taller as their very first beneficiary.
Escuela Taller is an NGO that teaches out-of-school youth skills that help them work on work teams that preserve and restore historical buildings and heritage sites. Taller has sent teams to Bohol, Batanes, and Pampanga, and of course, here in Manila. How the work of Taller resonates with the milieu of Salcedo is serendipity defined, and you can feel the pride emanating from Karen and Richie over how Joaquin is helping them define what Salcedo Auctions means beyond the Auctions they hold.
For Salcedo Auctions and Gavel&Block it's going to be a very busy three weeks, and you know that Richie is especially excited about this first collaboration with SM Podium. SM's Millie Dizon herself graced the media event, indicative of how the excitement is mutual.