A 'Passion' For Sondheim With The Philippine Opera Company
The one-act operetta 'Passion' is just one of the trio of Stephen Sondheim classics being staged in Manila this year, with the Philippine Opera Company behind the production
If you're a musical theater fan, there's no escaping Stephen Sondheim come September and October of this year, as three separate productions of Sondheim musicals come to town. To celebrate their 20th year, the Philippine Opera Company is staging Passion at the CPR Auditorium at RCBC Plaza—and the run starts on September 14th, up to the 29th. Around the same time, Upstart Productions has Company, an early 1970 Sondheim about modern relationships; and in October, Atlantis Theatrical presets Sweeney Todd: The Demon Barber of Fleet Street, which is 1979 Sondheim.
Inspired by the Ettore Scola film, Passione d'Amore, the one-act musical Passion was first staged on Broadway in 1994, and won four Tony Awards. It's music and lyrics by Sondheim, with book (and direction, when it first opened) by James Lapine. Here in Manila, self-confessed Sondheim geek Robbie Guevara takes on the directorial chores; and for Robbie, this is one directing opportunity that he could not pass up.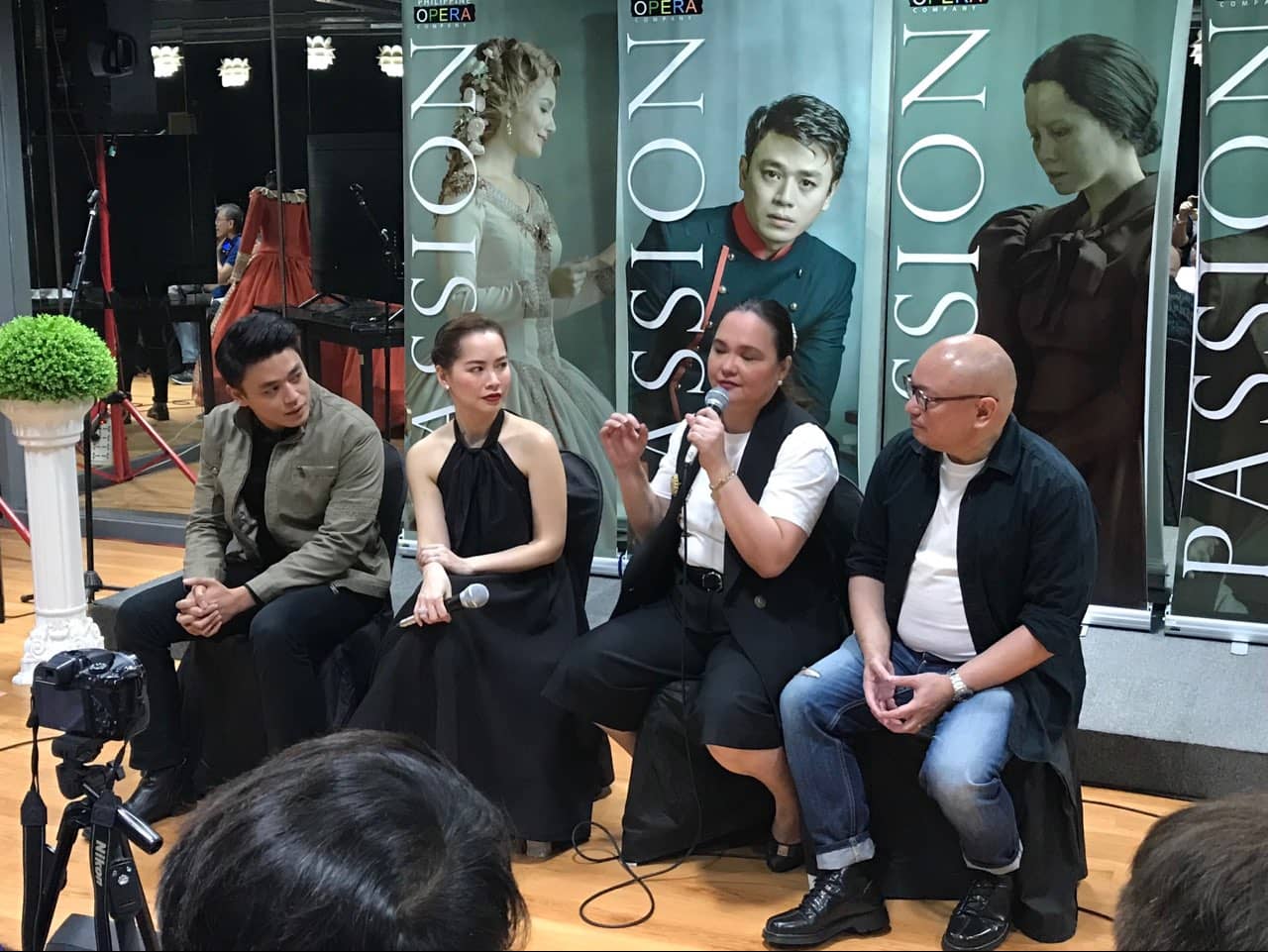 Vien King, Shiela Valderrama-Martinez, Karla Gutierrez and Robbie Guevara at the Passion media event. | Philip Cu-Unjieng
Set in Risorgimento-era Italy (in the mid-19th century), the plot revolves around a young soldier, Giorgio, who is having an affair with Clara, a married woman/mother; and he's assigned to a provincial garrison, where he meets Fosca, the plain-Jane, sickly cousin of the soldier's Colonel. Fosca's obsessive love for Giorgio is what drives the emotional turmoil and action within the play. And to give more details would just be spoiling the wonderment of discovery, as the melodrama takes on themes of love, of sex, beauty, power, manipulation, and of course, passion.
Admittedly, Sondheim musicals have always been a challenge for the audience. Unlike say an Andrew Lloyd Webber musical, Sondheim rarely comes up with stand-alone songs that become commercial hits. He's not strong on melody, or that sing-along, hummable chorus. Even when one of his songs do gain public recall, such as "Send In the Clowns" (from A Little Night Music), it's not your usual Broadway song turned commercial pop standard.
In fact, in Passion, the songs aren't even songs in the traditional sense; they're more thoughts, introspection put to music. They're the mirror through which we understand what's on the mind of our protagonists, and even a song like Fosca's "Loving You," is more a confession, an attempt to make Giorgio understand her obsession. As a lyricist, Sondheim is simply the best, weaving magic time and time again. Mentored by Oscar Hammerstein ll, one of Sondheim's early credits was writing the lyrics of West Side Story to Leonard Bernstein's music.
Shiela Valderrama-Martinez takes on the role of Fosca, while Vien King is Giorgio, and this is his very first lead role. Jasmine Fitzgerald is Clara. Often typecast as the ingenue or princess, Shiela is beyond giddy in taking on this challenge of playing Fosca. To up the level of professionalism with which she's approached this, one of her dream roles, Sheila has been taking operatic voice lessons, and will be singing alto.
Karla Gutierrez of the Philippine Opera Company spoke of audience appreciation, and how this has been the challenge of the last 20 years. Opera has to continuously make concessions to broaden its audience; and if some purists will decry that Sondheim is not opera in the traditional sense, Karla would argue that it is an example of the modern, contemporary version of opera.
A live 16-piece orchestra is contracted for every show; and Robbie was quick to mention how this faithful following of the original music and score is such a rarity. Stagings often abridge or trim down this requirement. And Karla was proud to mention that with the military backdrop of the musical's story, one show is for our soldiers—again, all part of her pushing for audience appreciation.