A Conversation With Gina Apostol
The Tacloban-raised and East Coast-based author talks about her personal style, her favorite authors, and the book she wishes she could have written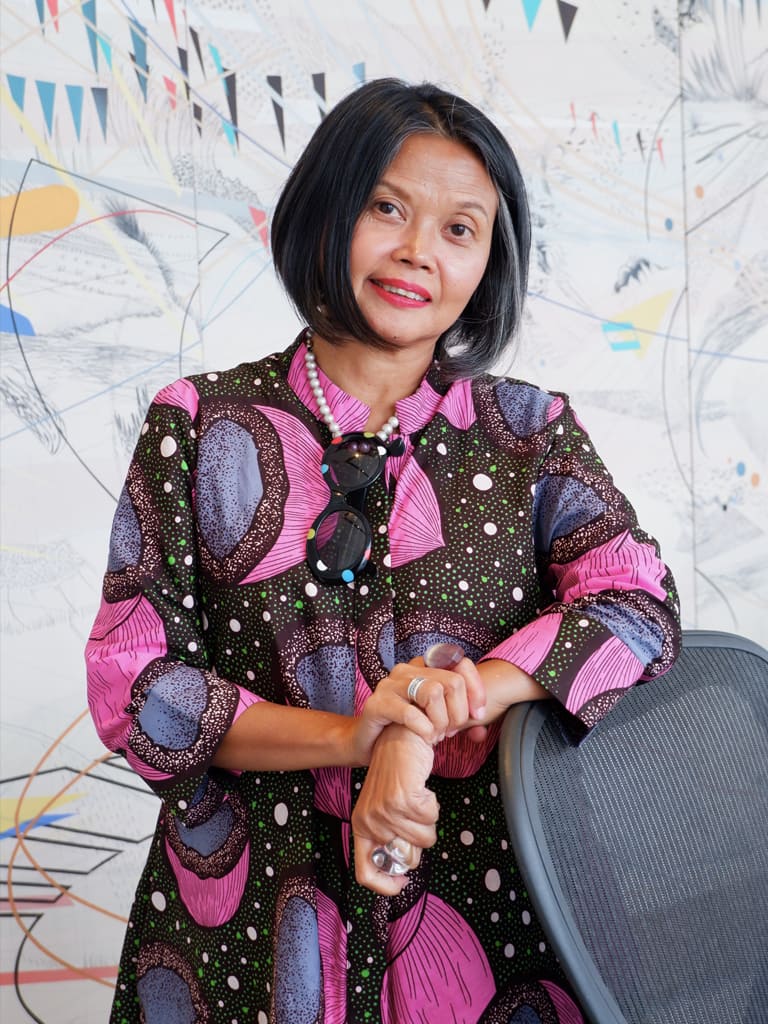 On a drab, rainy afternoon in Makati, Gina Apostol is a vision in pink. The Tacloban-raised and East Coast-based author sits at the head of a long table in a spotless, monochrome boardroom, regaling writer after writer with stories of her life: being raised by a Waray mother, entering the state university because of Francisco Arcellana, and what is essential reading for Filipinos—especially those who are aspiring writers. Gina is back in the country for the Philippine Readers and Writers Festival and she meets with members of the media—including Metro.Style—to promote the event as well as her latest book, Insurrecto, which came out on paperback in August.
How did studying at the University of the Philippines influence you as a writer?
Being with friends who were writers. Butch Dalisay was going back to school so he had left school when he was 17 and then came back. He was an older writer who was also my classmate. That was really interesting. He could tell me a lot of things and he became a very good friend of mine. He's very important to me as a writer and as a friend. I think being with people who were always talking about writing, thinking about writing was very helpful to me.
Did you have any mentors or teachers in college that were a great deal of influence to you?
You can see it in my novels: Raymundo Mata, definitely in Gun Dealer, definitely in Bibliolepsy, and even in Insurrecto—the university is always there. I think I've written more or less three university novels. I think the milieu of novelty where all I'm doing is thinking about thinking, all I'm thinking about is why am I doing this, analyzing who I am, why am I reading this thing and that thing. Diliman was like—oh my God—I had to be constantly doing self-criticism. And I think that, more than classes or teachers, was important to me.



What drew you to writing in general?
If I think about what I was doing as a child and what I do now as a writer, the kind of play that I was doing where I would just get all of the maids' empty cans and jars and I would make little families so there would be huge communities—kasi after a while dadami na sila, 'no, kasi marami ka nang Ajinomoto, ganyan—and I would just put their families into a notebook and make names for them. Or I'd have paper dolls and I loved giving them different outfits, finding the newspaper colors that would give them different outfits. So that, actually, that very, very intense play, it's very similar to the play that I do.
Do you still feel that writing is very much play or do you find that there's a work aspect to it now?
It's play. It's a lot of joy. It's a lot of play. When I talk about play, it's very profound play. And I think that's why I do it.
Do you still get writer's block? Do you still get moments of self-doubt?
Every day I hate my work.
What drew you to writing about history?
I had an idea for a novel—Raymundo Mata—that had to do with the Spanish, with the war against Spain. I thought I was doing the Revolutionary War, but really it was only the war against Spain. It didn't include America because we only actually study the war against Spain. I had so much material because I read so much. Whenever you're doing a reading, it's like "oh my God, here's another story and here's another story." And so I just kept getting stories from the material I was reading.
How would you describe your writing process?
There's an idea that I have, and then you have to find out which idea is going to stick. I think now, I try not to begin writing something if I don't think it's something that I would like to be doing for a long time. So once it's come to that point where I really have to write because I think I have it—Insurrecto was like that—I didn't even know it was done until it was done. It was like, oh my God, it's finished.
How do you feel when you finish a book?
I feel good.
Being a writer that can reach a global audience, what do you think is the importance of having Filipinos and non-Filipinos read you?
For the world, I think it's really important for them to know the story of the Philippines. It's part of their story. I think it's a very important part of the American story. And when they don't know that story, they are unable to act ethically enough, to be better. I think it's also really important that all of these different stories are told. Isipin mo na lang 'yung mga Pinoy—they're all over the place.
The diaspora.
Yeah. Everywhere I go, the first people I see are Filipinos because they're at the airport. So it's important for them to see that there are stories out there of people that they tend not to see. For Filipinos, with Insurrecto, I put Waray words in that novel and I think it's a big deal for me to be putting Waray words in this global, international novel! And to normalize that because it's so normal to us. To make what is normal to us normal to other people. Normal to Filipinos themselves because Filipinos are alienated in some way from a sense of being. I don't know why but we are and that's just our condition. But I think it is the condition of humans. Humans are alienated beings. That replication of the Filipino for the Filipino also has an interesting universal reverberation as it is just an existential sense of, "Oh, wow, I've discovered something! It's me."
Do you think there's essential reading for Filipinos? Or does it not matter?
Oh, there is. It's Rizal. It's the Noli and the Fili. At this point in my life, if I meet a Filipino writer who wants to be a writer who has not read Rizal, I'm saying "F*ck you."
I love that.
Rizal is indispensable, although we should also read Mabini. His La Revolucion is very good. It's a very interesting country where you can't understand it without reading Rizal. That's what Raymundo Mata was about.
You talked about revisions earlier. Have you always been that way or were you kind of indignant towards it?
I was indignant toward other people editing me when I was a child. I thought it was very, very wrong. Whereas now I'm like, "whatever." That has changed. But my relationship to revision is the same. I think I'm a reviser. I've always been a reviser. I've always liked revision.
What's your favorite book at the moment?
Elena Ferrante. I read the Neopolitan Quartet and then I read the first book and the second book. I read her first novel, her second novel—I have now read almost everything by Elena Ferrante. Now I'm almost done with her letters.
When you have a favorite book or author do you try to meet them?
No. You know what, my favorite Filipino writer was Francisco Arcellana and I chose to go to Diliman because Franz was teaching there. I never took his classes. I refused to take his classes. But he was very friendly so I would give him my short stories and we would talk about them in private.
Earlier you mentioned Nick Joaquin and Estrella Alfon. What are your favorite works of theirs?
Nick Joaquin, I really like "The Mass of Saint Sylvester." It's very, very short. The story's technically about World War II. But it's a devastating story, which is anti-colonial, anti-imperial, f*ck you Americans, you did this, you ruined Manila, you damaged my Manila. But it's in the voice of an American soldier.
And then Mrs. Alfon?
Estrella, I really like "Magnificence." I know it's corny to say, but that is just a beautiful short story.
It's a masterpiece.
And everything that she elides is so perfect.
Who are your favorite authors?
Sabina Murray, who is the youngest winner of the PEN/Faulkner. She's Filipino-American. She's very Filipino. She's one of the best writers in the United States, but she writes about weird things. She writes about post-colonial stuff. So I love Sabina Murray. John Keene. He's an African-American, he wrote Counternarratives, he's amazing.
Do you have a dream book to write?
Yeah, but I won't tell you.
Hush hush. What's a book that you wish you had written?
That's already finished?
Yes.
That's very revealing for a writer. That's hard to be truthful about, but if I were to go with the people who are dead, something that I would've wanted… maybe book 7 of Proust, Time Regained. But I say that because I would've had to write books 1 to 6 also.
What's a day-in-the-life of Gina Apostol?
If I'm in school, I go to school and then I come home. I live in the West Village so I maybe will take a walk around the village or I'll have an aperol spritz on the roof deck. I believe in pleasure, so I think you have to be happy where you are. If I have some research to do, I'll do some research. I'll meet up with friends, et cetera. I have to go back to work though—on my student's work—at 8 o'clock. Between 3 and 8 I'm free and I can do any number things. That's when I do research. I do research during the school year. If I have a revision to do and I'm working with my editor—like with Insurrecto—the revisions of Insurrecto I did during the school year. And that's easy. That's easy to do. The first drafts I only do in the summer. So if I'm doing a first draft and it's summer, I do it in Western Massachusetts, where my partner lives. To be honest, the minute I wake up, I start writing and keep going until I can't do it anymore. It can be until 9 o'clock, it can be until 6 o'clock.
I want to know a little bit about your personal style. Is it something that matters to you?
I think it matters. I grew up with a Waray mother. My Waray mother did not go out without high heels. She would be in the garden wearing high heels. She would say, "It'll destroy your feet if you don't wear high heels!" So she would send me high heels at college. She visited me and she would say, "Why are you wearing those shoes? Those are the wrong shoes!" And I'm like, "Mom, I can't march in the demonstrations in high heels." It's my mom. I hear my mom and I think she would say no matter what your life is like, as long as you're looking good, things are good. It's good advice, actually. Because it's a simple thing. It's a simple way to keep yourself together.