6 Great Moments From Julie Andrews' First Memoir, In Honor Of The Release Of The Second One
'Home Work: A Memoir of My Hollywood Years' comes out today, October 15
Julie Andrews, the world's most beloved governess/Queen/tooth fairy, is coming out with her second book, Home Work: A Memoir of My Hollywood Years today, October 15. She picks up where she left off in her first autobiography released in 2008, Home: A Memoir of My Early Years: being personally chosen by Walt Disney himself to play the eponymous nanny in Mary Poppins, the film that would earn her an Oscar nomination —and win—in 1965.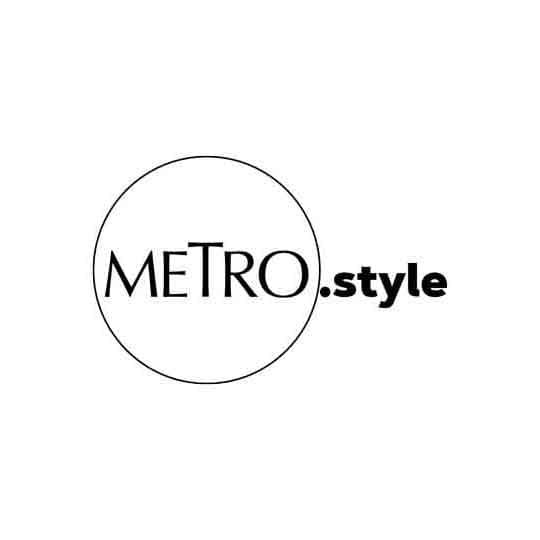 Home Work will recount Julie's life from 1964 onwards. | @julieandrews on Instagram
"It had been eight years since I first made the leap across the Atlantic from England to Broadway," Julie writes in Home Work. "At that time, I was nineteen, totally on my own, and desperately worried about leaving my dysfunctional family behind and the huge unknown that awaited me. I didn't know where I would be living or how to balance a checkbook, let alone function in an overwhelming metropolis like New York City."
This time, she faces another unknown—Hollywood—and readers can look forward to 352 pages of Julie's life under hot studio lights and in the midst of mythical Hollywood stars such as Elizabeth Taylor and Richard Burton. Julie talks about Mary Poppins, The Sound of Music, her struggle with stardom, and her activism, which reached its peak in the early 80s.
As Home Work hits shelves worldwide today, we look back at the 6 best moments Julie had recounted in her first book, from a realization about Paris rooftops to a silly telegram sent by her best friend, Carol Burnett.
What is it about Paris that is so soothing?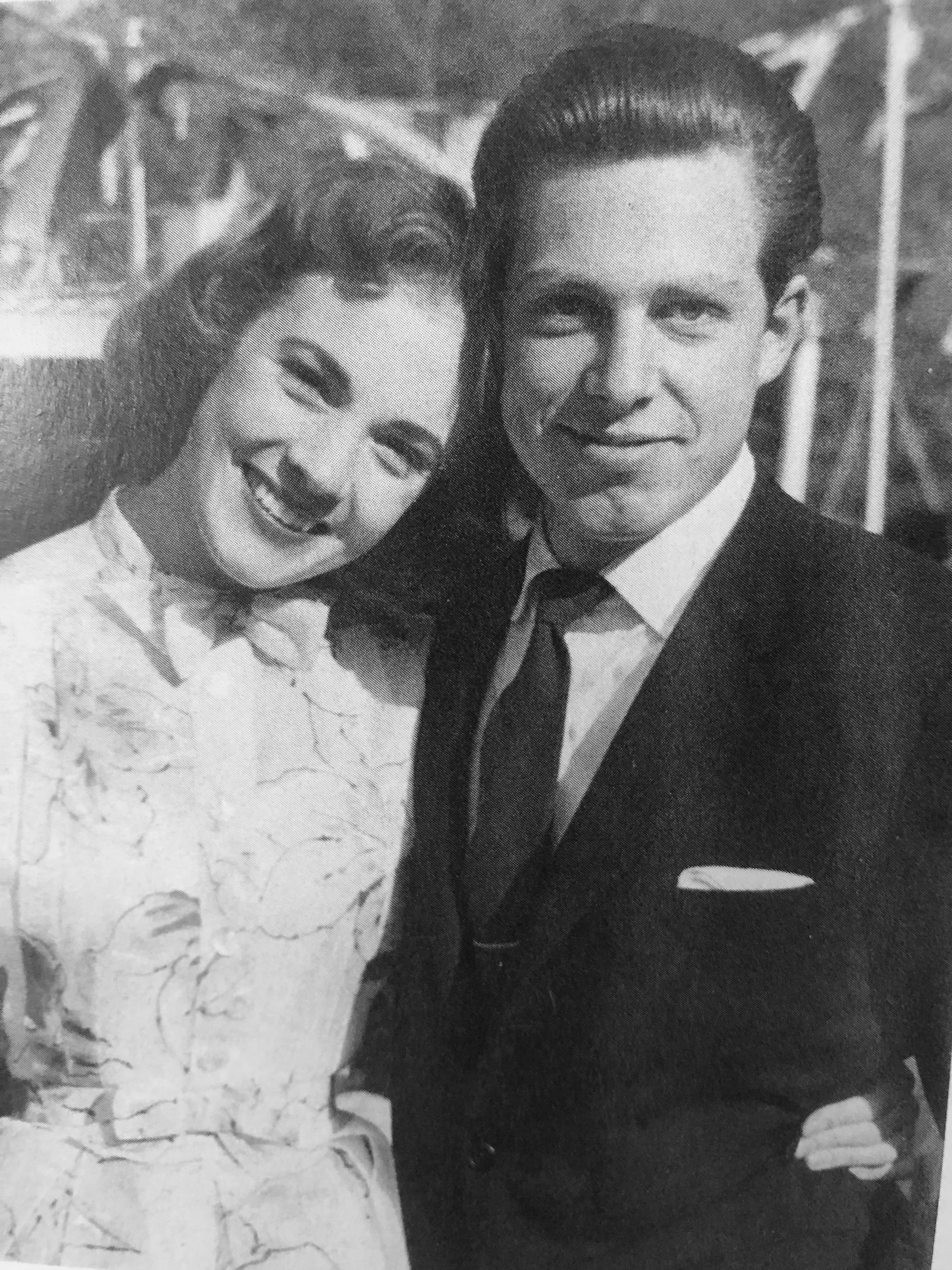 Julie and her first husband, Tony Walton, on their wedding day | Julie Andrews Family Collection
Shortly after My Fair Lady closed on Broadway, Julie had badly needed a vacation, and so she had stayed in Paris for six weeks. The moment she arrived, she had felt "instant ease," and later on, would ask her first husband, Tony Walton, a set and costume designer: "What is it about Paris that is so soothing?" His answer, of course, was something straight out of a set designer's mouth. "I think it's to do with the proportion to your eye," he said. "In New York everything is above you — you're in the canyons, so to speak. In Paris, you look out over rooftops — you can see your world, feel on top of it, be in control."



She should've done the role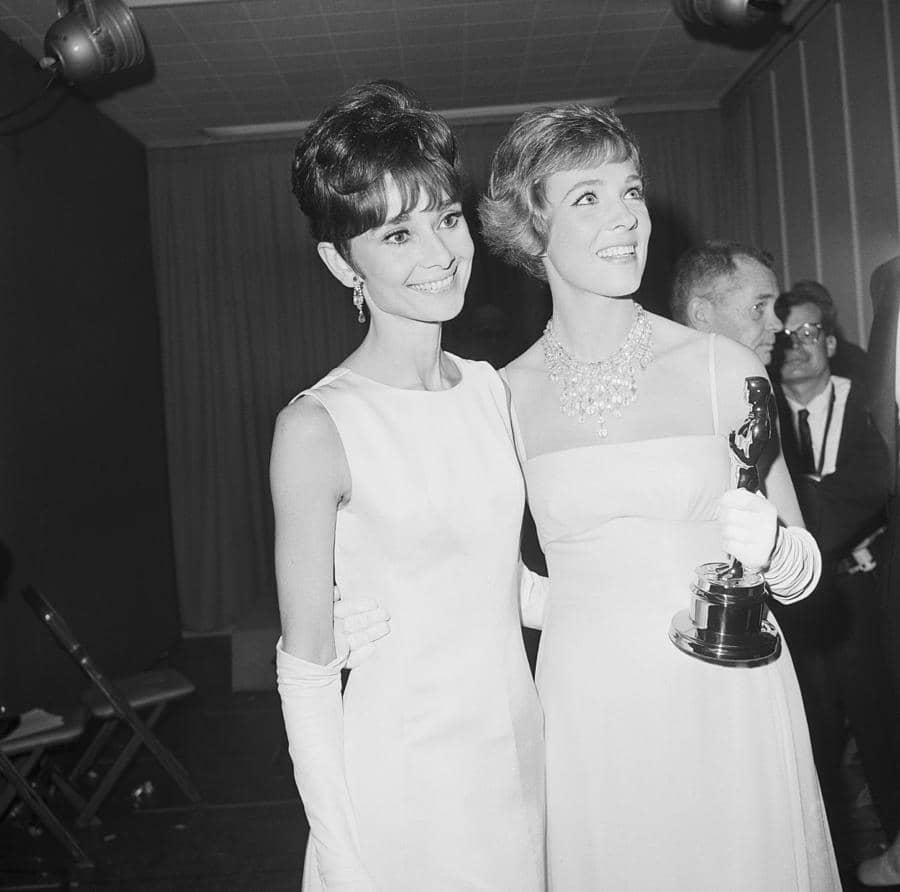 Julie and Audrey at the 1964 Oscars | by Bettman. Image via Fine Art America
When it was announced the
My Fair Lady
was going to become a film, tensions had been high. Would Julie go on to reprise her role as Eliza Doolittle, or will another actress take the part? As history went, Julie had been passed on for Eliza, and Audrey Hepburn had been offered to the role instead. Julie had completely understood this decision, but what people wanted to know is how exactly
did
she feel about Audrey? After meeting at the 1964 Academy Awards, the two had become good friends. In 1961, Audrey would go on to star in
Breakfast at Tiffany's
, which was directed by Julie's second husband, Blake Edwards. Julie shares that one day, Audrey had told her: "Julie, you should have done the role… but I didn't have the guts to turn it down."
The mouse died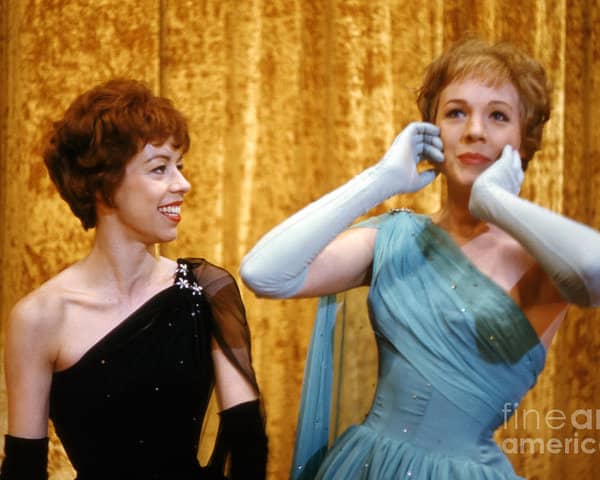 Julie and Carol at Carnegie Hall | from The Harrington Collection via Fine Art America
Apparently, back in the day, a pregnancy test involved the use of a mouse. "If the poor creature died from an injection of one's urine," Julie wrote, "It confirmed you were pregnant." A few weeks after her show at Carnegie Hall with Carol Burnett, she had told her that she was going for a pregnancy test. Carol would be working all day, and she told Julie to leave a message if she can't come to the phone. Well, Julie did, but Carol received the message over the PA system, echoing through the halls of CBS. "Miss Burnett, Miss Burnett… telephone message for you. Miss Andrews called to say 'The mouse died.'"
She's got the nose for it
Walt Disney famously waited for Julie backstage at Camelot to ask her personally if she would like to star in his newest film,
Mary Poppins
. Julie had explained she was pregnant, and Walt had explained himself that he was willing to wait for her. The morning after giving birth, P.L. Travers, the author of the
Mary Poppins
books—who'd also famously
hated
the idea of Disney adapting her stories—had called her. "You're much too pretty, of course," Travers had told her. "But you've got the nose for it!"
You don't know me, but
While Julie was doing The Boy Friend on Broadway, Cary Grant had come to watch the show. He'd gone backstage to meet a friend, and everyone "dashed to the stage door to watch him pass by." Poor Julie wasn't instantly able to—she, after all, had to remove her wig, take off her false eyelashes, and cleanse her face. "By the time I was finished, he had gone," she wrote. "I was just heading out of the stage door, looking rather greasy and dishevelled, when Cary Grant suddenly reappeared, having left something beind. We very nearly bumped into each other. 'Oh, hello,' he said. 'You don't know how me, but my name's Grant.'" Julie remembers very little from that encounter because she had been so overwhelmed by his charm.
Did he say the Queen's car?
One day after school, Julie was told by her voice teacher that her mother wants her home early because she was to perform in London that same night. As they arrived at the theatre about to park, a doorman stopped them: "Sorry, sir, you can't park here. This spot is for the Queen's car." Julie asked in disbelief, "Did he say 'the Queen's car?'" and her mother, hoping to keep the performance a surprise, said, "No, no, I think he said the Greens' car!" Of course, it was the Queen's car, and at age 13, Julie had been the youngest performer to sing for the Royal Family. "You sang beautifully tonight," the Queen Mother would tell her afterward. Back at school, she'd become somewhat a celebrity: "the school klutz was suddenly the center of attention," she wrote.