This Is How The Country's Emerging Equestrians Are Giving Back—And How You Can, Too
Equestrian Philippines, Inc. and its president, Carissa Coscolluela, are teaming up with the Philippine Red Cross to encourage Filipinos to play a role in the Blood Samaritan Program. The best part? Participating is simpler than you think
Underpinning the Equestrian Philippines Inc. (Equestrian PH) team's commitment to transforming the most promising Filipino riders into world-class talents is a heart of gold—one that beats faster not only at the prospect of personal triumph, but also at the opportunity of being of service to others.
It's a culture that Equestrian PH president Carissa Coscolluela has ingrained in the Equestrian PH family—from its riders and coaches, to family members and long-time supporters. And this year, they've chosen humanitarian organization Philippine Red Cross as their beneficiary.
Turning the prestigious event into a fundraiser was a personal choice of Carissa, who also stands as one of the organization's governors and is the chairperson of its Blood Services Committee. To link her two passions, equestrian sports and the Philippine Red Cross, and to get the local riding community more involved in humanitarian service, Carissa conceptualized the "Ride for Life" event.

She says, "By harnessing the participation of the riders beyond the usual competitive sporting sense, Equestrian PH hopes to activate every individual's inherent humanitarian inclination and desire to help those who are suffering and most vulnerable, done in the context of excellence in equestrian sports."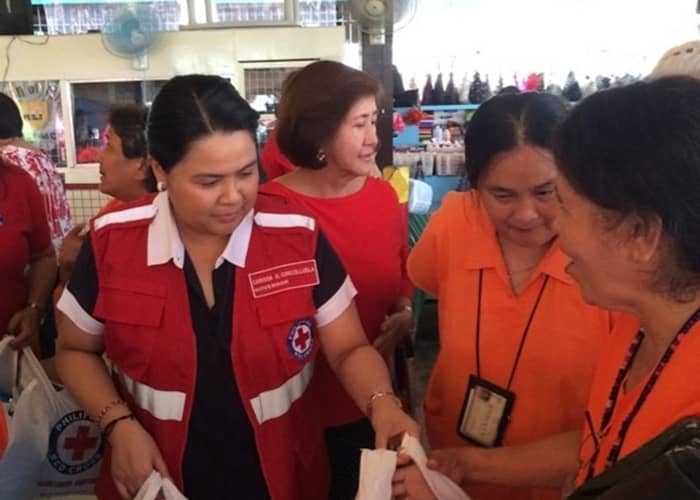 The Equestrian PH and Philippine Red Cross partnership will culminate on November 16, Saturday, at "Ride for Life," Manila Polo Club's 6th show jumping competition and the second leg of the Equestrian Philippines Indoor Championship Series 2019 (the first leg was the recently held Halloween-themed "Spooky Spectacular" show jumping competition).
It will feature some of Equestrian PH's most successful riders, including the young Minxie Romualdez, award winners Lara Zobel and Paola Lorenzo, as well as Egyptian expatriate rider Mohamed el Akkad, all of whom will showcase their skills in a course designed by French national team rider and trainer, Thibault Trassard.
Below are the mechanics for participating in the "Ride for Life" fundraising program:
Interested patrons first choose a rider participating in the competition to make a pledge on. Depending on how their chosen rider places, whether first, second or third place, their pledges will then be assigned a corresponding amount, namely:
P7,000 to P10,000 for first place
P3,000 to P6,000 for second place
P1,000 to P2,000 for third place
P1,000 for crossbar clear rounds
Additionally, in the event that a patron's chosen rider does not place, they may still make donations of any amount.
Note that pledge forms must be submitted by Saturday, November 16. Checks may be made directly to Philippine Red Cross staff present at the event after the competition. Official receipts will be issued.
The program's goal is to assist indigent Filipinos in dire need of blood transfusions but cannot afford the accompanying processing fees. Funds raised by the competition will help subsidize fees necessary for patients confined in local and national government hospitals to pay in order to receive critical medical care for myriad of conditions.
Funds raised will surely be of the help to the organization that has been a blood resource center for than 1,000 hospitals; in 2018 alone, it dispensed about 26,501 blood units to indigent patients, a number that can surely increase with the help of this event's patrons.
To ensure that donations will be used only for their intended purposes, patients must be able to present a Certificate of Indigency given by their hospital's Social Welfare Department or by the Philippine Red Cross Welfare Office.
Last but not least, Equestrian PH will also sponsor first aid and emergency training for all employees of the equestrian facilities of Manila Polo Club to improve the quality of response during any untoward event.
"Ride for Life" follows "Spooky Spectacular," the first leg of Equestrian PH Indoor Championship Series, and the first Equestrian PH Riders Tour that had Filipino riders compete with their Malaysian counterparts and saw them win the gold.
Photos from @equestrian__ph