All About The LazBeauty Room Happening This Week
Here's everything you need to know about this five-day beauty event一plus, check out the highlights from its launch party
Redefining Filipino beauty by celebrating and embracing all shades, skin types, styles, and different price points一this is the thrust of top e-commerce platform Lazada's LazBeauty Room campaign. You can get a glimpse of the #LazBeautyPH experience by visiting SM Megamall's Fashion Hall until February 26! In the brand's effort to cater to every Filipino's beauty wants and needs through the widest assortment of trusted and quality offerings, as well as some exclusive brands, the idea of putting together a setup of interactive beauty rooms was born.
"LazBeauty is the beauty go-to destination that we want to give every Filipina and Filipino consumer," says Kitty Calderon, Lazada Philippines' Head of Marketing. The concept has been extended from the app to a physical hub where people can experience what it's like to be part of the LazBeauty Club in which exclusive beauty deals and discounts are made available to its members.
With a thoughtfully curated lineup of must-haves from local and international brands, the LazBeauty Room is a gateway to a wealth of options一because, here, their tagline "sobrang daming choices" is really not an exaggeration. "[With] every curation and experimentation that we do, there always has to be a choice. So they [the consumers] need to have all this assortment that is available to them to really be able to curate and experiment," Kitty adds.
Welcome to the LazBeauty Room
Mounted at SM Megamall's Fashion Hall, the eye-catching LazBeauty Room installation is open for everyone up to February 26. Here, choices are plenty, and beauty aficionados can discover or rediscover the products that can work wonders for them.
Aside from the branded beauty booths around the venue, there are three themed rooms that cater to certain beauty styles and requirements. You can find product displays from Kiehl's, MAC Cosmetics, Unilever, Clocheflame, and Colourette, among others. Alongside the product displays are QR codes which shoppers can scan on the spot, so they can be directed to the Lazada app and easily purchase the items they're eyeing. With each LazBeauty purchase, you can enjoy CashBack and Fast and Free Shipping, or better yet, get exclusive deals once you sign up as a LazBeautyClub member!
There is the "Summer Glow" room which is ideal for beach lovers. True to the theme, the room exudes a bright aura, with products that not only provide sun protection but also gives or enhances that youthful, sunkissed glow. The summer season coming up is all the more reason why one should visit this room and shop for new, season-appropriate beauty kit staples.
Next is the "Glam Ganda" room which features makeup products that are perfect for when one feels like glamming up for a date night or elevating her look for a special occasion. From fuss-free to bold and edgy, one won't be hard-pressed to find items that will suit her complexion, personality, or style preference. There are also skincare and hair care items in this room that can help complete that glamorous makeover.
Finally, the floral-themed "Everyday Blooming" room is packed with gentle products ideal for everyday use. The room itself is very feminine and easy breezy, encouraging a laid-back beauty routine that can easily fit into one's daily grind.
One thing common among these rooms is the interactive mirror that allows one to see the many ways she can glow up with the help of LazBeauty Besties like Kryz Uy and Angelique Manto, and the products available on Lazada.
Even with the millennial and Gen Z markets in mind for the conceptualization of these LazBeauty Rooms, women beyond these markets will also find beauty products they can easily integrate into their established beauty routines.
Building a community of "beauty besties"
At the core of LazBeauty's campaign is redefining Filipino beauty. And one way to spark changes in perceptions in this regard is by collaborating with beauty muses and experts who are passionate about makeup, skin care, and hair care or styling. These are influencers and key opinion leaders who not only know what they're talking about but are also relatable because of their personal journeys in transforming themselves into the confident women they are today.
Leading the pack is actress Gabbi Garcia, LazBeauty's first brand ambassador who, Kitty says, is "the perfect personification of everything that LazBeauty stands for."
Kitty further tells Metro.Style what makes Gabbi a perfect fit for their brand: "When we were thinking of LazBeauty, we wanted it to be very rooted here in the market… so really empowering Filipinos out there to really embrace their authentic and true selves and be more confident. And Gabbi, you can see her, she's a multihyphenate一she's an actress, a performer, and she's a host also. She's very comfortable with her skin. She's morena. And, at the same time, she's unafraid to take on so many challenges when it comes to all of the career decisions that she has to make. So we really wanted someone like Gabbi also to really represent us and every Filipino consumer."
At the LazBeauty Room launch party, attendees were treated to an inspiring conversation, too, about building one's confidence and embracing beauty in all forms. The segment featured LazBeauty Besties and influencers like Kryz Uy, Nicole Andersson, and Angelique Manto; magazine editor Belle Rodolfo; and beauty brand representatives Jacqe Yuengtian Gutierrez of Happy Skin and BLK Cosmetics and Jess Wilson of Sunnies Face. Unfortunately, Gabbi couldn't make it to the launch party, as she's currently in Switzerland shooting for the Unbreak My Heart TV series. They were joined by the master of ceremonies Jaz Reyes and Lazada Head of Communications Mia Colborne.
With the help of the LazBeauty Club, these beauty pros are accessible as everyone's "beauty besties," giving members a chance to be informed and to learn from the beauty processes, journeys, or habits of these like-minded individuals. Expounding on the "sense of community" they wish to build within the app, Kitty says, "With us Filipinos, it's really important for us to really have that sense of community and that sense of having a partner or what we call nga a bestie when it comes to sharing tips or sharing some of your problems when it comes to beauty or hair care or makeup and the likes一to just have that sense of trust and sense of belongingness in the same community that really loves beauty as well."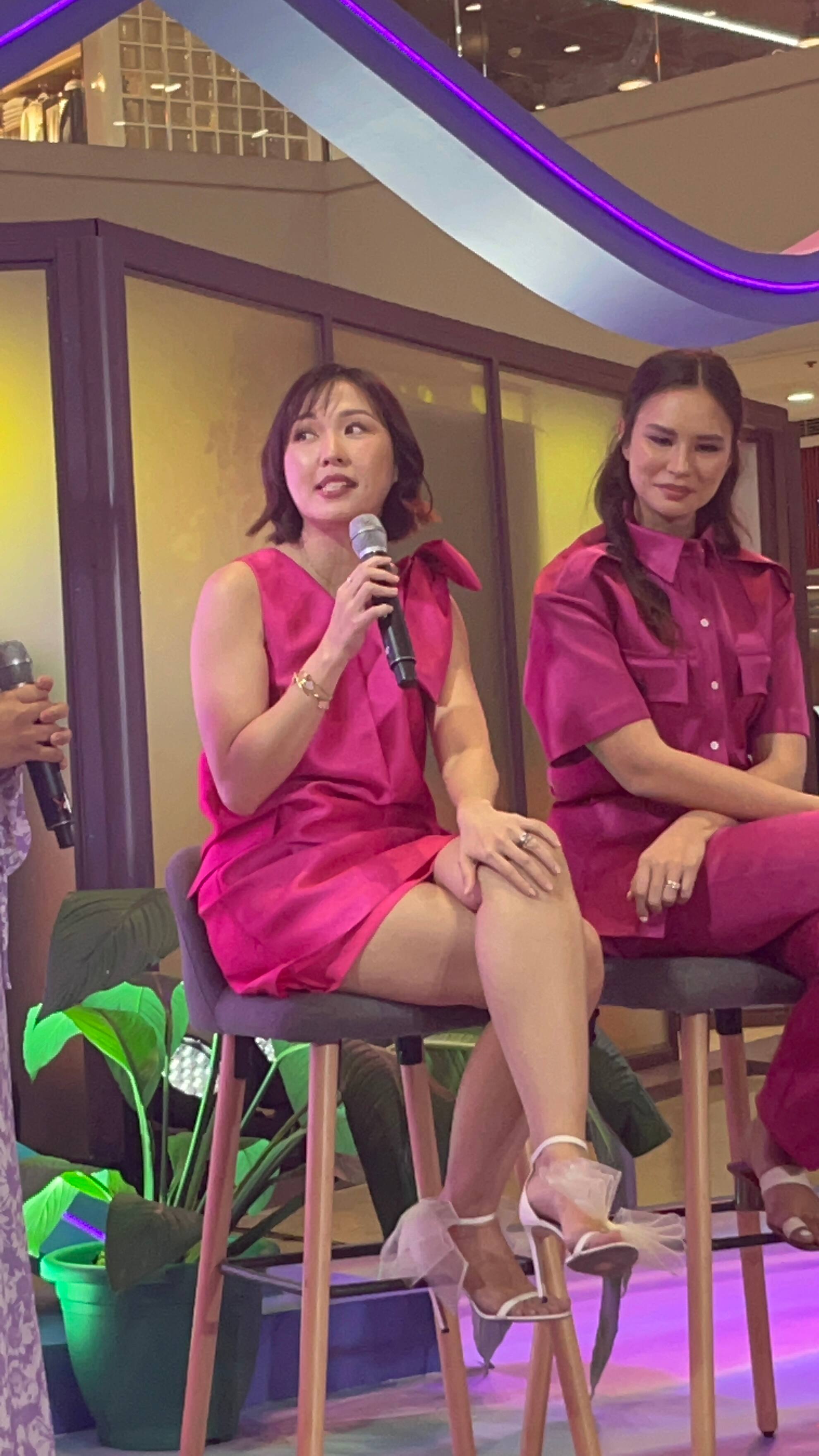 Jacqe Yuengtian Gutierrez
Boosting others' confidence
When asked about their advice to Filipinas about celebrating their own beauty, everyone in the panel shared valuable insights. Jacqe pointed out that having many content creators now who share their points of view on beauty is a definite advantage that people should make the most of. "I would really push everyone to watch all kinds of content creators because that's when you try to figure out what looks good for you," she says. "And then, we have our brands that are available in LazBeauty where you can try to find which one works for you, which one doesn't… We're here because we're also looking out for you so that you can try to form what kind of beauty is beautiful for you."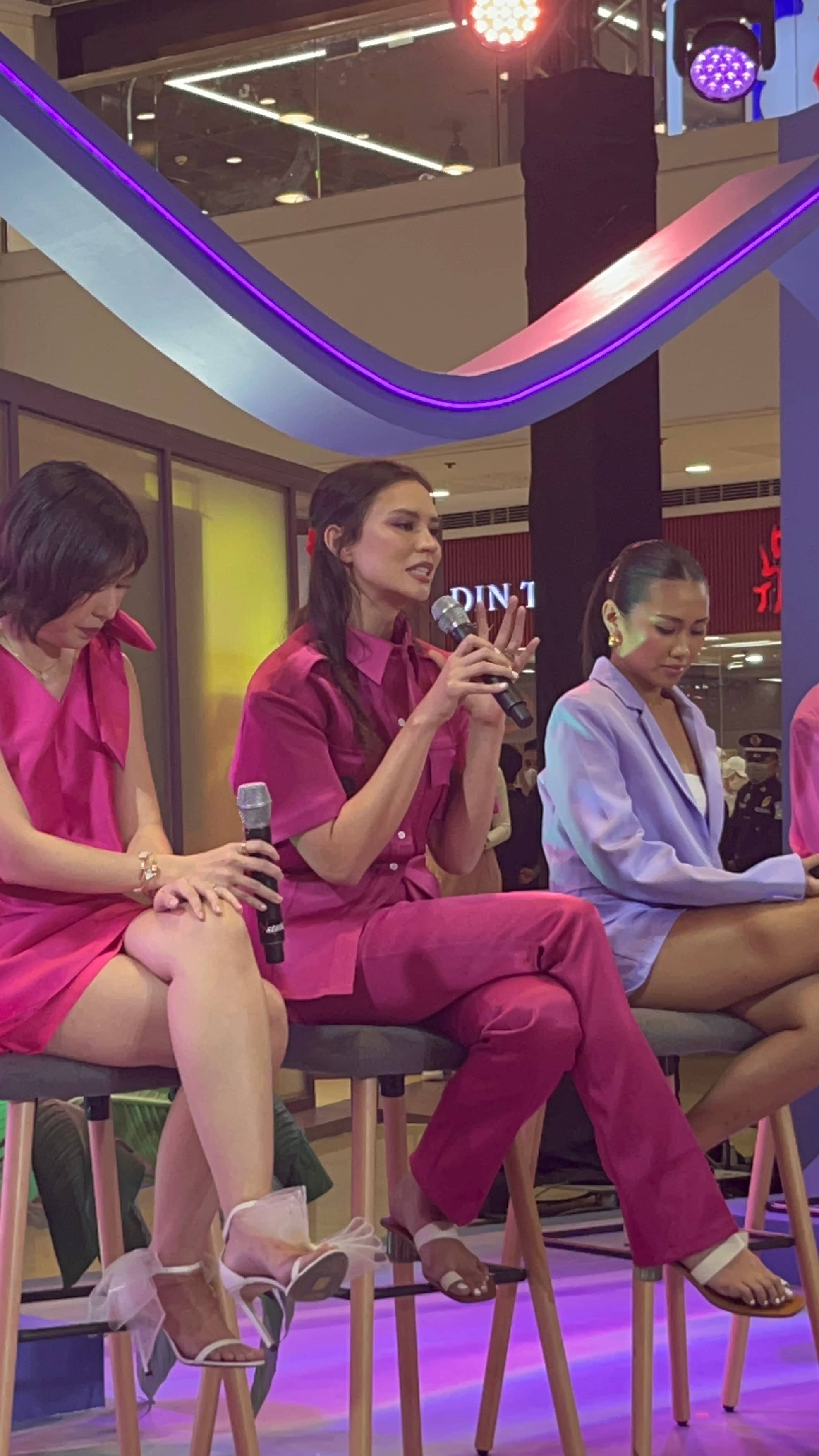 Jess Wilson
Jess similarly emphasizes the importance of knowing what makes you glow with happiness: "Find products that work for you. Figure out what beauty means to you, when you feel most beautiful. It might be through a product, it might be through the company you keep, something that makes you feel beautiful, something you put on whether it's makeup, clothes. It's about finding that moment that makes you the most beautiful and remember[ing] that feeling."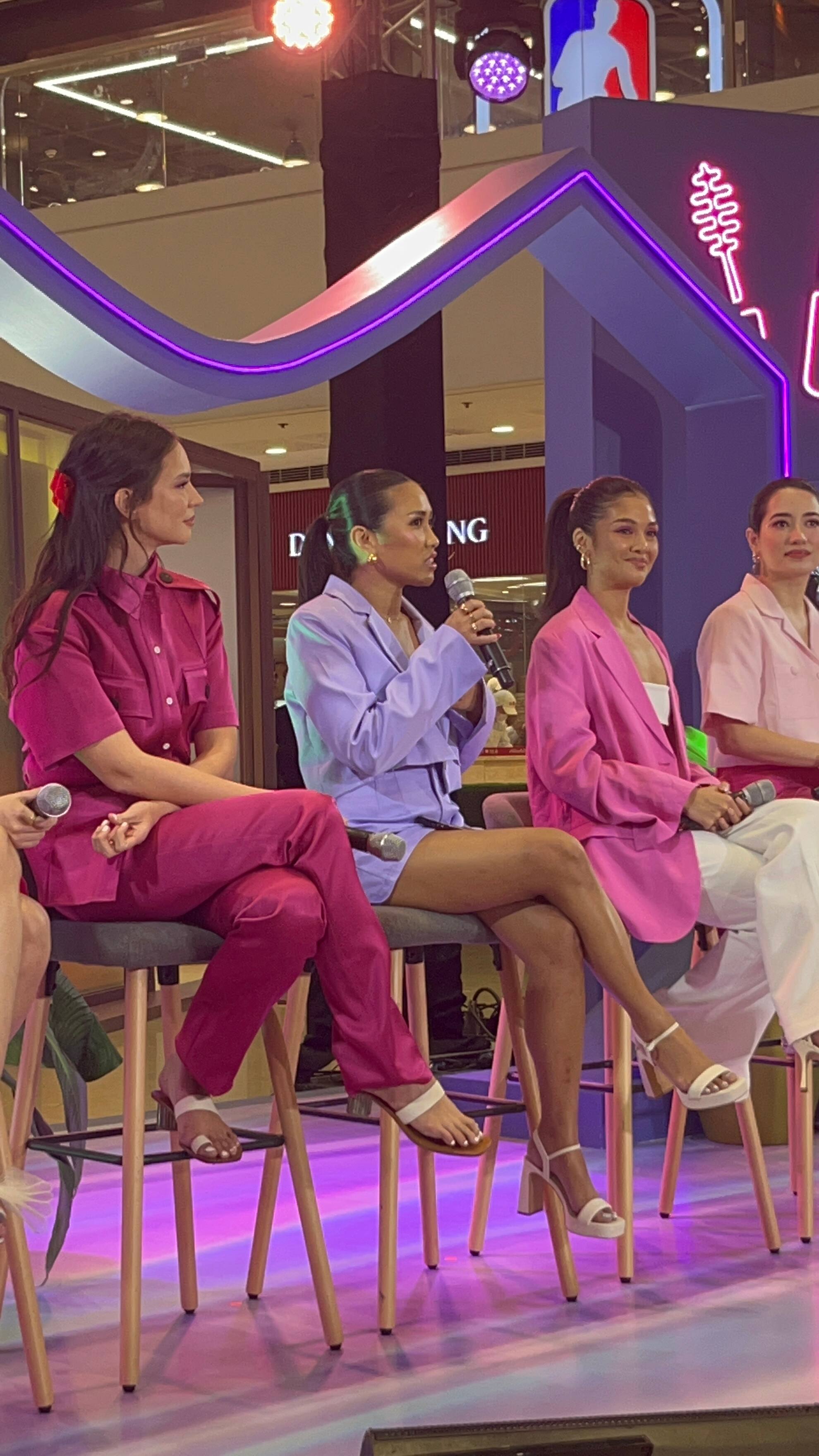 Belle Rodolfo
Belle is all about uplifting her fellow morenas, so they can be more comfortable in their own skin. By being proud of herself, she's setting a good example and showing others that a morena complexion is indeed beautiful. She says, "My advice would be: be the representation you wanna see… And the beauty of makeup is you can remove it一if it doesn't work for you, you can remove it, it's fine!"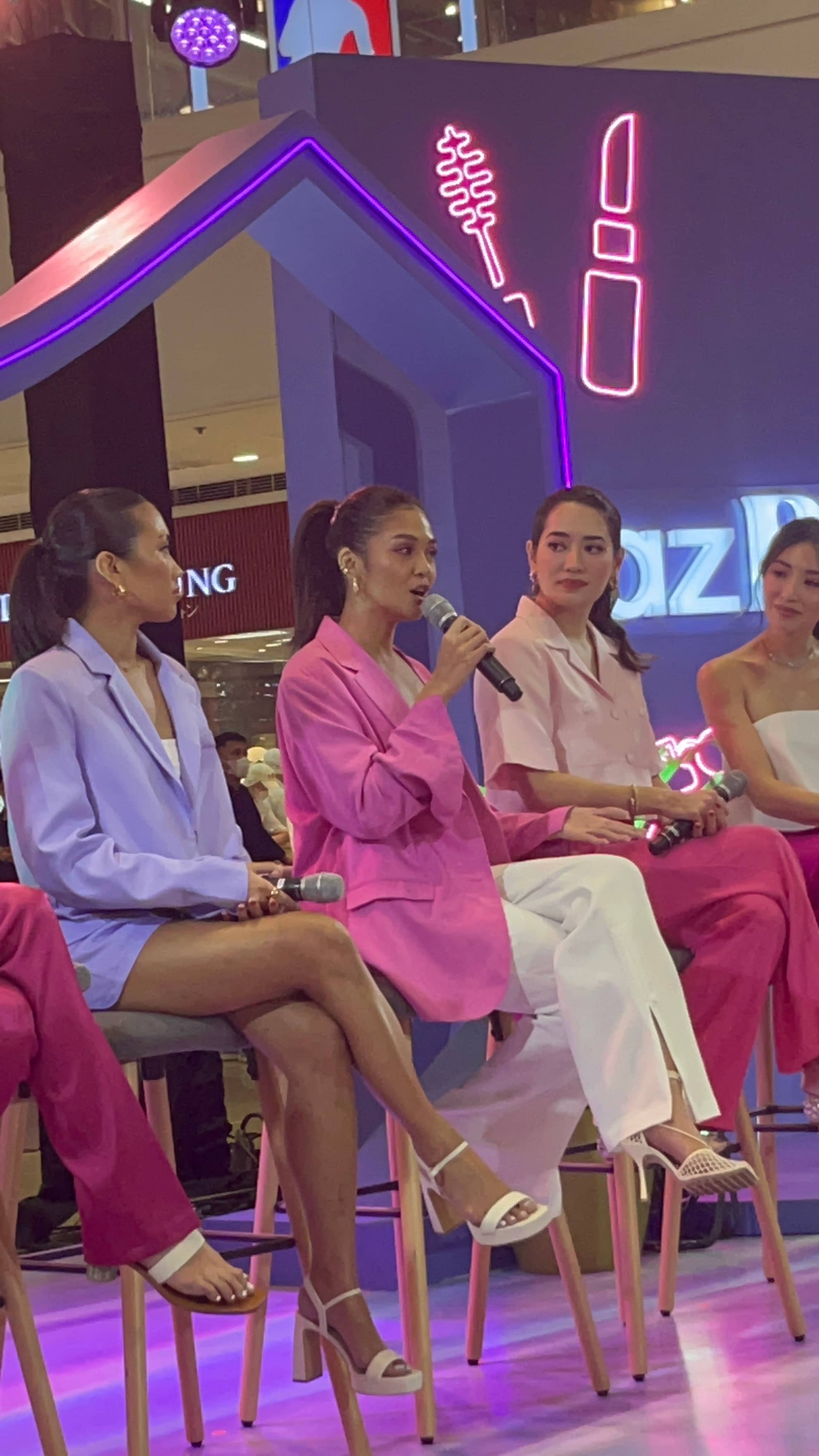 Angelique Manto
Angelique (who has just been announced as one of the 40 official candidates in Miss Universe Philippines 2023) says, "I think that's the very essence of celebrating what Filipina beauty is, knowing that there is a space for each and every single person with their own unique identities that make them beautiful."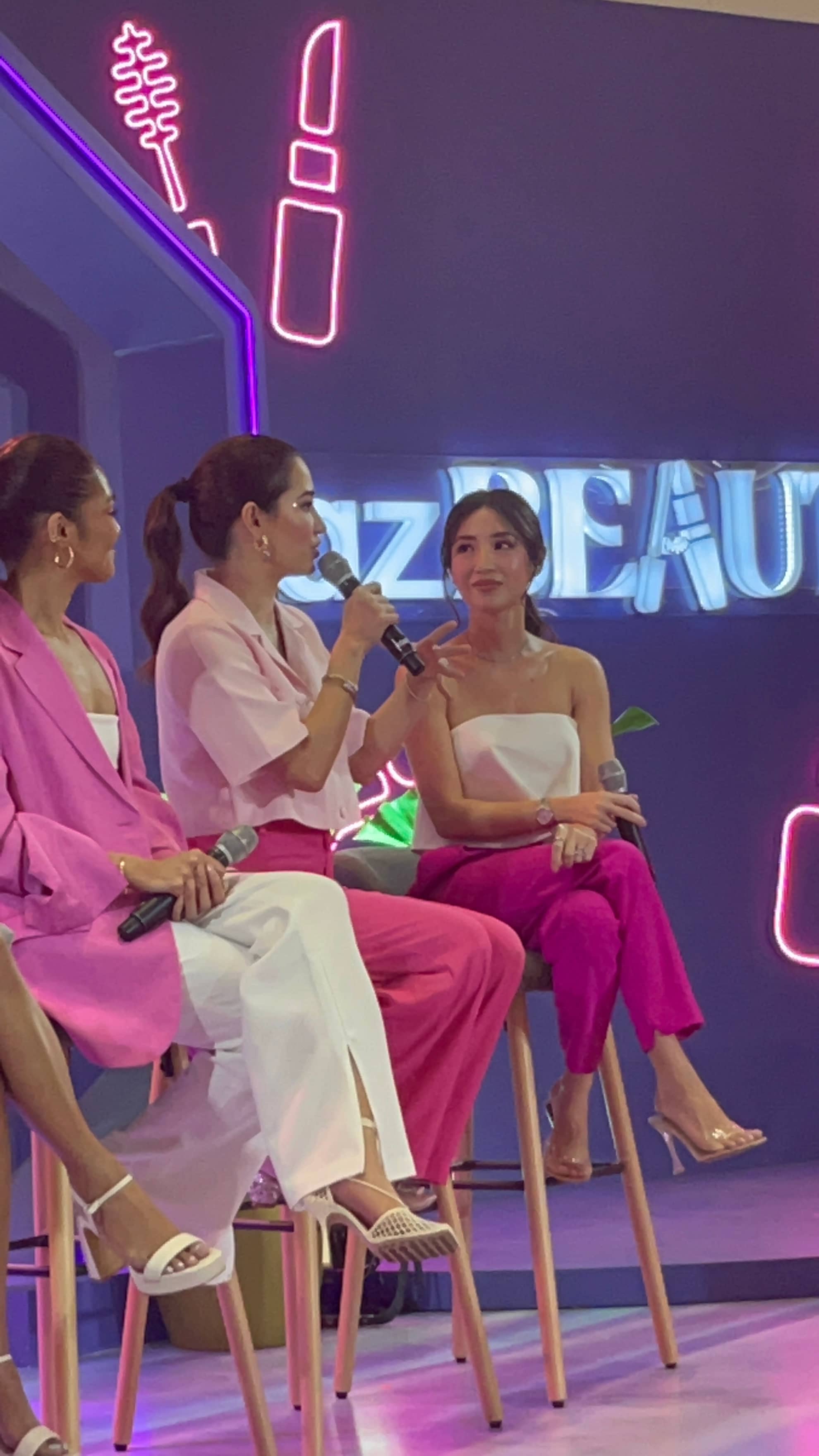 Nicole Andersson
Nicole also inspired with her well-meaning advice, saying, "Be the change that you want to see." She advised people to not to be stingy with compliments, as we don't know the extent of the positive impact it can have on another person. "If you're that positive change that you want to see within your circle, within your friends, you'll find that sabay-sabay kayo umaangat, sabay-sabay kayong nagblu-bloom."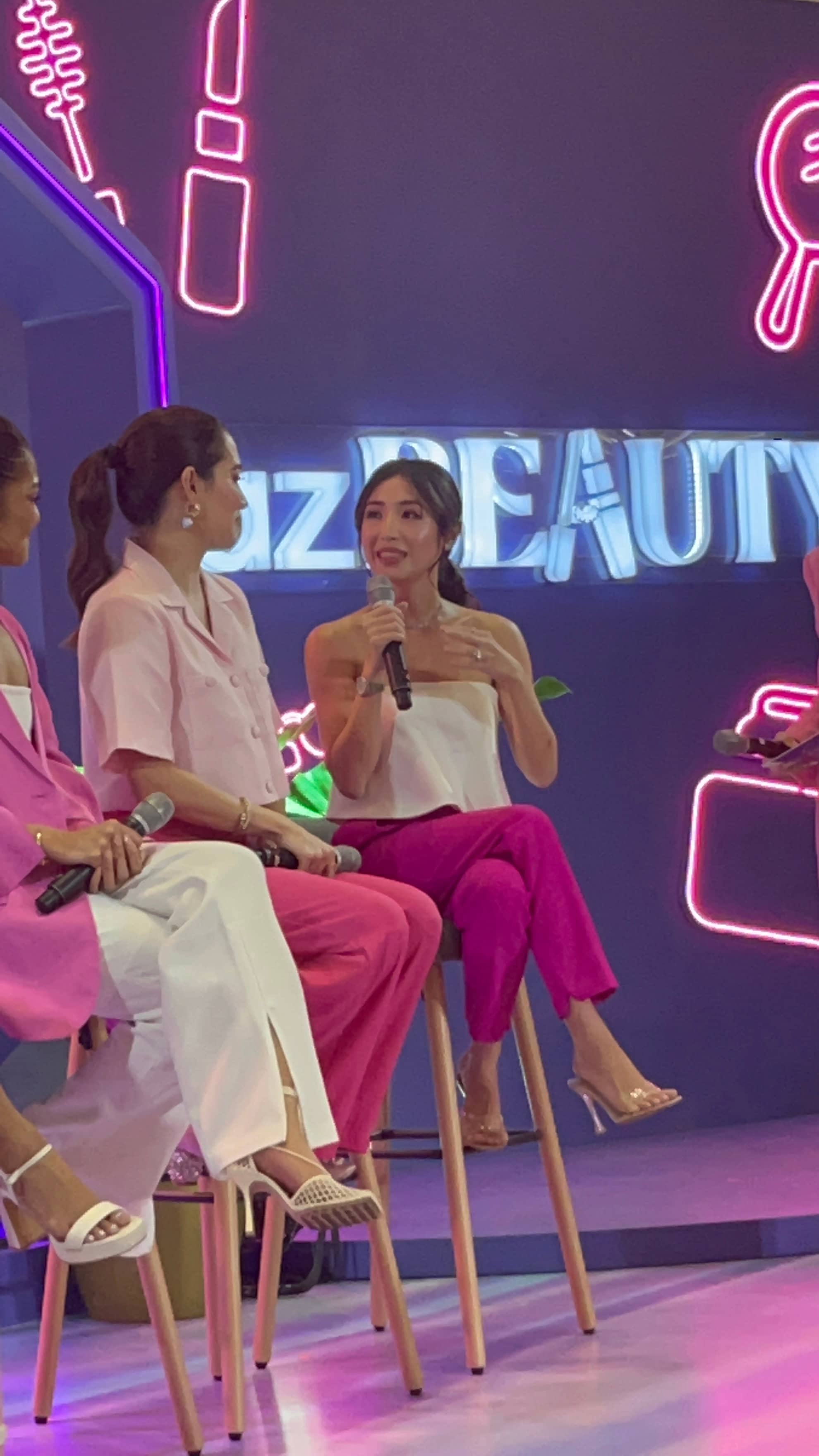 Kryz Uy
Kryz concluded the segment by telling everyone that there's nothing wrong with caring for yourself, and that it's not being "maarte" to be mindful of one's beauty routines. "To me, beauty really helped me gain confidence in myself when I didn't have that confidence. And having the right skincare, having the right products made me who I am today."
After the roundtable was a quick makeup masterclass of Jason delos Reyes, a celebrity makeup artist who often works with Gabbi. He was onstage with Rei Germar, Angelique Manto, and Kryz Uy–with the three girls sharing their makeup issues and Jason giving his expert tips on makeup and beauty.
In a sit-down interview with Metro.Style, Kitty ties in all these insights by encapsulating the transformative power of using the right beauty products that do not change one's facial structure but simply enhance one's features. "At the end of the day, you don't want yourself to be perceived or to be looked at as someone who is completely different whenever you do a transformation," Kitty says, adding that it is also LazBeauty's goal to empower people to be happy with themselves and embrace their authentic selves.
Check out more photos here: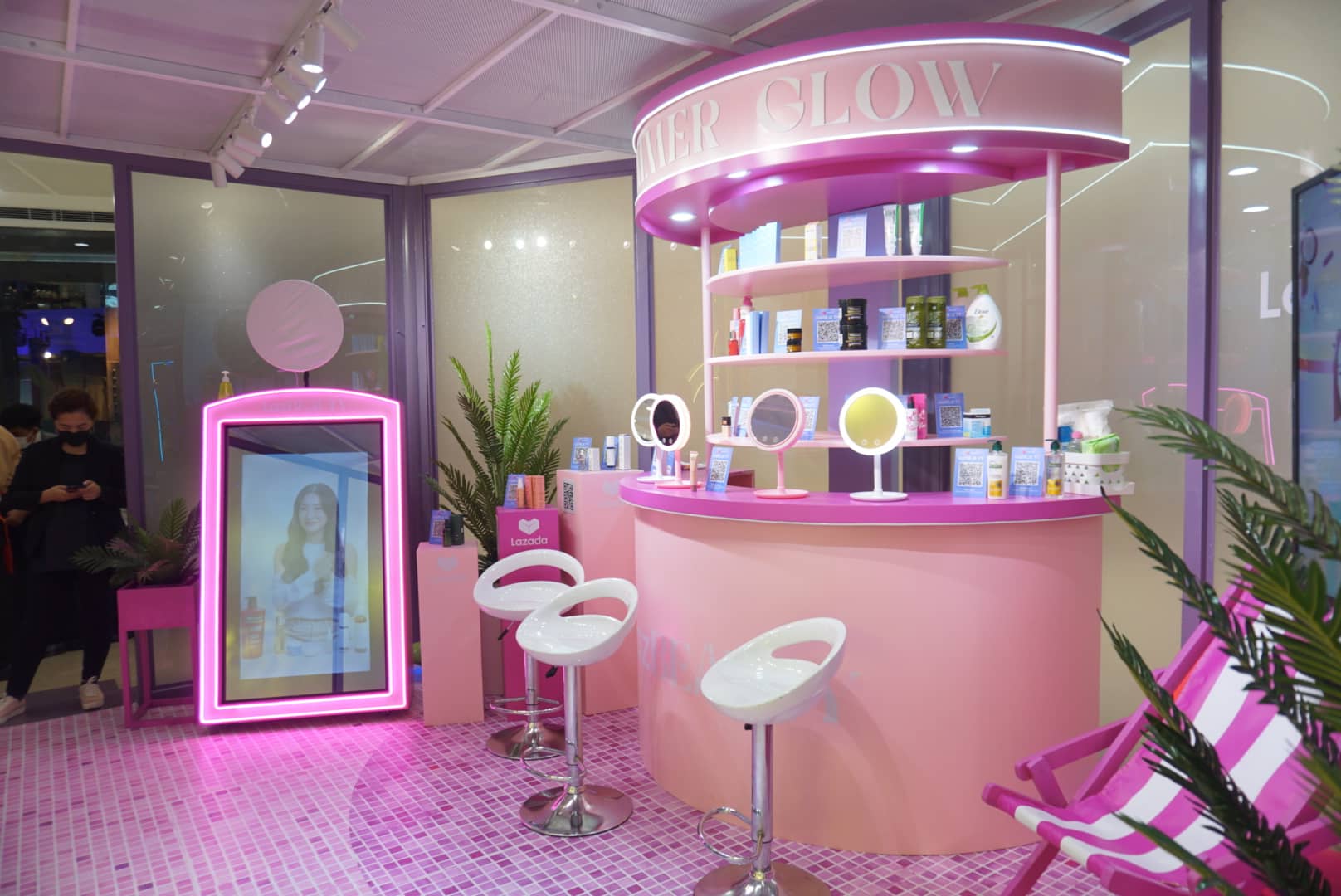 Photo Gallery
Photo Gallery