Tagaytay's Grande Dame Turns 80!
Age can creep up on you if you're not paying attention, but if you're 80 and can still look as fresh and inviting as Taal Vista Hotel, you know you're in good hands
Without a doubt, the Taal Vista Hotel still stands as one of the premier points of interest when one visits Tagaytay. It simply has the best view of Taal Lake and the island volcano, and there's a nip in the air whenever one visits the grounds of this fabled establishment. Now a cornerstone of the properties owned and managed by SM Hotels & Conventions, Taal Vista has a rich history; one that made its 80th anniversary celebration, all that more meaningful.
It may not be a popular known fact, but along with the Manila Hotel, the Taal Vista was built during the American colonial period, and both are considered to be the two oldest hotels in the country. The Taal Vista story dates back to 1936, when Commonwealth President Manuel L. Quezon expressed his desire to develop Tagaytay as a tourist destination. Much nearer than Baguio, Tagaytay enjoyed a cooler climate than Manila, and it had the spectacular view of Taal Volcano in the middle of Taal Lake. It was the Manila Hotel Company that built a lodge and golf course along the ridge, and the Taal Vista Lodge, was opened to the public on October 7, 1939.
Over the decades, ownership of the Lodge changed hands—the one significant for this story being how in 1988, then owner Development Bank of the Philippines (DBP) put the property on the block, and Henry Sy Sr. acquired it through SM Investments Corp. The story goes that Tatang was a frequent visitor throughout his life to the Lodge, and the property held a special place in his heart.
To renovate and expand the accommodations, the Lodge was shut down in 1999, reopening in 2003 as Taal Vista Hotel, and now a property of SM Hotels & Conventions. Appointed to head SM Hotels & Conventions, Henry Sy's daughter, Elizabeth, foresaw how Tagaytay would further develop as a tourism hub, and she added a new wing, plus extensive conference facilities and amenities for business and leisure activities.
To commemorate its 80th birthday, President Elizabeth Sy organized a very special lunch. Nes Jardin helped prepare the celebration, "As Time Goes By," and it was wonderful 6-course feast of a lunch that honored icons of the Philippine culinary landscape. From the late Nora Daza, to Glenda Barretto, Myrna Segismundo, Amy Besa and Romy Dorotan, to Claude Tayag and the Filipino Madrid Fusion chefs, each course was conceptualized as a tribute to these culinary landmarks.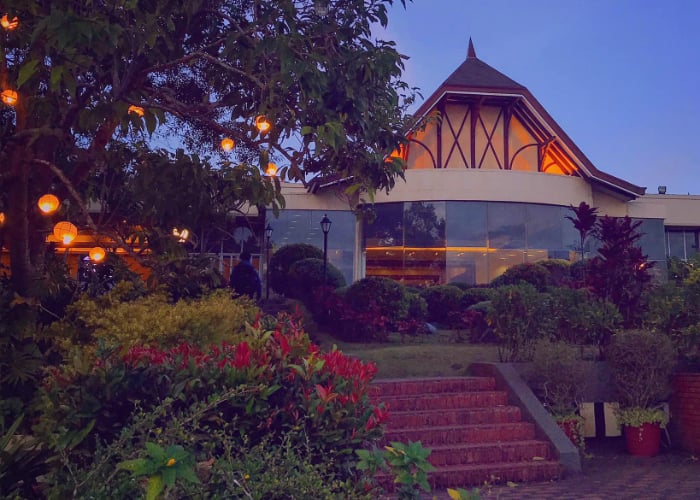 Entrenched in the history and heritage of Tagaytay, the Taal Vista Hotel, as it stands today, respectfully salutes its' past, with one eye firmly fixed on the future. Tagaytay just wouldn't be Tagaytay without the Taal Vista Hotel.