In Photos: The Bloodiest, Craziest, and Most Intense Scenes From 'The Penthouse: War in Life'
Can't move on from this makjang drama? This gallery is for you! (Trigger warning and spoiler alert)
The Penthouse: War in Life is inarguably one of the best K-dramas ever. More than a week since it ended, the series' fans still can't get over how intense, exciting and over-the-top it was. It's understandably hard to move on from a makjang series like this.
This K-drama's story has real estate and education war at its core, with emphasis on staying on top of the social hierarchy represented through the Hera Palace's 100 floors. Making it more intense were the endless scenes of bullying and violence; literally all the characters in the series had a villainous side. The wealthy residents of this luxurious apartment building have only two goals in life: to become richer and get their kids into Seoul National University.
The Penthouse: War in Life premiered on October 26, 2020 and its 22-episode run ended on January 5, 2021. Shortly after, on February 19, its season 2 was launched, running until April 2. A couple of months later, season 3 premiered on June 4 and concluded on September 10.
Aside from the compelling themes and the many plot twists, there's no denying that the ensemble cast of The Penthouse: War in Life delivered beyond expectations. The cast is led by Lee Ji-ah (Shim Su-ryeon), Kim So-yeon (Cheon Seo-jin), Eugene (Oh Yoon-hee), Um Ki-joon (Joo Dan-tae), Yoon Jong-hoon (Ha Yoon-cheol), Bong Tae-gyu (Lee Kyu-jin), Shin Eun-kyung (Kang Ma-ri), Yoon Joo-hee (Go Sang-ah), and Park Eun-seok (Gu Ho-dong / Alex Lee / Logan Lee).
Starring as their kids were Kim Hyun-soo (Bae Ro-na), Choi Ye-bin (Ha Eun-byeol), Kim Young-dae (Joo Seok-hoon), Han Ji-hyun (Joo Seok-kyung), Jin Ji-hee (Yoo Jenny), and Lee Tae-vin (Lee Min-hyuk).
For her impressive acting in this series, Kim So-yeon received the Best Actress award at the 57th Baeksang Arts Awards held this year.
What a journey it had been! And if you're finding it hard to move on from The Penthouse: War in Life, relive some of the best scenes from this high-rated show.
Check out the gallery below as we've gathered the bloodiest, craziest, most over-the-top, and most heartbreaking scenes from the series' three seasons.
Trigger warning and spoiler alert!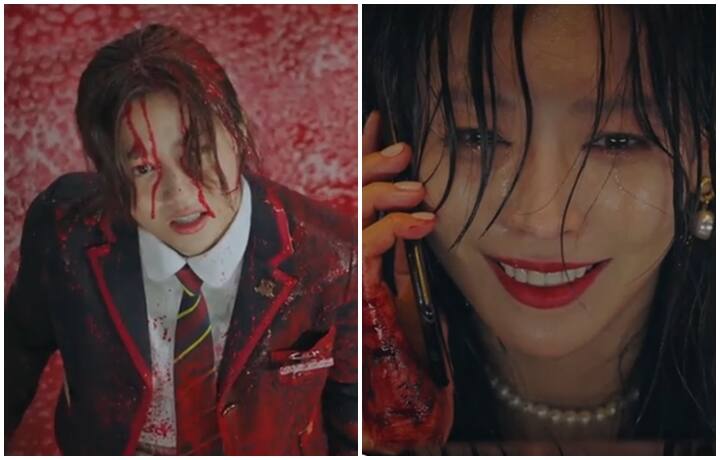 'The Penthouse: War in Life' Bloodiest, Craziest, and Most Intense Scenes
SWIPE LEFT OR RIGHT
TO NAVIGATE BETWEEN PAGES
What are your favorite scenes from this series?
The Penthouse: War in Life is available on VIU and iQiyi.
Screenshots from VIU