If You Like KUWTK, You'll Also Like These Other Reality Shows
Keeping up but want MORE reality content to dig into? Check out our list of 10 binge-worthy shows to stream, watch, or download on hayu!
Say it with me—reality TV is the best! Beyond giving true to life insights and lessons to take to the bank, wouldn't you agree that reality TV also is the perfect escape, which we need right now, more than ever? And let's face it, we love seeing our favorite celebrities and personalities at their realest and most authentic selves, sharing parts of their lives we wouldn't otherwise know of from their social media feeds.
Want to know what could make reality TV even better than it already is? Watching it on hayu—the only all-reality subscription video-on-demand service that brings most of your favorite reality shows same day as the U.S. and with a complete content library of over 8000 episodes! hayu also handpicks only the best of reality programs, making sure that all the shows you have at your fingertips are worth the watch! Last month, we eagerly anticipated and tuned into the season 19 premiere of Keeping Up With the Kardashians. And, if you're like us, you've definitely been Keeping Up ever since! This season, our favorite reality TV royal family gives us an insider look on how they've been dealing with having to quarantine during the COVID-19 pandemic. From a health scare in the family to throwing baby showers to remember, we have been catching up on quality Kardashian content that we've been missing out on and digging into the drama we never saw coming. Plus—our favorite girl Kimberly Kardashian West turns 4-0 in a special premiering on Friday, October 23.
Love KUWTK but looking for more while waiting for more content? Or maybe you're in dire need of more shows to feed your reality TV addiction? Check out our list of 10 must-watch titles we can't stop watching—only on hayu!
---
1. The Real Housewives of New York City
Some diehard fans of the Real Housewives franchise have probably been following the second installment for over a decade now! The show focuses on the personal and professional lives of women residing in the Big Apple. The current cast consists of Luann de Lesseps, Ramona Singer, Sonja Morgan, and Leah McSweeney. PLUS: Don't miss the three part reunion specials and join Andy Cohen and the New York Housewives as they look back on the unique year that was! It will be housewife Leah McSweeney's first time on the reunion sofa alongside Ramona, Sonja, Darinda, and LuAnn. Will Tinsley be showing up for a surprise visit? There's only one way to find out!
2. Injustice with Nancy Grace
A fan of true crime? You'll love the latest season of Injustice with Nancy Grace as we see Grace getting to the bottom of some of the most challenging and multi-layered true crime stories. New episodes are now on hayu plus discover more with over 40 True Crime docuseries like Snapped, KKW Justice Project, Buried in the Backyard, License to Kill and MORE. This is not just the hayu you know!
3. Asia's Most Extraordinary Weddings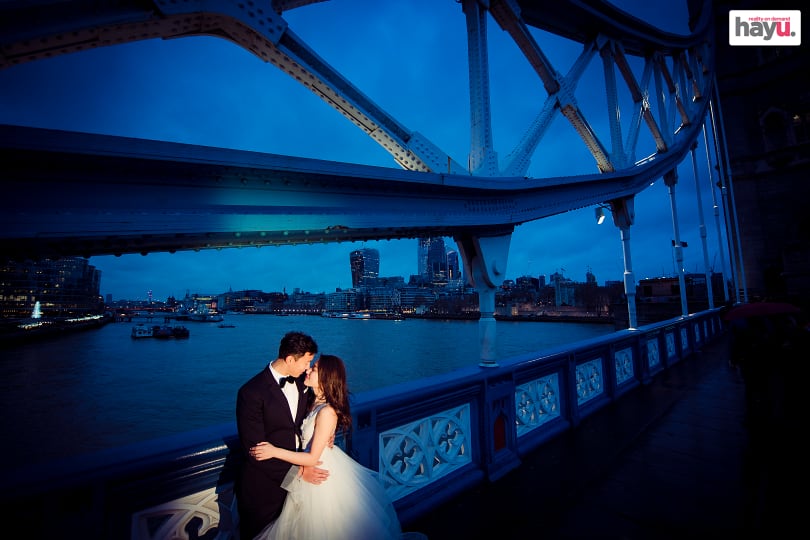 First-Look Photos from 'Asia's Most Extraordinary Weddings'
First-Look Photos from 'Asia's Most Extraordinary Weddings'
Who doesn't love a good wedding? Unveiling the glamorous world of the absolute most extravagant weddings on earth, this brand new series walks the most incredible couples down the aisle of their dream weddings. A must-watch, its first season arrives on hayu on Sunday, November 1.
4. Revenge Body with Khloé Kardashian:
Glow up goals! We can't get enough of Koko and we're so happy that Revenge Body with Kardashian is available on hayu and all 3 seasons of it too! Watch Khloe guide scorned individuals who have been dumped, fired, or snubbed through some life-changing makeovers with the help of some of the world's top trainers, nutrition experts, and stylists! Over the course of 12 weeks, these deserving souls undergo a major transformation both inside and out. At the end of each episode, viewers can get inspired by a dramatic reveal that proves that looking and feeling your best is a great way to get even!
What can be more addictive (and satisfying) reality TV than these extreme stories of plastic surgeries gone wrong? In Botched, everyone's favorite surgeons Terry Dubrow and Paul Nassif remedy wild plastic surgery horror stories and get patients walking out of the operation room much happier than they were walking in. All of seasons of Botched are available to enjoy, including its latest—season 6—which features duck butts, flipped butt implants, and pig noses!
6. The Real Housewives of Orange County
Season 15 is back where we see 2020 starting off on a high note for these ladies with new homes, new boyfriends, and a new hip! That is, until past secrets emerge and newfound happiness is questioned as our favorite ladies of the OC find out the truth. Returning for the latest season are Housewives Shannon Storms Beador, Kelly Dodd, Gina Kitschenheiter, Emily Simpson, and Braunwyn Windham-Burke. They will be joined by a new housewife Elizabeth Lyn Vargas, a soon to be divorcee ready to kick off the next chapter of her life in sunny and exciting OC.
One of the best escapes we can make right now from the comfort of our homes is binge-watching this addictive series! Chronicling the lives of the crew members who work and reside aboard a mega-yacht during charter season, it shows the crew simultaneously deal with their personal issues in order to make their professional careers work. With all current 8 seasons on hayu, you can travel to the Caribbean, the British Virgin Islands, the Mediterranean Sea, Tahiti, and more, all the while soaking up the sun and all the gossip with your favorite crew members.
This reality TV competition series needs little to no introduction having been on air since 2006. With Padma Lakshmi as its host, the show features passionate chefs competing against each other and dishing out some spectacular dishes in culinary challenges. They are judged by a panel of selected professional chefs and other big names in the food and wine industry as one (or more!) contestants are eliminated in each episode. This series is so successful that it has seen several spin-offs, such as Top Chef Masters and Top Chef: Just Desserts, which are also available on hayu! All 17 seasons of Top Chef are available on hayu.
Returning with season 20 is Made in Chelsea, a London-based reality series chronicling the lives of the young and affluent Chelsea residents. This season, some new faces are joining for what is sure to be a summer they can't forget! The cast will be swanning back to the beloved Kings Road while some will be heading to the countryside in two extravagant country manors set among the lush grounds of swimming pools, tennis courts and all the champagne on ice you'll ever need or dream of.
10. The Real Housewives of Beverly Hills
The Housewives of Beverly Hills are some fan favorites, indeed! (The success of this show actually resulted in the conception of the spin off—Vanderpump Rules—also available on hayu!) This sixth installment of Real Housewives has current cast Kyle Richards, Lisa Rinna, Erika Girardi, Dorit Kemsley, and Garcelle Beauvais, Previous cast members include original cast members Camille Grammer, Taylor Armstrong, Lisa Vanderpump; Yolanda Hadid, and Denise Richards. Don't miss the reunion as the Beverly Hills ladies come together to talk candidly about season 10's fights, dramas, and revelations! Chair Andy Cohen tried to keep the peace for Kyle, adroit, Denise, Lisa, Erika, Teddi, and newcomer Garcelle!
---
Ready for your binge-fest? All these and more with over 300 shows you can access anytime, anywhere! hayu is available for only Php149 per month with a FREE 1-month trial and also at Php49 per week for a FREE 7 days trial.
So what are you waiting for? Sign up via: https://get.hayu.com or download the hayu app now!